A tragic user who charged more than 13 million yen for 'Diablo Immortal' but became too strong and the game did not match was born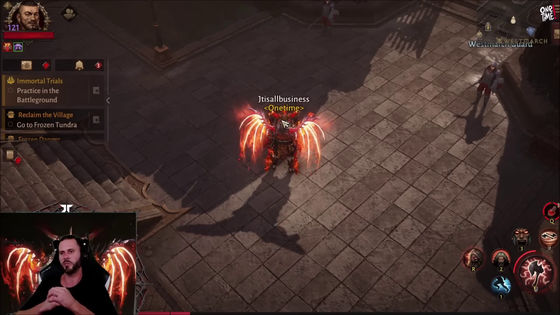 ' Diablo Immortal ', the latest work in the Diablo series and a free-to-play game for PCs and smartphones, has become a topic of controversy at the same time as its release due to its intense billing elements . YouTuber jtisallbusiness , who charged more than 100,000 dollars (about 13 million yen) for such Diablo Immortal, said that the character became too strong and the battle with other players did not match, and the in-game content ' circle of struggle' is no longer available.

Diablo Immortal Player: Game Broke After Spending $100,000
https://kotaku.com/diablo-immortal-p2w-pvp-broken-blizzard-rite-exile-1849355846

On August 1, 2022, jtisallbusiness posted a video on his YouTube channel titled 'Should I refund the account that charged $100,000?'

Should I refund 100k on Diablo Immortal-YouTube


According to jtisallbusiness, he has been playing Diablo Immortal since its launch. Since the game's PvP mode (battlefield), since it has been charging a large amount since its release, it reports that 'almost all opponents can be easily defeated'. It seems that jtisallbusiness's PvP mode record is hundreds of wins and a few losses, and his matchmaking ranking (MMR) has become very high, and as a result he has not been matched with other players. ``Maybe in 48 to 72 hours you'll find that the PvP mode will be matched or knocked out of the match,'' said jtisallbusiness.

Twenty days before posting the video, jtisallbusiness reported a bug on the official Diablo Immortal bug report page about the PvP mode not matching. The report states, 'It's been two weeks since I last fought on the battlefield. Battlefield is my favorite content in the game. I spent $80k on the game and hit resonance almost max. MMR too high. Or, I think that some attributes of the account are preventing battlefield matching.Please give top priority to fixing this.In the worst case, you can just reset your MMR.' . After officially reporting the problem, jtisallbusiness explained that he received a reply that 'the problem will be resolved in a few weeks'.

Cant Match up in battlegrounds - Diablo Immortal Bug Report - Blizzard Forums
https://us.forums.blizzard.com/en/blizzard/t/cant-match-up-in-battlegrounds/28041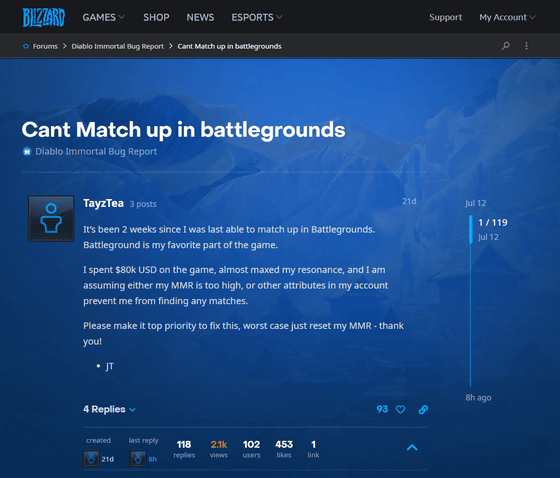 Mr. jtisallbusiness seems to be playing in a clan where multiple players gather in a mode that can be called the culmination of the PvP mode called 'Circle of Struggle' in the game. However, as mentioned above, jtisallbusiness's account seems to be unable to play this 'circle of struggle' because matching in PvP mode is no longer working. ``As a clan leader of Diablo Immortal, I'm in trouble because I can't participate in the ``circle of struggle,'' ``I literally can't do anything,'' said jtisallbusiness.

Overseas game media Kotaku said, 'Jtisallbusiness is trying to earn money by making videos related to Diablo Immortal as a YouTuber, but it seems that the PvP mode is no longer matching, which is hindered.' pointed out.

On the other hand, in the video posted by jtisallbusiness , ``Congratulations. There are comments that criticize the large amount of charge, such as.

Also, on Reddit , an overseas bulletin board, ``I understand that jtisallbusiness charges with his own money, and people can do whatever they want with their own money. What do you mean by throwing in?!' and 'I learned that someone's charge for Diablo Immortal is close to the full amount of my mortgage.' is.

Kotaku has requested comments from both Blizzard and jtisallbusiness, the developers of Diablo Immortal, but there was no response at the time of writing the article.