'Mobile Police Patlabor EZY' pilot video will be released in the summer of 2022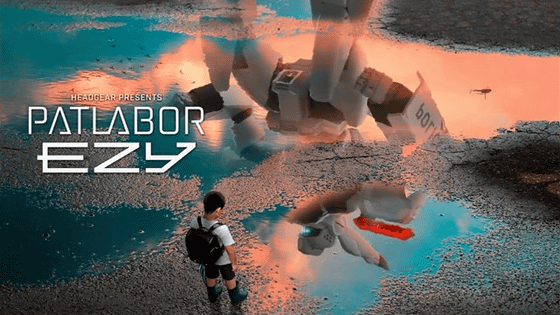 After the production decision was announced as the 'Mobile Police Patlabor' series, it was decided that the pilot video of the latest project ' Mobile Police Patlabor EZY ' whose key visual was released in 2021 will be released in the summer of 2022, and the release schedule is set. It was announced.

finally! 'Mobile Police Patlabor EZY' pilot video will be released! Starting with a fan site limited talk event, it will be screened at the 'TV-Drama Pato 2' exhibition venue (Osaka / Tokyo)! | Mobile Police Patlabor Official Website
https://patlabor.tokyo/news/1411/


????finally????
'Mobile Police Patlabor EZY' pilot video will be released!

Starting with a talk event limited to the fan site #Tokuni Branch , it will be screened locally at the 'TV-Drama Pato 2' exhibition venue (Osaka / Tokyo)!

▼ The EZY pilot video release schedule from this summer to autumn has been uploaded to the official website!
https://t.co/yWsEmYmuLv pic.twitter.com/5rcFkAETp5

— Mobile Police Patlabor Official (@ palabor0810) July 16, 2022


'Mobile Police Patlabor EZY' is a project whose production decision was announced at the Annecy International Animation Film Festival in 2017. The key visual was released in 2021, and in the summer of 2022, the pilot video was finally released.

Toward the release of the pilot video, first of all, on Sunday, July 24, 2022, Mr. Hiroshi Debuchi, a member of the original HEADGEAR and a mechanic designer, will be at the stage event 'Mobile Police Patlabor Bukkake Talk!' , Teruhisa Tajima, who has been the art director of 'Mobile Police Patlabor' for many years, and Senmu Miyawaki of Kaidou, will be on stage. A part of the still image from the pilot video will be released, and Mr. Izubuchi, who is the director, will talk about the production situation. The event will be held from 13:45 to 14:15 at Makuhari Messe International Exhibition Hall 1 and can be viewed by any Wonder Festival participant.

The first video will be released on Saturday, August 13, 2022, in the special project 'Pato INFO Special Edition Patlabor Day Commemorative Talk Show' of the official fan site 'Special Vehicle Division 2 / Branch' of the Mobile Police Patlabor membership system. increase. Director Yutaka Izubuchi, director Yasuhiro Yoshiura of 'Mobile Police Patlabor REBOOT', and Nippon Broadcasting System announcer and Patlabor fan Hisanori Yoshida will appear at the event. The event ticket is 5000 yen (with one drink + benefits) and can only be purchased by members of the 3rd fan site. Limited sale of 50 tickets from 19:00 on July 29th (Friday), on a first-come, first-served basis (* Addition: The lottery system has been changed ). In addition, the talk part other than the pilot video and REBOOT screening will be delivered on the fan site.

After that, the video will be released at the 'Mobile Police Patlabor 30th Anniversary [TV-Drama Pato 2] Exhibition in Osaka / Tokyo' to be held in Osaka and Tokyo from mid-August. The Osaka exhibition will be held from July 23rd to August 21st, of which PART1 will be held from August 8th and PART2 will be held from August 10th, but the pilot video will be screened after August 14th. It will be. Admission is 1000 yen for the general public and 600 yen for elementary and junior high school students.


in Anime, Posted by logc_nt