The FDA warns that honey-based products that secretly mix Viagra and claim to 'strengthen sexual capacity' pose a significant health risk


The US Food and Drug Administration (FDA) has issued a warning to four honey-containing products that are being marketed under the slogan of 'strengthening sexual capacity,' along with prevention of heart disease and relief of joint pain. According to the FDA, these products contain unlabeled and restricted active ingredients that, when combined with some prescription drugs, can lower blood pressure at dangerous levels.

FDA Warns Four Companies for Selling Tainted Honey-based Products with Hidden Active Drug Ingredients | FDA

https://www.fda.gov/news-events/press-announcements/fda-warns-four-companies-selling-tainted-honey-based-products-hidden-active-drug-ingredients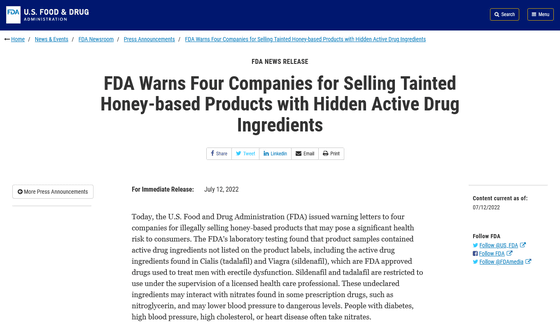 Honey marketed for'sexual enhancement' could be dangerous, FDA warns | Live Science
https://www.livescience.com/fda-warning-sexual-enhancement-honey

The FDA has issued warnings to four companies: Thirstyrun LLC (US Royal Honey LLC), MKS Enterprise LLC, Shopaax.com and 1am USA Incorporated dba Pleasure Products USA.

According to an FDA survey, undeclared active pharmaceutical ingredients such as tadalafil and sildenafil were detected in some of the products handled by these four companies. Both are 'phosphodiesterase 5 inhibitors', tadalafil is called 'Cialis' and sildenafil is called 'Viagra', and they are known as erectile dysfunction (ED) treatments.

Both tadalafil and sildenafil are restricted to use under the supervision of a licensed medical professional and may reduce blood pressure to 'dangerous levels' by interacting with nitrates such as nitroglycerin. .. Nitrate may be taken by people with diabetes, high blood pressure, high cholesterol, and heart disease.

Judy McMekin, Deputy Commissioner for FDA Regulatory, said, 'Such contaminated honey-based products address the risks associated with hidden ingredients and their interaction with other medicines that consumers may take. It's likely you don't know and it's dangerous. '' Products sold with unknown ingredients are dangerous to consumers and can be life-threatening. We ask consumers when shopping online or in stores. We encourage you to be vigilant not to buy products that endanger your health and instead seek effective FDA-approved treatments. '

Please be careful as some of the applicable products are sold on the site called 'Official Mail Order Site' even in Japan.