Cloudflare's counter-argument fixes a widespread ban on pirated sites


In a copyright infringement proceeding against a pirated streaming site, a U.S. court issued a widespread injunction requiring all
ISPs
in the country to block access to pirated sites by service subscribers. .. It seems natural for rights owners to ask for a block of connections to pirated sites, but there are concerns that this injunction could give rights owners strong orders without proper procedure or judicial oversight. Cloudflare argued, and the content was significantly revised.
TV Boss Threatens Mastercard & Visa Over Support For Pirate Sites * TorrentFreak
https://torrentfreak.com/tv-boss-threatens-mastercard-visa-over-support-for-pirate-sites-220330/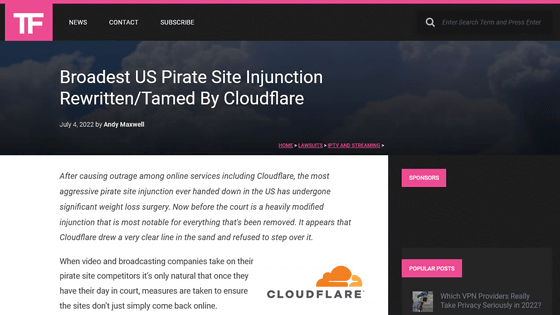 US Court Orders Every ISP in the United States to Block Illegal Streaming Sites * TorrentFreak
https://torrentfreak.com/us-court-orders-every-isp-in-the-united-states-to-block-illegal-streaming-sites-220502/

Big Tech Protests US Pirate Site Injunction 'Power Grab' Against Cloudflare * TorrentFreak
https://torrentfreak.com/big-tech-protests-us-pirate-site-injunction-power-grab-against-cloudflare-220617/

Broadest US Pirate Site Injunction Rewritten / Tamed By Cloudflare * TorrentFreak
https://torrentfreak.com/broadest-us-pirate-site-injunction-rewritten-tamed-by-cloudflare-220704/

In 2021, producer and film investor Moshe Edery launched 'ScreeniL,' a television streaming service for Israelis living abroad. Among the pirated streaming services that provided similar services without permission, 'Israel-tv.com', 'Israel.tv' and 'Sdarot.tv' were reported to the London police as particularly malicious, and a lawsuit was filed in the United States. Woke up.

Producer goes after firms illegally helping stream Israeli content abroa --The Jerusalem Post
https://www.jpost.com/j-spot/article-702654

Plaintiff Edery and others are expected to win the case because it is unlikely that the defendant will appear in court from the beginning, and in April 2022, $ 7.65 million (about 100 million yen) for 51 works owned by the plaintiff. It was decided to pay.

The problem was stated in this judgment, 'All ISPs servicing in the United States will use the currently known domain address, or future defendants, by the technical means available on the system. It is an access injunction that says, 'We shall block access to the website with the domain address you use.'

'We should be accused of contempt of court,' Edery said after seizing multiple domains, Cloudflare did not comply with the injunction and continued to serve Israel.tv after June 2022. I notified the New York court.

However, in reality, Mr. Edery himself seized the domain of 'Israel.tv' around May 26, Cloudflare confirmed the service stop at the timing of domain seizure, and argued that there was no action that can be executed as Cloudflare already. Did.

Plaintiffs have added a new domain to Cloudflare, and the injunction also covers 'websites with domain addresses that defendants will use in the future,' so Cloudflare was notified when it was notified. Claims that measures need to be taken.

Cloudflare said, 'Plaintiff is trying to provide any piece of evidence that any of the added domains are connected to Israel.tv or that they are owned and operated by the defendant or agent. The injunction extended to cover additional domains violates the basic restrictions on the scope of relief provided by the injunction. ' Google and the Electronic Frontier Foundation have also taken the position of defending Cloudflare, saying that 'the scope of the injunction is unacceptably wide.'

After negotiations, the plaintiffs are believed to have made an offer that 'the injunction cannot be enforced in its current form,' and a new injunction will be created. The new order, awaiting court approval, has removed enforcement-related authority over 'third parties providing services used in connection with defendant's business' and 'defendant's copyright infringement.' There is an objection to the order, where 'hosting' was removed from the section mentioned 'website operation and hosting' and the domain had to be deactivated within 7 days in response to the injunction. Changes have been made, such as being able to file a claim without being charged with contempt of court.