I drank 'Calpis Soda Ripe Pine' which has a refreshing sour taste.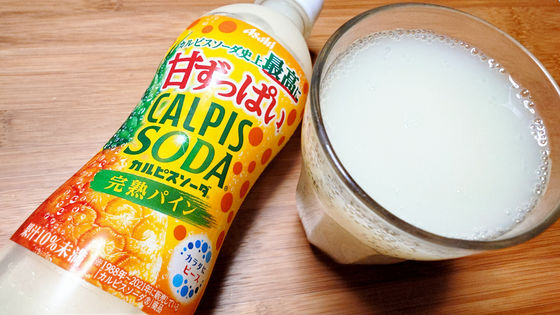 'Calpis Soda Ripe Pine ', which is the most sweet and sour in history, appeared for a limited time from June 21, 2022 (Tuesday), so I actually drank how sweet and sour it was.

'Calpis Soda Ripe Pine' Released for a limited time from June 21st 'Calpis Soda' The sweetest and sour product in history | News Release 2022 | Company Information | Asahi Soft Drinks

https://www.asahiinryo.co.jp/company/newsrelease/2022/pick_0601.html
The product name on the label is also preceded by the phrase 'Calpis Soda's most sweet and sour'.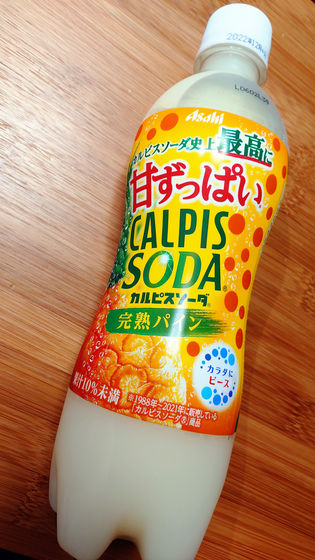 Since it is 33 kcal per 100 ml, 500 ml per bottle is 165 kcal. Raw materials include fructose-glucose liquid sugar, pineapple juice, skim milk powder, and lactic acid bacteria beverages.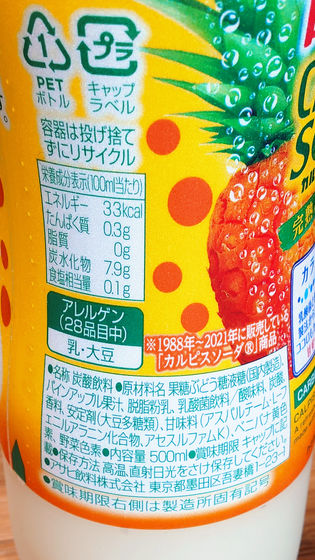 When you pour it into a glass, it feels like carbonic acid floats lightly. When you drink it, not only 'sweet' but also 'sweetness' spreads in your mouth, and it has a very refreshing flavor. The rounded mouthfeel that is typical of Calpis Soda is alive and well, and the sourness is not sharp, making it a very easy-to-drink bottle.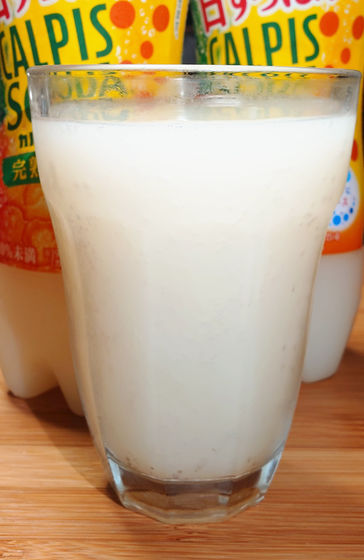 'Calpis Soda Ripe Pine' is 140 yen excluding tax and is on sale for a limited time.