A retro game worth more than 13 million yen turned out to be a counterfeit, causing a tremor in the game collector community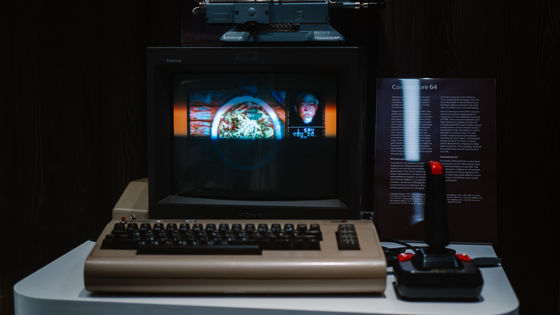 Several game collectors have confessed that one prominent game collector has sold multiple fake retro games. It is not clear how much the game was actually bought or sold, but if it were genuine, the total market value would be more than $ 100,000 (about 13 million yen).

Inside the $ 100K + forgery scandal that's roiling PC game collecting | Ars Technica

https://arstechnica.com/gaming/2022/06/inside-the-100k-forgery-scandal-thats-roiling-pc-game-collecting/
Game collector
Enrico Richardi
is widely known in the community as a collector specializing in PC games. He regularly boasts a collection of rare and valuable games on his Twitter account, and his collection is truly 'unmatched.'
The Taiwanese Lim. Edit. 2000 copies of ULTIMA COLLECTION contains some the most beautiful trinkets ever created for an ULTIMA, the golden plastic card with embossed serial number as well as a crystal-like object with a chip displaying that same number enclosed inside. .twitter.com/9Wky67uZ3z

— Enrico Ricciardi (@ Enric0Ricciardi) May 7, 2021


At least seven game collectors who bought retro PC games from Richardi said that the games he sold between 2015 and May 2022 included dozens of suspected counterfeit games. I point out that there is. In addition, Mr. Richard told Ars Technica of overseas media, 'I am a victim who just unknowingly traded without fully checking the possibility of counterfeit products.'

In the world of game collection, Nintendo's retro games can be traded for hundreds of millions of yen, but retro PC games are not so expensive. Still, some retro PC games from the 1970s to the 1990s pay hundreds of thousands of yen for intact discs and beautiful packages. According to game collectors, hundreds of retro PC games are auctioned daily on auction sites like eBay.

There is ' Big Box PC Game Collectors (BBPCGC)' on Facebook, which is a retro PC game community with more than 6000 members, and it seems that some people trade games in such a community. The reason for trading on the community rather than on the internet auction site is 'because people can build relationships'. In the case of transactions on such a community, it seems that there is almost no doubt that all games are genuine because they are transactions between acquaintances.

However, on May 30, 2022, a member of BBPCGC released a document proving that the retro PC game purchased from Mr. Richardi contained a counterfeit product. However, BBPCGC states that although the counterfeit products were sold by Mr. Richardi, he 'cannot say for sure' whether he created these counterfeit products. However, it is clear that the retro PC game sold by Richardi is a counterfeit product, so BBPCGC also wrote that 'there is sufficient grounds for Richardi to leave the group.'

Following the announcement of BBPCGC, a person who bought multiple retro PC games from Richardi said, 'This is a central part of my collection and is a rare and expensive retro PC game. But these are Ultima and Retro. It turned out to be a fake product that was tricked into selling by a well-known person in the gaming community. '

This used to be the center pieces of my collection. Rare and expensive old games.
Now it turns out I've been scammed and sold forgeries by a well known figure in the Ultima and tetrogames community. Along with many others #ultima #akalabeth @RichardGarriott pic.twitter.com/wuiAQPSuG2

— Dominus of Exult (@Dominus_Exult) May 30, 2022


Richardi has been a longtime moderator at BBPCGC and was known as a collector with extensive knowledge of early Ultima and Sierra Entertainment PC games. An anonymous PC game collector said, 'We are trusted as one of the well-known experts in the community, and many people have asked Richardi for insights to verify things and consider buying.' I'm talking. Richard Garriott is also the author of the illustrations for Ultima developer Richard Garriott and his first autobiography of the game studio Origin Systems, Through the Moongate .

With such a background, 'I never thought Richardi would betray the community,' said an anonymous game collector. Another game collector said, 'We were friends and I thought Richardi's collection was great. So when I can afford it, I personally hear from Richardi. I bought the game and never thought about its authenticity. '

One of the counterfeit products Richard was involved in trading was a PC game called ' The Chambers of Xenobia ' released for the Apple II in 1981.

1 / For some vintage games, the challenge is to find confirmation that they were ever released. Then there are a few games that have clearly been released, but for which no original copies seem to exist. The Chambers of Xenobia is the latter. .twitter.com/epoMM5yupQ

— A2Can (@ A2_Canada) May 17, 2022


Stephen Rakul, a game collector belonging to BBPCGC who purchased 'The Chambers of Xenobia' from Richard, tried to create a disc image of the same work for the purpose of preservation, but 'Presented by the Data Killer' was displayed on the loading screen. '(Provided by Data Killer)' is displayed, explaining that it was revealed that it was the original cracked version stored on the disk.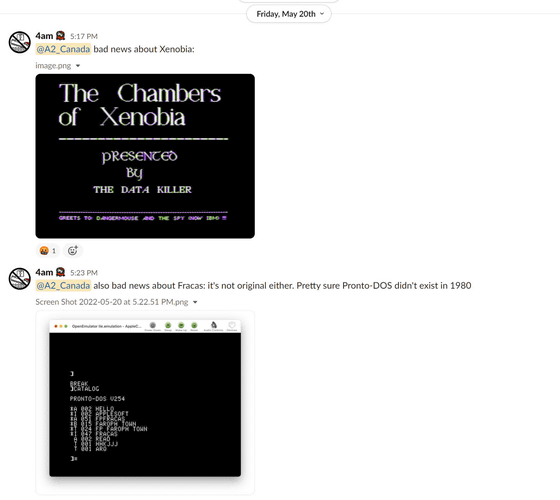 There are other games that Rakuru bought from Richardi, one of which is the Apple II RPG '
Fracas
' released in 1980. It seems that this Fracas also included a disk operating system called 'Pronto-DOS', but since this OS was an OS that appeared in 1982, two years after Fracas was released, 'This is also a counterfeit product. There is a high possibility, 'says Rakuru.
Mr. Rakuru provided the data of 'The Chambers of Xenobia' and 'Fracas' that seemed to be counterfeit products that he had at hand to Apple II expert
John Morris
and asked him to analyze the data. .. According to Morris' analysis, it can be determined that both disks were created from the same data source using the same tools.
In addition, in the case of the cassette tape of the early resource management game '
Santa Paravia and Fiumaccio
' that Mr. Rakuru purchased from Mr. Richardi, it seems that only junk noise is stored inside, not the game data.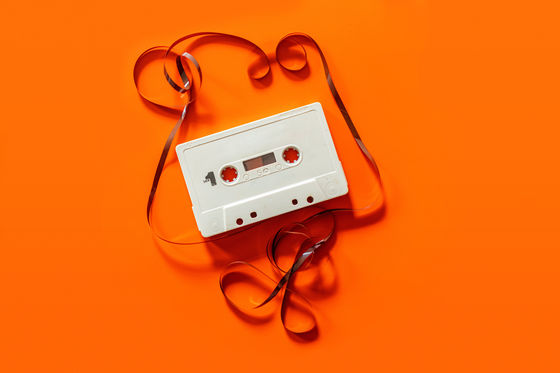 In addition, the retro PC game sold by Richardi says that the printed matter 'has a sign of forgery, although it is inconspicuous.' A particularly striking feature of Richardi's counterfeit products is the printed dot pattern of small cyan and magenta bubbles on what should be white. An expert who conducted a counterfeit investigation at BBPCGC said, 'Since such dot patterns do not appear in monochromatic printing, these are definitive proof that the scanned data is printed.'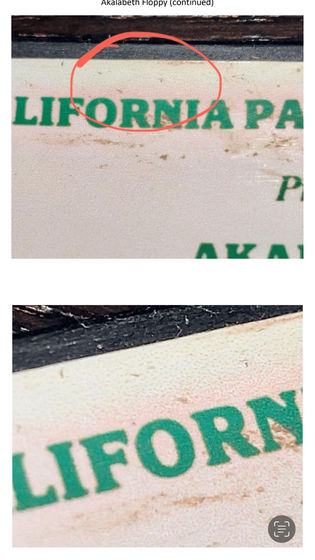 Another feature is that the label affixed to the disc is slightly different in shape from the original one.

One of the features that can often be found in counterfeit products is that all the corners of the instructions and covers are bent. About this, game collector Dominique Reichardt said, 'Many counterfeit products have all four corners bent. This is because the counterfeiter accidentally sells the real thing or buys back the counterfeit product on eBay etc. It seems to be a sign to prevent it from being stolen. '

In addition to data and printing, the key to distinguishing counterfeit products is the paper used for printed matter. The protective filter that comes with the counterfeit 'The Chambers of Xenobia' has a watermark that says 'Fabriano,' which has existed for hundreds of years but is less well known in the United States 40 years ago. It is the name of an Italian luxury paper company.

In the early 1980s, a small company called Avant-Garde was responsible for printing the packaging for The Chambers of Xenobia, 'it's clear that the company didn't use Fabriano paper for printing,' Rakul said. I'm pointing out.

In addition, many game collectors that Ars Technica contacted seem to think that 'not all games sold by Mr. Richardi are counterfeit products', after it became clear that they were dealing with counterfeit products. But he points out that Richardi's credibility remains high.

At the time of writing the article, it is said that the only retro PC games that were forged were those that Richardi was involved in the transaction. However, some collectors are concerned that the impact may be more widespread, saying, 'I am confident that more counterfeiting will occur in the future, and unfortunately the details of how the counterfeiting was discovered. More attention will be paid to those who have higher quality counterfeit products. '

'It's the oldest games that get the highest price, and the old games tend to be the easiest to forge because they're basically packaged, or copied.' Said Rakuru.

Richard, who has sold multiple counterfeit products, told Ars Technica, 'After experiencing this nightmare, I decided to quit the game collection. Regarding the game collections collected so far, I'm asking my wife to burn me when I die. '


in Game, Posted by logu_ii