For some reason, the collage that makes Anya of 'SPY x FAMILY' appear in one frame of another manga is popular overseas.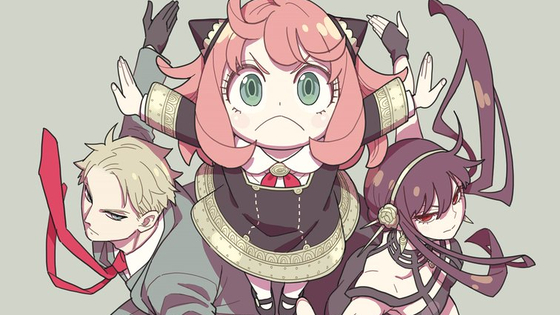 The web manga ' SPY x FAMILY ' by Tatsuya Endo, which is serialized in Shonen Jump + , has been on the air since April 2022 , and has become a popular Twitter trend in Japan. For some reason, the collage that makes Anya, the heroine (?) Who appears in SPY x FAMILY, appear in one of Shueisha's senior manga such as ONE PIECE and NARUTO , is gaining popularity overseas.

Spy x Family's Anya is being edited into manga like One Piece and Naruto --Polygon
https://www.polygon.com/23141841/spy-x-family-anya-manga-meme-one-piece-jujustu-kaisen-attack-on-titan

Anya Forger, who appears in SPY x FAMILY, is a girl with supernatural powers who can read the hearts of others. The collage of making such Anya appear in one of the popular shounen manga has become a hot topic overseas. Anya can only read the hearts of others with supernatural powers and does not have superhuman combat power, but 'I am confronting various manga strong enemies like a strong man', said overseas game media Polygon reports.

What kind of collage is created is as follows. Anya confronts Satoru Gojo, who is known as the scariest character of the magical battle , Anya confronts Chainsaw Man , the main character of Chainsaw Man, and Anya who confronts a horde of Attack on Titan giants alone.

Whoever is editing Anya into random manga panels is doing gods work pic.twitter.com/VzhJ16XkaT

— Johnny (@JohnnySpittin) May 20, 2022


Anya whispers to the flame pillar, 'Don't die, Kyoujuro,' instead of Akaza, the first string that appears in Kimetsu no Yaiba.

Anime: Spy x Family and Demon Slayer pic.twitter.com/5elx2dufme

— Sugvr (@sugvrblack) May 20, 2022


Jojo's Bizarre Adventure Part3 The famous scene where the main characters Jotaro Kujo and Dio Brando confront each other in Stardust Crusaders is a comical scene where Dio and Anya confront each other.

This manga panel goes hard asf #SPYxFamily #SPY_FAMILY #SPYFAMILY pic.twitter.com/9lv6f2YmaL

— They / Them Catboy GF (@TheUncannyDag) May 21, 2022


Even in the scene where Luffy and Usopp have a big fight in the Water Seven edition of ONE PIECE, Anya confronts Luffy instead of Usopp.

Best fight pre-timeskip, ez #SPYxFamily x #ONEPIECE #Anya pic.twitter.com/r6C1feDy7d

— TyrantKingKuma (@Tyrant_KingKuma) May 21, 2022


Anya who ran into Zoro at Skypia

Having been an early adopter of Spy x Family when it was first releasing in Japanese, it's very surreal to see it going from fairly underrated and unknown to literally inescapable. It's odd to think how big of a role a good anime adaptation plays in a manga going mainstream pic.twitter.com/BTvU0tBD2J

— Artur --Library of Ohara (@newworldartur) May 22, 2022


In Naruto, the scene where Sasuke visited Konoha no Sato for the first time in a long time is a scene without nostalgic fragments by Anya.

This panel of Spy x Shippū den goes hard #SPYxFamily #NARUTO pic.twitter.com/Rd8RJ4Q9al

— Shak ???? (@NNezuko__) May 21, 2022


In addition, Polygon wrote, 'In SPY x FAMILY, Anya is a little girl who loves peanuts, but various collages allow fans to see Anya as the main character of a terrifying super-powerful shounen manga.' I am.