Apple unveils new software features to help people with disabilities get the most out of their products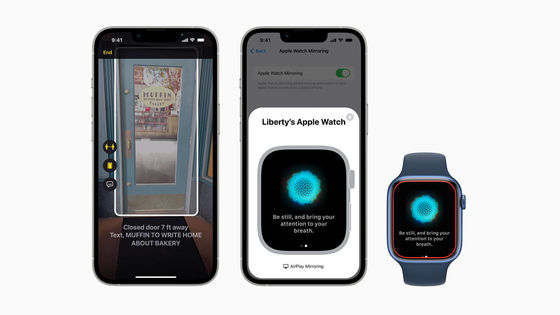 Apple has unveiled software features to help people with disabilities get the most out of Apple products, such as the ability to detect doors on the iPhone and the introduction of live captions to audio content. All features will be available in the late 2022 update.

Apple previews innovative accessibility features --Apple

https://www.apple.com/newsroom/2022/05/apple-previews-innovative-accessibility-features/
◆ Door detection function for people with visual impairments or low vision
Combining
LiDAR
, cameras, and machine learning capabilities on the device, users find a 'door' when they reach a new destination, how far they are from the door, whether the door is open or closed, The knob is a function that detects information such as whether it is a lever type or a grip ball type. In addition, information such as symbols, signs, and room numbers around the door can be detected.
Door detection will be available on iPhones and iPads equipped with LiDAR scanners such as the iPhone 12 Pro in a new detection mode of 'Magnifier' that appeared as an app in iOS 15.
◆ Apple Watch Mirroring
It is a function that allows you to operate the Apple Watch with iPhone support functions called voice control and switch control without touching the Apple Watch directly. This allows you to use features such as blood oxygen concentration sensor, heart rate monitor, media playback and answering calls with voice input and simple body gestures.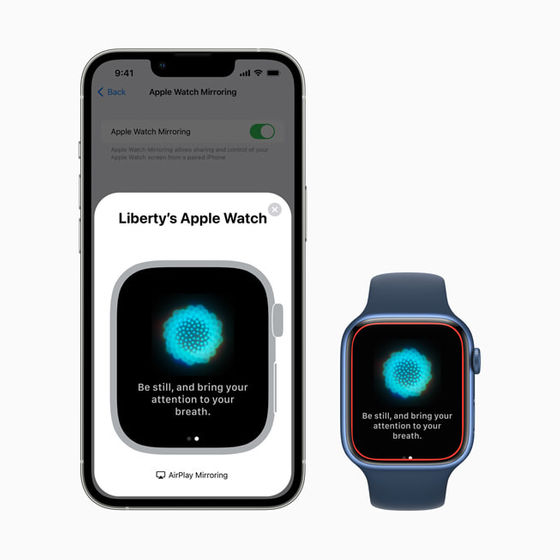 ◆ Live captions for the hearing impaired and hearing impaired
For the hearing impaired and hearing impaired, subtitles will be available for all audio content, including phone calls, video conferences, social media apps, and neighbor conversations. FaceTime can display auto-translated subtitles, and Mac can convert the entered reply to voice in real time and convey it to other users. In the video below, you can see that the words spoken by the woman are instantly converted into subtitles.


Live Captions in FaceTime
Live captions will be available in beta in English (USA, Canada) in late 2022 on iPhone 11 and later, iPad models with A12 Bionic and later, and Macs with Apple Silicon.
◆ Strengthening VoiceOver
Apple Maps will provide sound and tactile feedback for
VoiceOver
users who read aloud. In addition, more than 20 new languages will be added, including Bengali and Bulgarian. In addition, Japanese is already supported. In addition, VoiceOver users on Mac can use the new proofing tools to detect common formatting issues such as duplicate spaces and misplaced capital letters. This will make it even easier to proofread documents and emails.
◆ Other functions・ Buddy Controller
This is a function that allows you to ask your friends to help you play the game.
・ Siri Pause Time
It is a function that can adjust the waiting time until Siri responds to the request.
・ Voice control spell mode
This is an option that allows you to customize the spelling by voice. It will be available only in English (USA).
・ Sound recognition
It is a function that can be customized to recognize the sound according to the person, such as a doorbell at home or home appliances.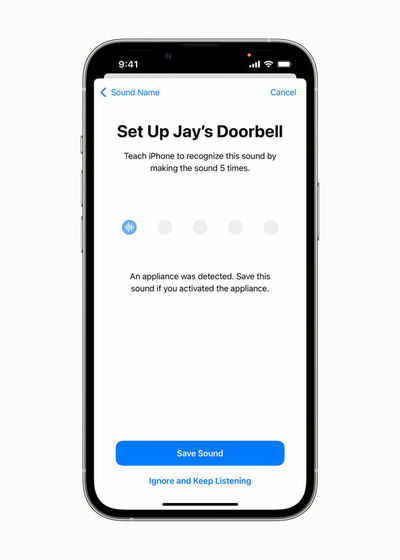 ・ Apple Books
Options such as making the text bold and adjusting the spacing between letters and words will improve the reading experience.

'We are committed to incorporating accessibility into every aspect of our work and designing the best products and services for everyone,' said Sarah Herringer, senior director of Apple's accessibility policy and initiative. We are pleased to combine the innovation and creativity of the entire Apple team to introduce these new features that best suit the needs and lives of our users. '