Meta releases a demo of 'Project Cambria' that enables mixed reality with a stand-alone VR headset that allows full-color pass-through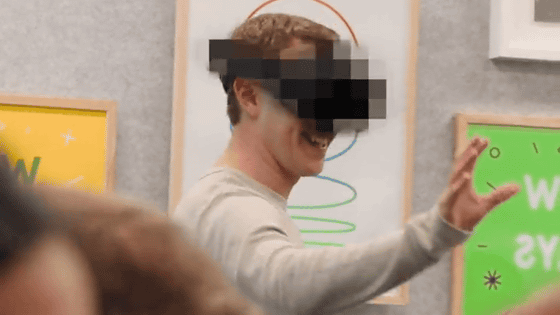 Meta has released a demonstration movie to experience mixed reality (MR) by CEO Mark Zuckerberg himself using Project Cambria, a next-generation VR headset under development. The demonstration that CEO Zuckerberg experienced is called 'The World Beyond' and will be released soon.

Mark Zuckerberg --First look at mixed reality on our next ... | Facebook
https://www.facebook.com/4/videos/316791413790661/


Mark Zuckerberg just shared a first look at what mixed reality experiences will be like on Project Cambria, our high-end VR headset coming out later this year.

Learn more ???? https://t.co/OPUEM9OZnn pic.twitter.com/EJcgrShqlO

— Meta Newsroom (@MetaNewsroom) May 12, 2022


Zuckerberg has a stand-alone VR headset under development. It's mosaic-processed, so it's not clear what kind of VR headset it is.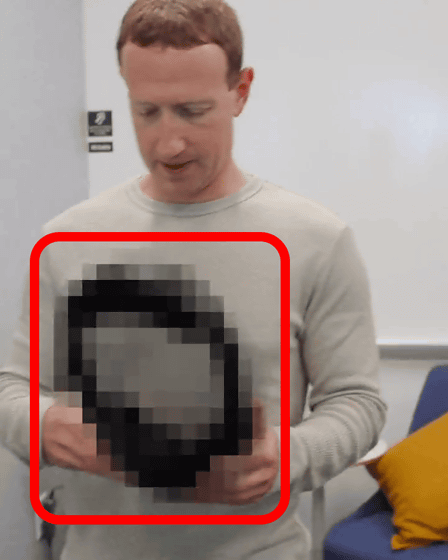 Attached.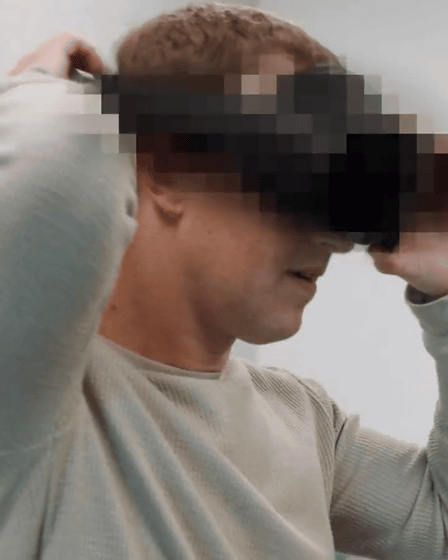 Zuckerberg sees the surrounding rooms in full color, and at the same time sees mysterious little animals moving around.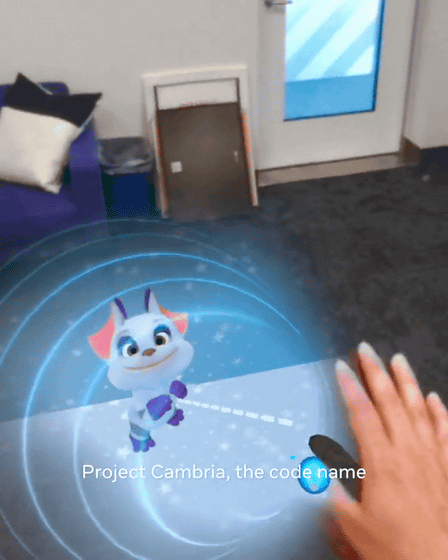 Apparently, he is playing with a ball falling on the floor.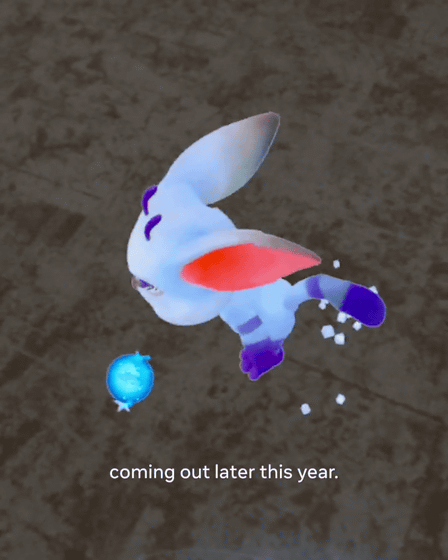 CEO Zuckerberg behaves like pinching his right hand ...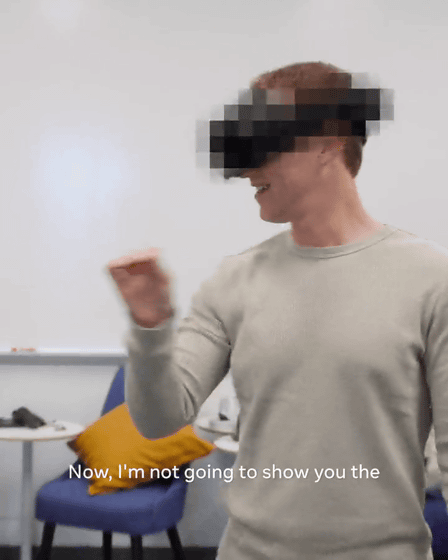 While pinching out, it shows a touch like playing against the wall.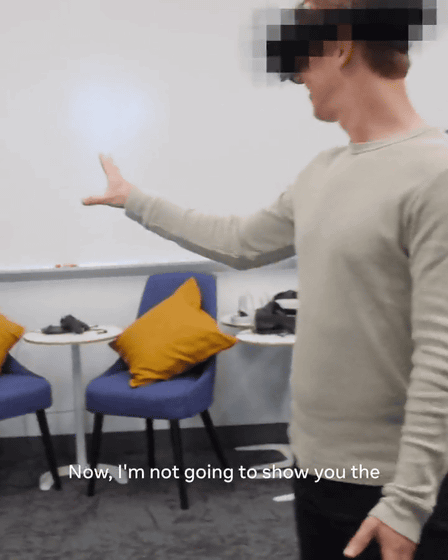 Then, the ball that the small animal was playing flew away, hitting the wall and reflecting. When the ball hits the wall, ripples are created.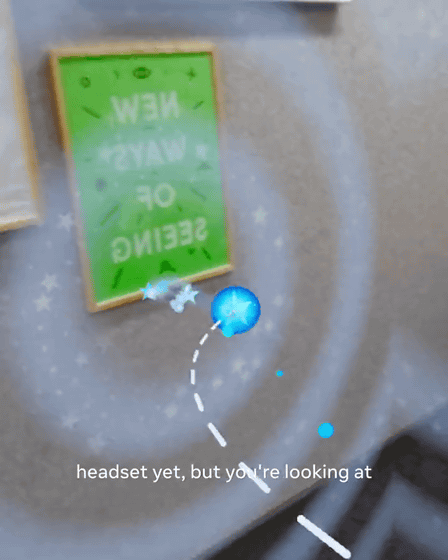 In addition, CEO Zuckerberg crouches and holds his hand over the small animal chasing the ball. Then, I succeeded in stroking the head of a small animal.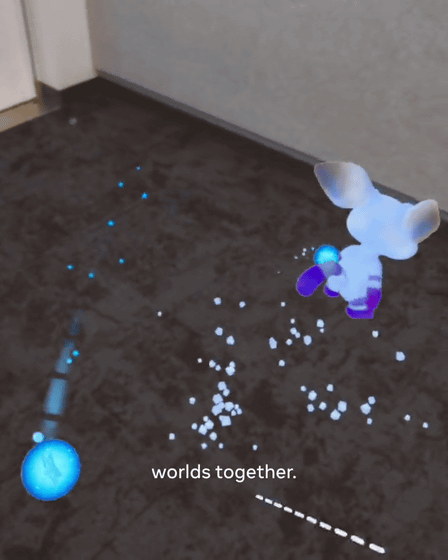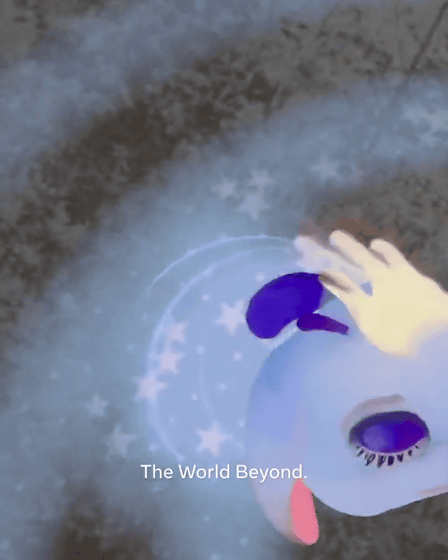 The VR device that CEO Zuckerberg was wearing is as follows. Meta's standalone VR headset, Meta Quest 2, was capable of 'pass-through' where you can see your surroundings in black and white through an inside-out camera, while Project Cambria's VR headset is a full-color pass-through. Seems to be possible. The full specifications of this VR headset have not been revealed, but Zuckerberg said, 'Project Cambria's VR headset has three times the image sensor resolution of Meta Quest 2.' Also, according to Zuckerberg, Project Cambria's VR headset also has an infrared depth sensor.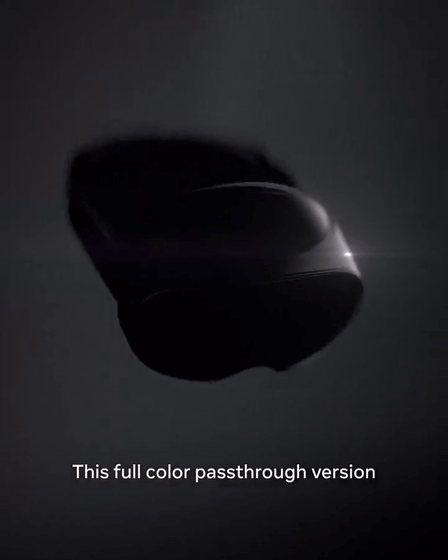 Meta emphasizes the experience of Project Cambria as mixed reality (MR) rather than virtual reality (VR). For example, while browsing on a virtual desktop ...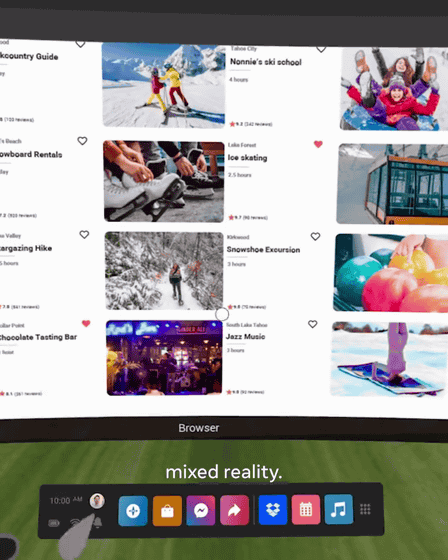 You will also be able to record information in your notepad in a pass-through reality.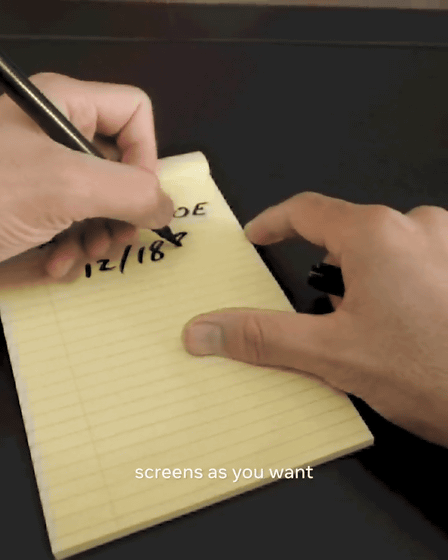 You can also use MR to use your room like a yoga studio.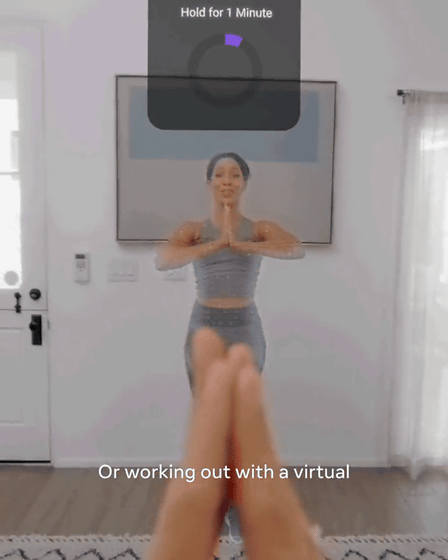 In addition, Meta has released the following movies about Project Cambria.

Project Cambria Preview --Mixed Reality with Presence Platform --YouTube


A man wearing Meta Quest 2.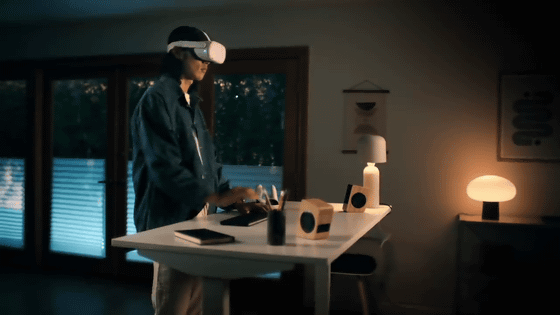 The hand is reflected in the pass-through.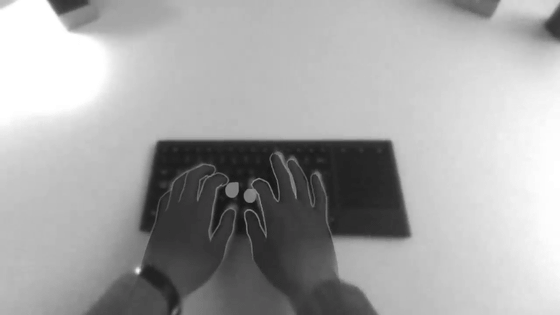 At the same time, the exchange of messages with acquaintances is displayed in the virtual space.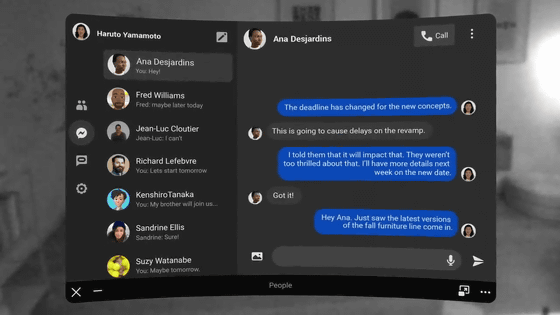 You can even share a model while talking remotely with people far away.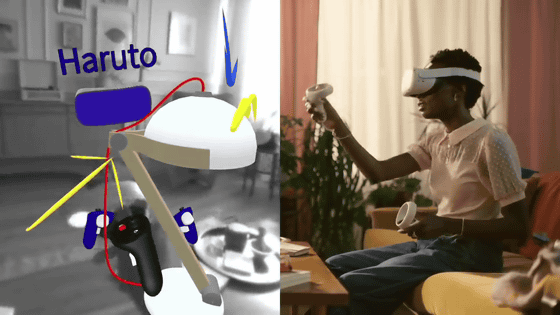 When you hit the corner of the room with a hammer ...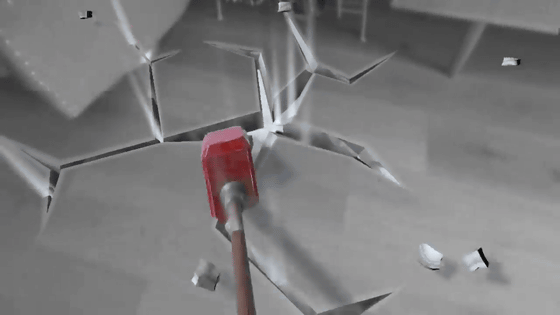 A fishing pond appears. You can feel like fishing in the room.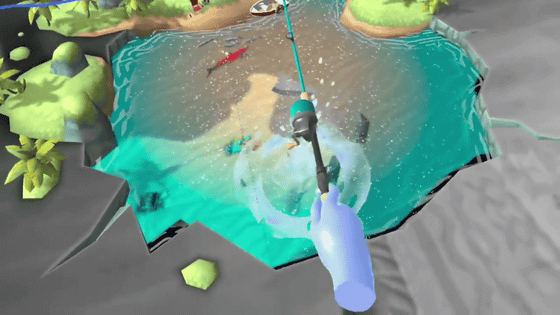 Faced with the opponent's avatar ...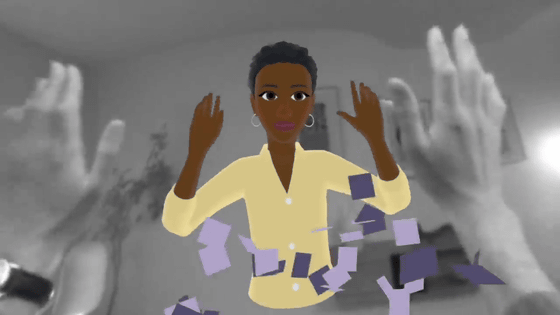 You can also play chess. You can move the chess pieces directly with your own hands, not with the controller.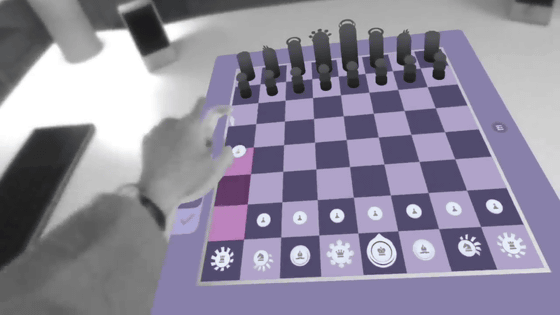 And the point of Project Cambria is 'MR utilizing full-color pass-through'.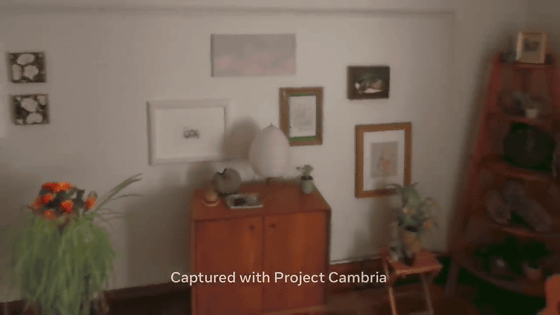 A woman wears a VR headset from Project Cambria, but the goggles are barely visible.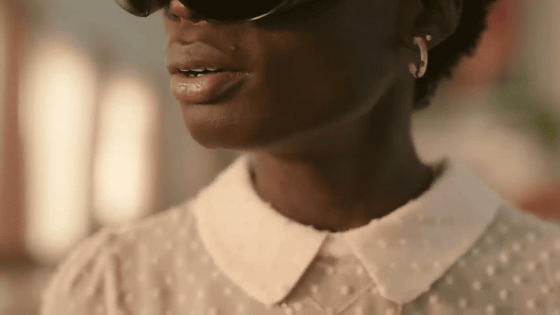 Small animal that CEO Zuckerberg was also playing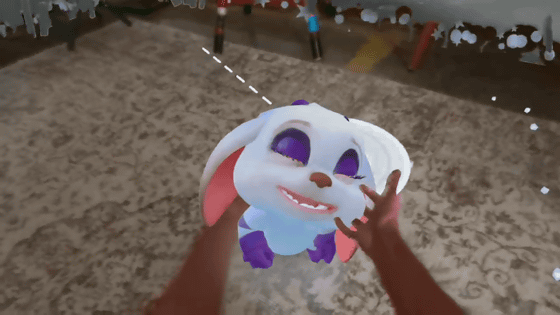 A completely different virtual space is drawn in your room.



A huge fish swam in the room.