Wal-Mart, a major supermarket in drone delivery services, and Wing, a sister company of Google, are ahead of Amazon. What are the efforts and regulatory issues of each company?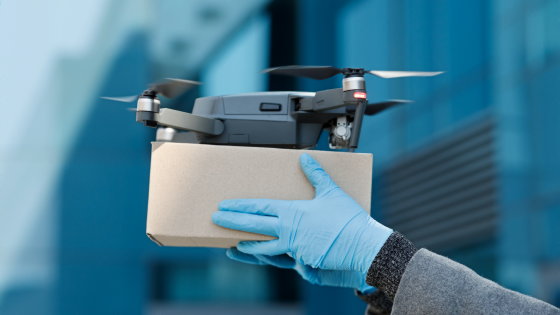 In recent years, '
unmanned aerial vehicle delivery service by drone
' has entered the practical stage, and major supermarket chain Wal-Mart and Google's sister company Wing have already begun to develop commercial drone delivery service in some areas. On the other hand, Amazon, a major e-commerce site that has set out ambitions for drone delivery services from an early stage, is lagging behind in drone delivery services, and technology media Ars Technica summarizes the efforts and current situation of each company. ..
How Walmart and Alphabet jumped ahead of Amazon in drone delivery | Ars Technica
https://arstechnica.com/tech-policy/2022/04/how-walmart-and-alphabet-jumped-ahead-of-amazon-in-drone-delivery/
On April 7, 2022, Wing, a sister company of Google and a drone delivery service business, started a drone delivery service near
Dallas
in Texas, USA. In this service, retailers such as the pharmacy chain
Walgreens
will place deliveries on the drone, and the drone will take off from the retailer's parking lot and deliver the deliveries to customers living nearby. Wing has already launched services in
Australia
and
Finland
, and its deployment in Dallas is appealing as 'the first commercial drone delivery service in major American metropolitan areas.'
Google sister company 'Wing' launches unmanned aerial vehicle delivery service in Texas-GIGAZINE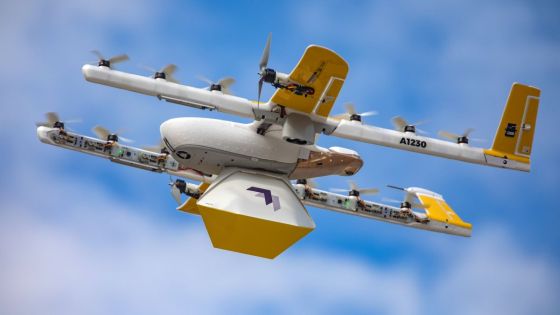 Wing has annotated its deployment in Dallas as 'first in the major American metropolitan areas' because it already has a
drone delivery service in parts of Arkansas,
where Wal-Mart is headquartered. Drone delivery services have already been introduced at two Wal-Mart stores, and it is said that the third store will soon be introduced.
Wing and Wal-Mart's drone delivery services are offered only in limited areas, and the number of deliveries for each service is about 100 per day. However, Ars Technica points out that these are services that actually deliver goods to customers and are clearly beyond the R & D stage.
On the other hand, Amazon, which announced a drone delivery service in 2013, has not yet reached the commercial stage. In April 2022, it was reported that Amazon's drone delivery project faced challenges such as development delays and crashes, and testimony of a former employee who questioned Amazon's safety measures.
Amazon's 'drone delivery' project faces challenges such as delays and crashes, and a large number of employees leave their jobs-GIGAZINE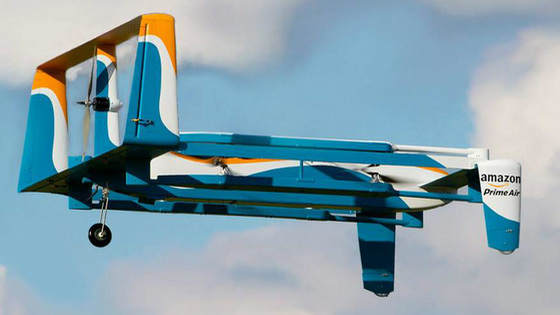 Ars Technica interviewed Tom Walker, founder and CEO of
DroneUp
, a startup that works with Wal-Mart to provide drone delivery services, to cover their drone delivery services. In the United States, the Federal Aviation Administration imposes strict drone regulations, and the most important of these is the regulation that 'drones must be operated within the field of view of human operators.' Although it is possible to apply for an exemption, the process is time consuming, so Drone Up, led by Walker, chose a 'clearly low-tech solution' to overcome this challenge.
The solution DroneUp chose was to 'build a miniature control tower about 9 meters high in Wal-Mart's parking lot to allow human operators to see the drone in transit.' According to Walker, the operator can see the drone about 2.4km away. Walker hopes that the Federal Aviation Administration will eventually abandon the requirement and be able to deliver up to 5km of the drone's flight range.
Also, even if the miniature control tower solution is low-tech, the drone itself is completely autonomous. The Federal Aviation Administration prohibits drones from flying over people or moving vehicles, but DroneUp drones also have the ability to automatically avoid dangerous areas and sensors that tell you where people are on the ground. It seems that it has, and there is also redundancy that does not crash even if some problems occur. It seems that it takes about 27 minutes on average to deliver one delivery, and when the drone arrives at the customer's house, a remote operator confirms safety through the on-board camera, and from a height of about 24 m, use a cable to bring the Wal-Mart box to the ground. Take it down. Customers and pets are required to stay indoors until delivery is complete and the drone flies away, and if anyone is nearby, the flight will be cancelled.
DroneUp's drone has eight propellers and is advertised to be able to carry up to 1.4 kg of cargo while keeping its weight to less than about 25 kg without the need for special Federal Aviation Administration permission, but Walker actually has more. It claims to be able to carry heavy loads. 'I can't say how many stores will have drone delivery services this year or next,' Walker said, implying that Wal-Mart's drone delivery services will grow further in the next year or two. DroneUp plans to increase the number of employees from 200 to 600 in 2022, and many of the new employees are believed to be drone operators.

by Mike Mozart

On the other hand, Wing lags behind Wal-Mart in developing drone delivery services in the United States, but since it already has services in Australia and Finland, in March 2022, 'a total of 200,000 commercial deliveries were achieved. ' . Due to the large number of inhabitants in the suburbs of Dallas, which launched this time, Wing employees said, 'There are more than 7 million people living in the (Dallas) metropolitan area. In this one metropolitan area. It's incredibly exciting given the number of people we can serve. '

In addition, unlike Drone Up, Wing has obtained an exemption that 'the drone may be operated within the range beyond the field of view of the human operator', so it can be delivered up to about 6.4 km from the home base. .. Also, it is said that drones are allowed to fly over people, and the regulatory requirements are considerably looser than Drone Up. Wing's drone will hover about 7m above the delivery point and unload the luggage to the ground.



Amazon lags far behind Wal-Mart and Wing, but a major obstacle for all companies is the strict Federal Aviation Administration regulations. The aviation industry needs Federal Aviation Administration approval for a variety of things, such as selling new aircraft, establishing a company, and becoming a pilot, as well as drones within the existing aviation industry framework. According to Walker, the Federal Aviation Administration has asked companies developing drone services to comply with the same regulations as commercial airlines. For example, early drone companies had to apply for an exemption from the regulation that 'all aircraft are required to wear seat belts.'

In addition, although there is a process called type certification in the design of new aircraft, type certification is also performed in drones. 'Once we enter the type certification process, we need to freeze the technology. Major configuration changes will reset the process,' said Walker, who will not be able to add new technologies to the drone once type certification begins. I point out that it will end up. Originally, many companies thought that they would be able to pass the type certificate in 6 to 9 months, but in reality, it seems that some companies can not pass the process for more than 2 years, and this situation is drone delivery. It seems that it is hindering the deployment of the service.

Still, the Federal Aviation Administration in recent years is gradually improving the regulatory environment for drones. 'It was really big that the Federal Aviation Administration was serious about saying,'This is the real thing. The drone epidemic will not go away,'' Walker told Ars Technica. In March 2022, the Aviation Regulations Commission issued the ' Recommendations for Standardization and Rationalization of Drone Regulations ', which is expected to make the review process clear and rational.

But Ars Technica said, 'How has the Federal Aviation Administration's slow approach hindered drone innovation over the last decade?' He argued that Wal-Mart and Wing would not have been the only ones deploying drone delivery services at the time.