TikTok's annual advertising revenue is expected to reach over 1 trillion yen, almost double that of Twitter and even higher than Twitter + Snapchat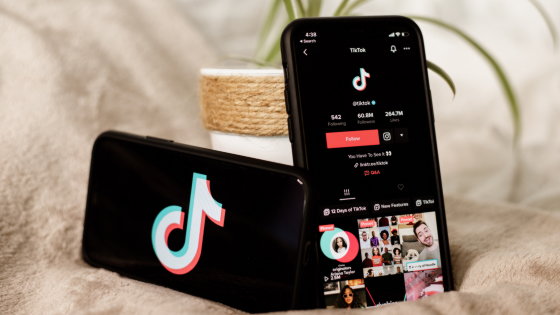 TikTok
, a short video sharing social network, is extremely popular with young people all over the world, and in 2020, it overtook Facebook to become the
most downloaded app in the world
. According to research firm Insider Intelligence, TikTok's annual advertising revenue is projected to reach over 1 trillion yen in 2022, almost double that of Twitter.
TikTok surpasses Snapchat as the favorite app of teens --Insider Intelligence Trends, Forecasts & Statistics
https://www.emarketer.com/content/tiktok-surpasses-snapchat-favorite-app-of-teens
TikTok's ad revenue to surpass Twitter and Snapchat combined in 2022 --report | Reuters
https://www.reuters.com/technology/tiktoks-ad-revenue-surpass-twitter-snapchat-combined-2022-report-2022-04-11/
TikTok ad revenues set to triple this year --Telecoms.com
https://telecoms.com/514719/tiktok-ad-revenues-set-to-triple-this-year/
TikTok is one of the most popular apps in the world,
with over 1 billion
monthly active users. In a survey of teens living in the United States by Insider Intelligence, 33% of respondents listed TikTok as their 'favorite social media', up from 31% on Snapchat.
In addition, 80% of respondents use TikTok at least once a month, which is the second highest number after 89% on Instagram and 84% on Snapchat. On the other hand, only 31% of respondents said they use Facebook at least once a month, and their popularity continues to decline.
In addition, the graph of 'TikTok's advertising revenue from 2019 to 2024 (estimated value after 2022)' released by Insider Intelligence is as follows. Advertising revenue in 2021 more than doubled from 2020 to $ 3.88 billion (about 490 billion yen), but in 2022 it will more than triple from the previous year to $ 11.64 billion (about 1.4600 billion yen). (100 million yen), and Insider Intelligence predicts that it will continue to grow steadily.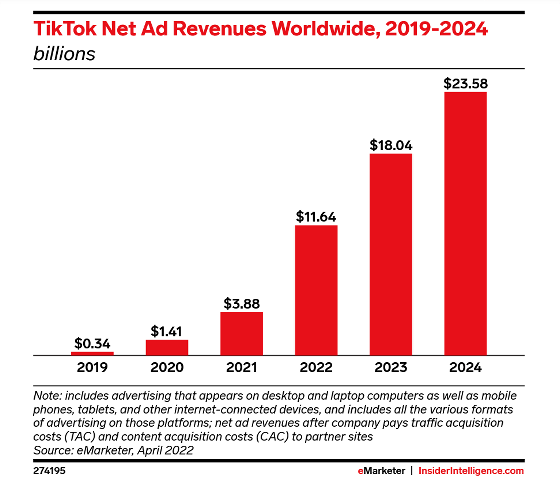 Twitter is projected to have $ 5.58 billion in advertising revenue in 2022, Snapchat is projected to be $ 4.86 billion, and TikTok's $ 11.64 billion in advertising revenue. It exceeds the total of Twitter and Snapchat.

'TikTok's user base has exploded over the last two years, and users spend an extraordinary amount of time on apps,' said Debra Aho Williamson, chief analyst at Insider Intelligence. 'TikTok is a lip-synching and dance app. By creating trends and fostering deep connections with creators, we will continue to let users watch videos one after another. '

TikTok's share of the global digital advertising market is expected to grow from 0.7% in 2021 to 1.9% in 2022, and is projected to catch up with YouTube in 2024. 'Advertisers want to reach a passionate and enthusiastic audience, and TikTok can do that. Another factor driving advertising spend growth is TikTok's uniqueness to social commerce,' Williamson said. It's a stance. By partnering with marketers and creators to promote content
virality
, the demand for the products advertisers want to advertise can be huge. '