It's been 5 days since the cloud version of Confluence / Jira went down, and Atlassian will spend another 2 weeks rebuilding.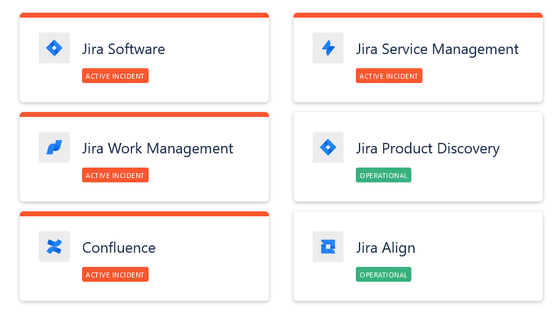 Atlassian's cloud services, which deploy the workspace tool
Confluence
and the software development tool
Jira
, have been down for several days. In response to user inquiries, Atlassian responds that the process is complex and will take up to two weeks to rebuild.
Atlassian Status
https://status.atlassian.com/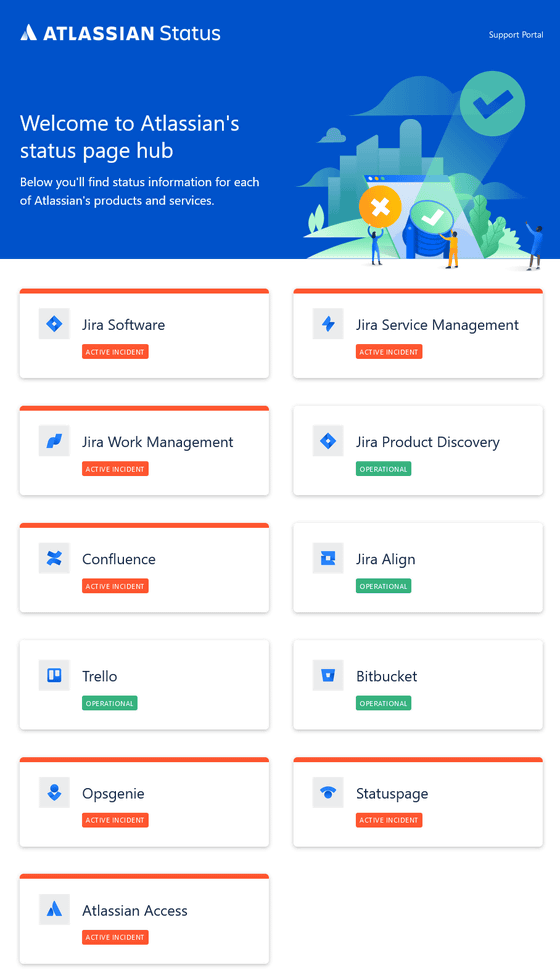 Atlassian products have been down for 4 days | Hacker News
https://news.ycombinator.com/item?id=30973808

On April 11, 2022, Hacker News talked about the fact that Atlassian's cloud service remained unavailable for four days.

'Atlassian products such as Jira are down ... 4 days? It's unbelievable. With the No. 1 project management SaaS , hours or even days?' Is Gergely Orosz, who writes the number one tech letter on the newsletter service Substack.

Atlassian products like JIRA have been down for… 4 days ?? Incredible how this is happening. Not a few hours, but a few days at the # 1 projects management SaaS.

Let me plug @linear where I couldn't imagine an outage this long (and is much more snappy to use than JIRA). Pic.twitter.com/cHnjYYVFXK

— Gergely Orosz (@GergelyOrosz) April 10, 2022


According to Kjartan Rekdal Müller of Norwegian video production service NEP Norway , the reconstruction process is complicated, so the end time can not be read, and Atlassian has contacted us that the guideline for revival is 2 weeks.

We just got this from Atlassian ????????:
'We were unable to confirm a more firm ETA until now due to the complexity of the rebuild process for your site. While we are beginning to bring some customers back online, we estimate the rebuilding effort to last for up to 2 more weeks.'

— Kjartan Rekdal Müller (@kjartanmuller) April 11, 2022


Atlassian has decided to end support for server products on February 15, 2024 local time, calling on users to move to cloud services, but this time users who set up their own servers On the other hand, users who were using cloud services are being affected.

Atlassian Server End of Support (Sales / Support) Information | Atlassian
https://www.atlassian.com/ja/migration/assess/journey-to-cloud

Promote a trip to the cloud together | Atlassian Japan Official Blog | Atlassian Co., Ltd.
https://www.atlassian.com/ja/blog/journey-to-cloud

·postscript
The Japanese version of the announcement was announced on April 13, 2022.

Atlassian Service Suspension Affecting Some Customers | Atlassian Japan Official Blog | Atlassian Co., Ltd.
https://www.atlassian.com/ja/blog/april-2022-outage-update