Makoto Shinkai's movie 'Suzume no Tojima' heroine Suzume's visual ban & will be released on November 11, 2022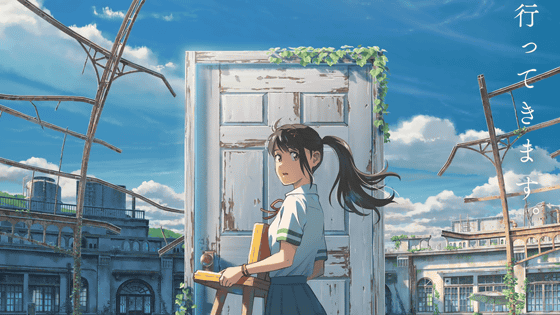 The heroine Suzume no Tojima is a new visual of director Makoto Shinkai's latest work ' Suzume no Tojimari ' , which is known for blockbuster works such as ' Your Name ' and 'Weathering with You' whose title was revealed in December 2021. The appearance of is revealed. It was also announced that the release date will be November 11, 2022 (Friday).


-New visual ban & release date decided- #Makoto Shinkai 's latest work ' #Suzume no Tojima '
The visual of the heroine #Suzume ( Suzume ) is unveiled for the first time ✨

What does a slightly open door and a small wooden chair mean ... ????

And the release date will be decided on November 11th (Friday) ????

Please look forward to this work that has begun to move! !! pic.twitter.com/GMoKZc3FyY

— Official movie 'Suzume no Tojimari' (@suzume_tojimari) April 8, 2022


The new visual is similar to the one released at the time of the title announcement in December 2021, but closer to the door, with a bell bud with a small wooden chair drawn in front of the door. Besides, the door is a little open. Also, as a catch phrase, the words 'I'm going.' Are attached.

This work is a story of Suzume closing the 'doors of disaster' that opened in various parts of the archipelago and traveling.

The special video will be premiered on YouTube and Toho MOVIE channel from 20:00 on April 10, 2022 tomorrow.

Once again, I'm making an animated movie called 'Suzume no Tojima'. It is a story of traveling to the Japanese archipelago with the main character, Suzume, while 'closing the door'. Tomorrow night, we will also release a teaser video. Please look forward to it! https://t.co/DFR4tanZ1d pic.twitter.com/rtwWteAg6F

— Makoto Shinkai (@shinkaimakoto) April 8, 2022


'Suzume no Tojima' special news [November 11, 2022 (Friday) release decision] --YouTube