The function to search in one shot with the Russian search engine 'Yandex' is removed from Firefox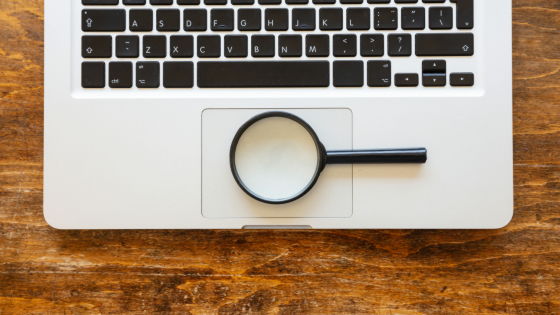 Mozilla, which develops Firefox for web browsers, released Firefox version '98.0.1' on March 14, 2022, and searched for it from major Russian IT company '
Yandex
' and email service '
Mail.ru
'. It was revealed that the function to be used was removed.
Firefox 98.0.1, See All New Features, Updates and Fixes
https://www.mozilla.org/en-US/firefox/98.0.1/releasenotes/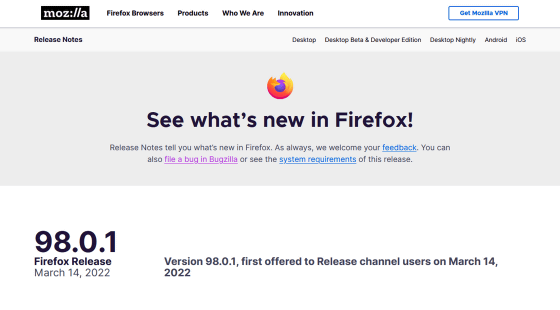 Firefox 98.0.1 has one big change: Remove Yandex and Mail.ru as custom offerings | ZDNet
https://www.zdnet.com/article/firefox-98-0-1-has-one-big-change-remove-yandex-and-mail-ru-as-custom-offerings/
As Russia advances its military invasion of Ukraine,
governments and private companies are taking various measures against Russia.
Apple
,
Microsoft
,
Netflix
and others have already stopped selling and servicing products in Russia,
Samsung
has also stopped shipping products to Russia, and YouTube is
blocking the YouTube channel of Russian state media worldwide
. ..
Meanwhile, Mozilla released in the release notes for Firefox version '98.0.1' released on March 14, 2022, 'Yandex and Mail.ru have been removed from the optional search providers in Firefox's drop-down search menu. I did. '
Firefox has a function that allows you to select any search engine from the address bar to search, but this fix removes Yandex and Mail.ru from the search options.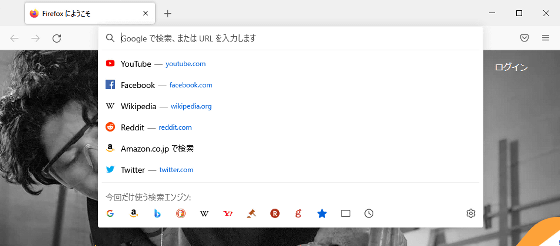 Also, if you are using Firefox customized for Yandex or Mail.ru, updating to '98.0.1' will remove customization settings such as add-ons and default bookmarks, and it will be the default setting provided by Mozilla. ..

Hacker News, a social news site, also talks about Mozilla's decision to exclude Yandex from search options.

Firefox removed Yandex search option | Hacker News

https://news.ycombinator.com/item?id=30672939
Users who have been using Yandex as an email provider for several years
claim
that Yandex's products are pretty good and that the search engine is technically second only to Google. He said he had to buy a new domain and
ProtonMail
as an alternative because the sanctions on Russia were no longer available as before.



'Does it make sense to boycott companies that have not expressed their support for the Russian government?' '
Yandex
is spreading Russian propaganda.' 'Sanctions on private companies will hurt the country's economy. The reason was mentioned.



The user who wrote 'It's a pity that Yandex has received this measure ...' said that Yandex's translation quality was superior to Google, and Yandex that can communicate in his native language was useful. While you can still copy and paste the results of the Yandex translation, Firefox's decision raises concerns that it may be a sign that even more restrictions will be imposed.