What is Mos Burger's completely reserved bread 'rich chocolate bread carefully thought out with Mos Burger and Yamazaki bread'? I actually tried it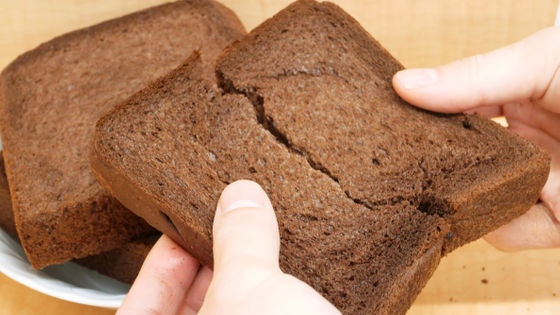 From Mos Burger, a hamburger chain store, a bread for pre-order sales and take-out, ' a rich chocolate bread that has been carefully considered with Mos Burger and Yamazaki bread, ' has appeared. It was a bread that followed the sudden appearance of 'bread that is
so rich that you might want to make a voice without thinking that you don't need butter
' in March 2021, and it was appealing that 'chocolate is not too bitter and has just the right amount of sweetness'. I actually tried to see what it was like.
Recommended for a slightly rich 'home breakfast' on weekends! New release of 'rich chocolate bread carefully thought out with Mos Burger and Yamazaki bread'
(PDF file) https://www.mos.co.jp/company/pr_pdf/pr_220217_1.pdf
The sale date of 'rich chocolate bread carefully thought out with Mos Burger and Yamazaki bread' is from March 11, 2022 (Friday) to June 24, 2022 (Friday) on the second and fourth Fridays of every month. The deadline for reservations is the Saturday of the week before each sale date, and it is necessary to visit the store in advance to make a reservation.
So, the following is the state when I made a reservation. I'm coming to Mos Burger.



The sale of two kinds of bread was appealing on the outside signboard.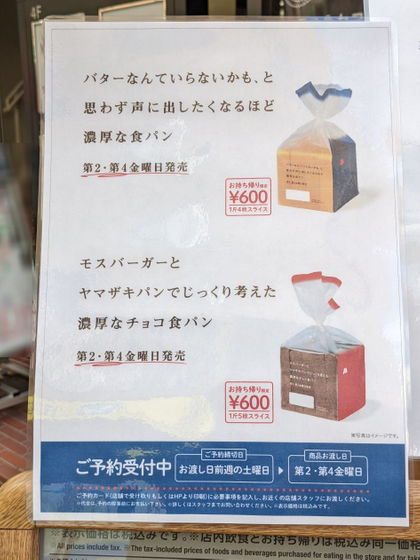 At the store I visited this time, there was a stand with a 'reservation card' for reservations, so ...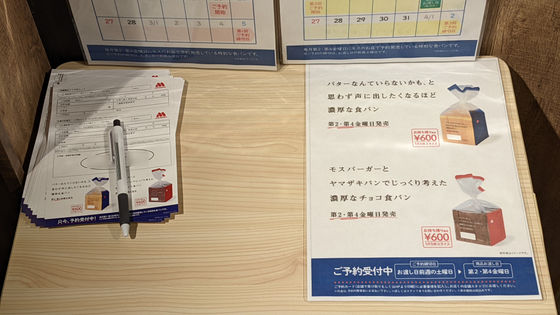 I filled in the number of reservations, the total amount, the desired date and time of receipt, the name, and the contact phone number in two places and handed it to the clerk. Pay the money first, receive the 'customer copy' of the reservation card, and the reservation is completed.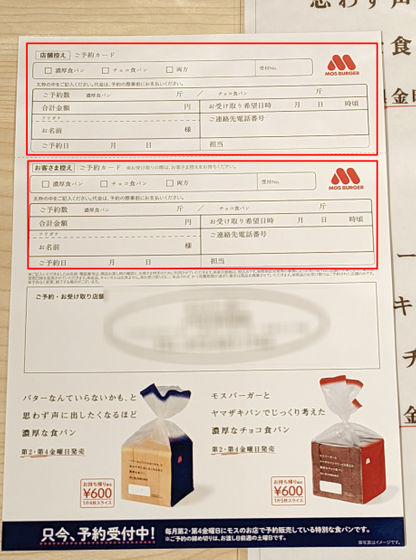 Then, on Friday the sale day, I got bread in exchange for a stub.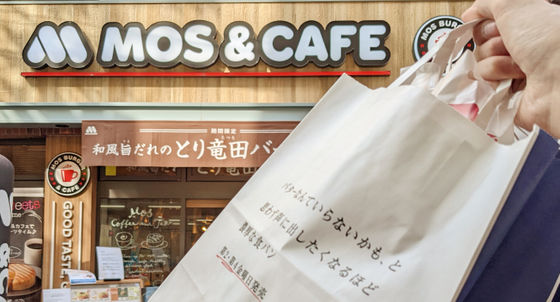 The package of 'rich chocolate bread carefully thought out with Mos Burger and Yamazaki bread' looks like this.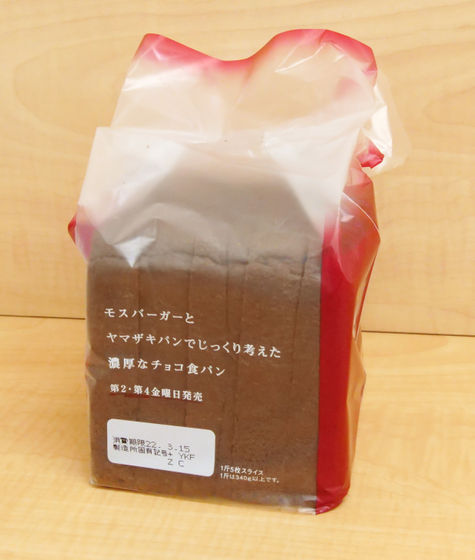 It is cut into 5 pieces.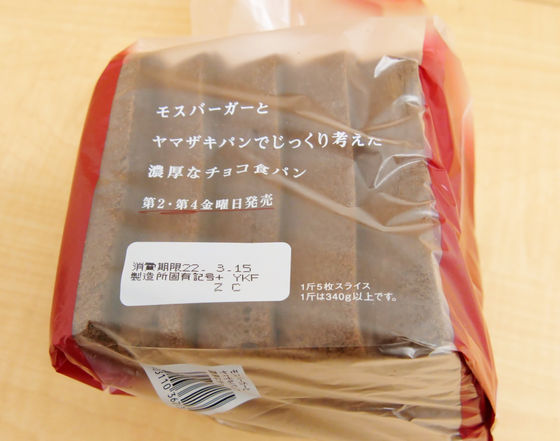 One loaf weighs 429g.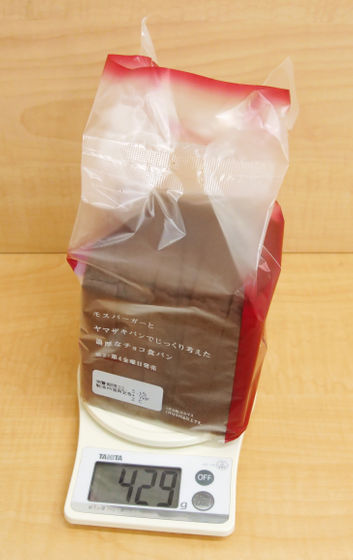 Semi-chocolate, margarine, butter oil, cream, etc. are used as raw materials. The calorie is 265 kcal per sheet.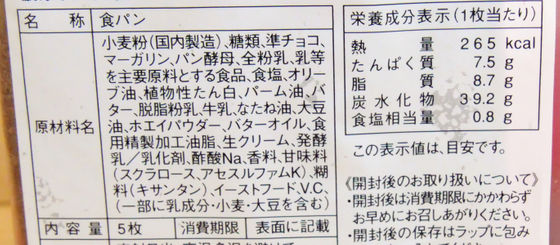 I took it out on a plate.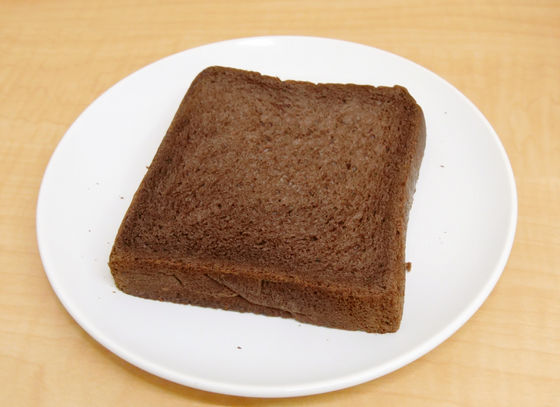 The length is about 12-13 cm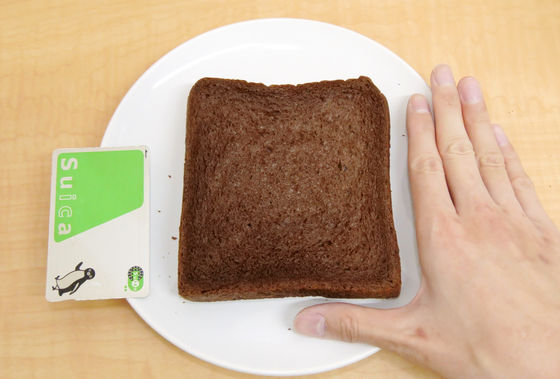 The thickness is about 2.5 cm ...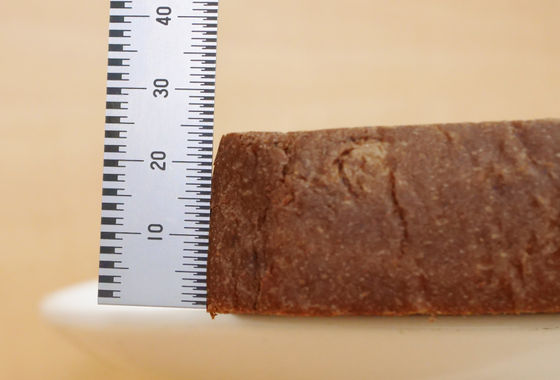 It weighs 85g.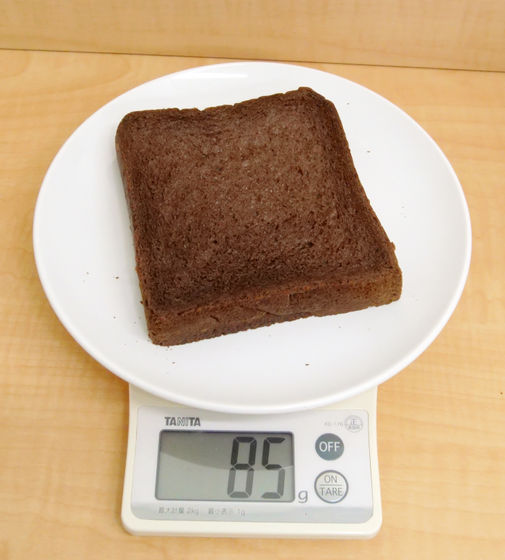 With a fluffy and chewy texture, it has a faint chocolate scent.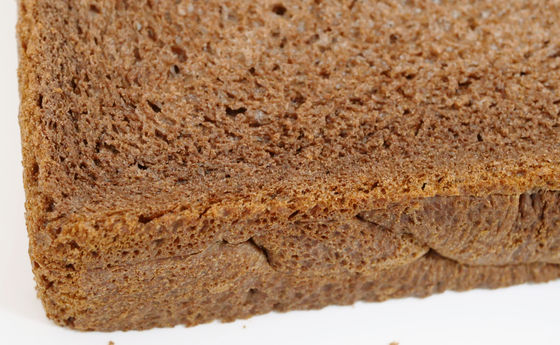 The cross section that was cut in half by applying force is as follows.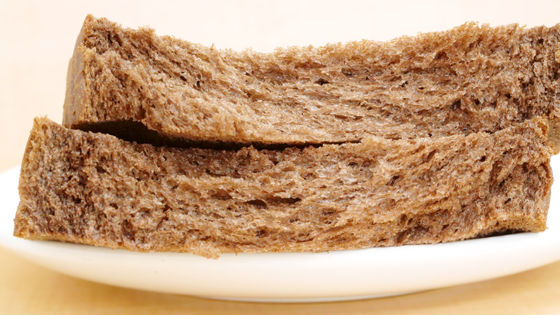 First of all, if you eat it as it is, the sweet scent of chocolate spreads softly in your mouth. It's not a clear sweetness like 'chocolate bread with chocolate sauce', but a moderate sweetness that makes you feel a little bitter. It has a moist texture with a large amount of water.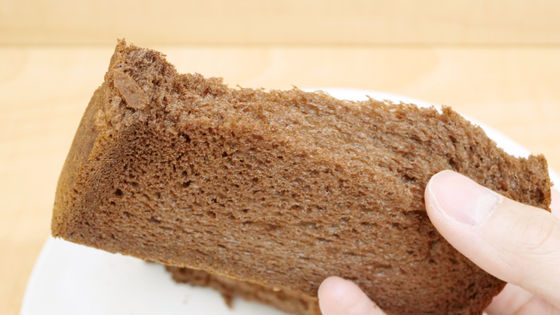 Then toast and eat.



When baked, the scent of chocolate spreads considerably, and the room is filled with the scent of chocolate. Even when I try to eat it, I feel the scent of chocolate is even stronger than when I eat it raw. It seems that the sweetness is a little stronger by baking, and the balance between aroma and taste changes, so you can choose toast or eat raw as you like. The editorial staff who ate both raw and toast commented that 'it should be absolutely baked' and 'it is completed with just this, so there is no need to add sweetness'.



The price of 'rich chocolate bread carefully thought out with Mos Burger and Yamazaki bread' is 600 yen including tax per loaf, and it is sold at 1100 Mos Burger stores. The sale date is limited to the 2nd and 4th Friday of every month from March 11, 2022 (Friday) to June 24, 2022 (Friday). Reservations must be made at the store where you want to purchase by the Saturday of the week before the sale date.

At the same time, 'bread that is so rich that you want to make a voice without thinking that you don't need butter' is also on sale.

Suddenly, Mos Burger suddenly introduced a completely reserved 'bread that is so rich that you might want to make a voice without thinking that you don't need butter', so I tried it--GIGAZINE