Microsoft / EA / CD Projekt Red Stops Product Sales and Service Offering in Russia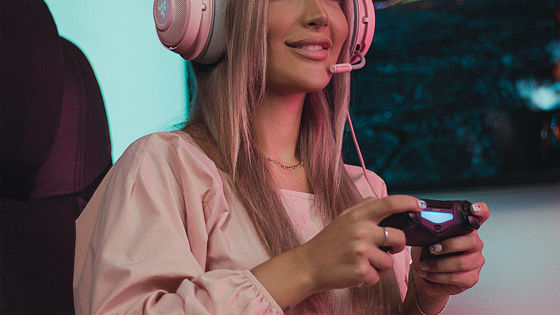 On March 2, 2022, Ukraine's Deputy Prime Minister Fedorov, who was invaded by Russia , requested game developers and esports officials to sanction Russia and Belarus. As a result, companies such as Microsoft, EA, and CD Projekt Red have stopped selling products and services in Russia one after another.

Microsoft suspends new sales in Russia --Microsoft On the Issues
https://blogs.microsoft.com/on-the-issues/2022/03/04/microsoft-suspends-russia-sales-ukraine-conflict/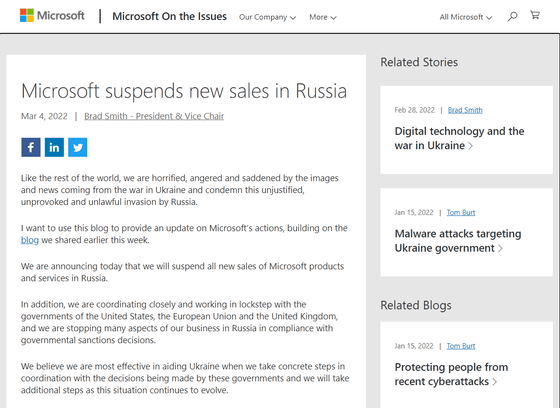 Microsoft updated its blog on March 4, 2022 local time, announcing that it has stopped selling all new Microsoft products and services in Russia. Microsoft 'will work closely with the governments of the United States, the European Union and the United Kingdom to suspend many aspects of its business in Russia in accordance with government sanctions decisions.' If we believe that we are making the most effective choice in supporting Ukraine, we will consider taking additional steps if Russia's invasion of Ukraine continues. '

EA, a gaming company known as the publisher of the FIFA series and Apex Legends, has also announced that it will stop selling games and content in the region with a statement 'Latest information on EA titles in Russia and Belarus.'

Update on Electronic Arts titles in Russia and Belarus
https://www.ea.com/en-gb/news/update-on-electronic-arts-titles-in-russia-and-belarus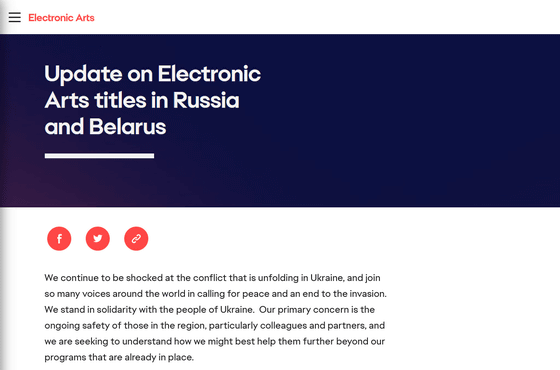 EA also issued a statement on March 4, 2022 local time, as the latest effort to support Ukraine invaded by Russia, 'a game that includes crypto bundles in Russia and Belarus during the ongoing conflict. And we have decided to stop selling content. ' As a result, Russian users will no longer be able to purchase games and content handled by EA through the in-game store, Origin, or the EA app. It also states that it has worked with platform partners to remove titles from the store, making it impossible to purchase EA-related content from Russia and Belarus, so sales of EA content will be suspended outside of stores directly operated by EA. Pattern.

The popular EA titles FIFA Series and NHL 22 have removed the Russian team ahead of time.

EA removes Russian team from popular soccer game 'FIFA' series, following Russia's invasion of Ukraine-GIGAZINE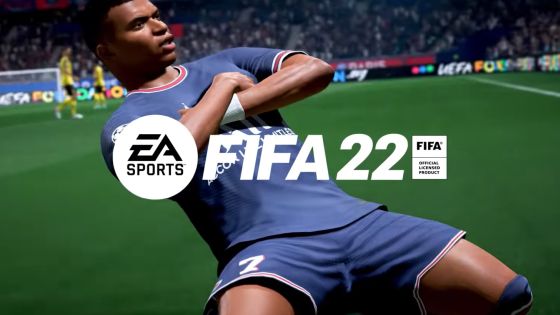 In addition, Polish game developer CD Projekt Red, the developer of Cyberpunk 2077, has also announced that it has stopped selling products in Russia and Belarus.

March 3, 2022


CD Projekt Red announced that 'in light of the Russian invasion of neighboring Ukraine, the CD Projekt group has decided to stop all game sales in Russia and Belarus.' CD Projekt Red is working with partners to stop digital sales of its titles in Russia and Belarus to Russia and Belarus for CD Projekt Group products and all games (packaged versions) sold on GOG.com . Is going to stop delivery.

According to CD Projekt Red's investor report , GOG.com's sales in the last 12 months are estimated to be 5.4% and 3.7%, respectively, in Russia and Belarus. Therefore, CD Projekt Red has decided to let go of a considerable amount.


in Game, Posted by logu_ii