Interview with Atsuko Ishizuka about the original anime movie 'Goodbye, Don Gries!', 'Treasure' of boys drawn by the director 'I can only see the future'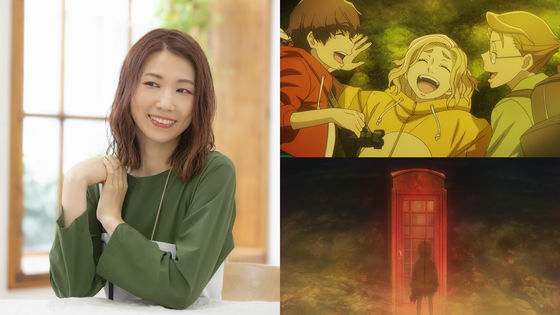 The original feature-length anime movie ' Goodbye, Don Gries! ', Which has no original novels or manga, has been released in theaters from February 18, 2022 (Friday). This work is directed by Atsuko Ishizuka of '
No Game No Life
' and 'A
Place Further Than the Universe
'. In order to find out how the original work was made following the original animation 'A Place Further Than the Universe', which depicts girls aiming for Antarctica, and what is the source of the work that attracts people. I asked the director Shizuka.
Movie 'Goodbye, Don Gries!' Official Website
https://donglees.com/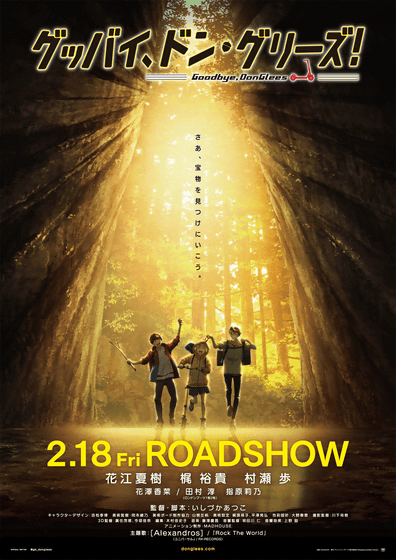 GIGAZINE (hereinafter, G):
Director Ishizuka is also in charge of the script in this work. Was there a big change in what you did compared to your previous works? Or did you proceed in the same way as before?

Director Atsuko Ishizuka (hereinafter referred to as Ishizuka):
When it comes to writing a script, there is a point that you have to make a firm sense of the slowness and slowness of entertainment. Until now, a professional screenwriter would do it better, so I left it to me, but this time I decided to challenge myself ... I was rather a director, and I assembled it. It's a skill that specializes in how to draw puzzles in a fun way. But the script is about how to assemble the puzzle itself, so the part that the brain uses is the opposite (laugh)

G:
The exact opposite (laughs)

Ishizuka:
I had a hard time there. So, in that sense, the changes were big, and I think the approach was also very different. However, once the script is written in this way, whether it is an original work or an original work, how to sublimate the plot and the flow of the story as entertainment, I feel that I was able to face it with the same feeling as usual.

G:
After broadcasting the previous work 'A Place Further Than the Universe' (hereinafter 'A Place Further than the Universe'), Director Ishizuka was asked about his future goals
in an interview with the Todai Shimbun online
. I hope that people who are wider than they are now will be able to see works that are original and that people would definitely like to see. I am making an animation with a certain target. For example, if it is a movie version, I can get a different customer base. I would like to try new ways of transmitting such images in the future. Aim, the original theater animation! ' This is exactly the 'original theater animation', but as the 'different customer base' in this interview, what kind of audience do you think this work should reach?
Ishizuka:
'A Place Further than the Universe' is a TV anime that is broadcast in the middle of the night, and is sent to people who like anime and have been supporting us for a long time. 'Don Gries! ] Is a movie in which customers have to go to the theater on their own, even if they portray youth in the same way, so I thought that the target would change significantly. On the other hand, because it was a work that I decided to continue trying with the original from 'A Place Further than the Universe', I never wanted to betray the people who supported 'A Place Further than the Universe'. ..
G:
So that's it.
Ishizuka:
'A Place Further than the Universe' is a work that we love and cherish very much, so what would happen if we cherished it and made the next story based on our experience? Goodbye, Don Gries! 'is. The theme is a little different, and in 'A Place Further than the Universe,' we delve deeper into friendships, and the four of them become friends and best friends from strange relationships, and even spend time together in Antarctica. By spending time, you will become closer to your family. In other words, I drew a sense of distance that seems to go inward. 'Goodbye, Don Gries! On the contrary, I wondered what the story would be about expanding the possibilities to the outside.
G:
Oh! From inside to outside.
Ishizuka:
When it comes to a story that expands the horizons with a boy as the main character, not only 'I want to look back at myself' but also a light feeling like 'I'm just interested in the outside' can make unexpected new discoveries. I wonder if there are times. That's why I cherished things like looking outside, expanding the world, and realizing the infinite possibilities.
The main characters of 'Goodbye, Don Gries!' Roma (voice: Natsuki Hanae), Drop (voice: Ayumu Murase), Toto (voice: Yuki Kaji)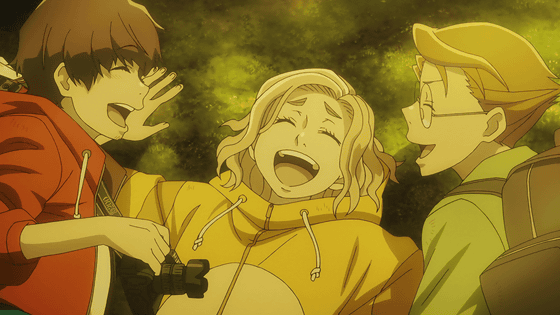 G:
So that's it. In an
interview with the director
who edited the monthly newtype unpublished part posted on the 'A Place Further than the Universe' official website, there was a story that schools, townscapes, downtown areas, etc. were location scouting to give a sense of life. It was out. What kind of location did you do in this work?
Ishizuka:
Unfortunately, I just hit the corona epidemic, so basically I can't go to location scouting. We also created Iceland, which appears in the work, while investigating ourselves.
G:
When I was looking at it, I was surprised that there was such a place, but it was drawn without going to location scouting ...!
Ishizuka:
It's a tribute to my imagination (laughs)
G:
Was this story solidified in this style from the beginning of the project?
Ishizuka:
The theme itself is 'a story about a boy getting bigger', and although it hasn't shaken so much, there are some things that have changed considerably. In drawing the growth of a boy, I was most concerned about what to set as a goal. In modern society, when I wondered what a dream is, something that everyone longs for, the values are so diversified that 'everyone would be happy to get this.' Do you say there are no treasures ...
G:
That may be true.
Ishizuka:
Like '
Castle
in the Sky', there is a castle called Laputa in the sky, and I really understand that finding it is a romance, and I definitely want to see it, but nowadays However, when I set a goal to have a legendary floating island called Castle in the Sky, I was wondering if the majority of people would like to reach it. We are convinced that there is nothing we don't know anymore, and in fact, we can get knowledge by looking up if we want to know, so we can't find such an 'unknown treasure that feels romance'. It was.
G:
Oh, I see.
Ishizuka:
So, wondering what they would like to get instead, and digging into the fact that they are life-sized boys, I think they are girls. 'I play an active part as a hero for my favorite girl', isn't it cool and longing? In the end, I'd be happy if I could have a happy ending with both feelings. Also, if you're a junior and senior high school student, it's the sex that you absolutely care about if you have a cute girl.
G:
Hmmmm.
Ishizuka:
From the beginning, I was thinking about things like high empathy and life-sized feelings. When it comes to entertainment, I often think about 'fighting evil.' However, as I approached various things, I was always wondering, 'Is it really a story that expands the possibilities of these children?' So, let's stop the goal of 'finally getting a girl'.
The girl who appears in the film, Tivoli (voice: Kana Hanazawa).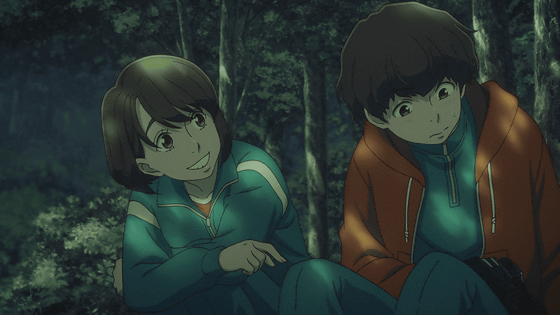 G:
Did you come that way?

Ishizuka:
So, there was a moment when I changed the project once. Let's rethink the vague 'infinite possibilities' that we wanted to draw at the beginning. It was Iceland that came out there. Originally, I thought 'Iceland is nice' and set up a pin, but by investigating it carefully, 'If you want to set the stage in the desolate land,' the end of the world 'and' your own It goes well with keywords such as 'limits' and 'life.' Let's have the boys face life and draw a moment to recapture the whole world in which they live. Isn't there a landing point that it is a treasure they should have ... That is, 'Goodbye, Don Gries! It was the beginning of the plot of the project.

G:
An interview with director Izuka was published in the book '
Dramatic Change! Animation Environment 2018 History +1
', which talked about episodes from junior high school. When I was in junior high school, I was thinking 'I'm going to be a painter in the future' in the art club, but since I was learning Electone from the time I was thinking about it, I was thinking 'I'm also an Electone teacher', but in high school I was in the drama club. You mentioned that you made progress, but what made you decide to move toward this kind of animation production from here?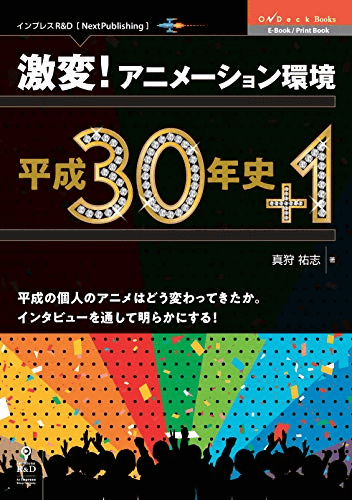 Ishizuka:
I simply like pictures, I like music, and I also like reading books, so I like the story itself, so if you put it together, it's an animation ... (laughs)

G:
I see (laughs)

Ishizuka:
However, when I was in college, I didn't make it with the awareness that I like animation, but simply a combination of techniques that I could use was just an expression technique called animation. I didn't grow up watching anime for a long time, so I didn't have the desire to make an anime ... When I happened to come up with something for an assignment, I did everything I could. , I wrote a story, drew a picture, added music, and it became an animation, that's all. When I was in college, I majored in media design and was interested in the advertising industry. I want to do commercials and music clips.

G:
Well, was that so?

Ishizuka:
Even in job hunting, I went to so-called advertising agencies. However, I go to the final interview every time, but I felt something was wrong with the fact that there was a difference between what I was asked at the final interview.

G:
Is it strange?

Ishizuka:
There was one person who called it Zubari. 'Maybe you're not interested in advertising, but entertainment.' 'Designing' is a little different from 'I want to make customers laugh', and it's just entertainment that seeks excitement. That said, 'Oh, I see!'

G:
Oh.

Ishizuka:
Since I was in the design department, I always thought 'I'm doing design', but I realized that what I've made so far was just trying to entertain people. 'If you like painting so much and you can draw it, why don't you go to the animation industry?'

G:
(Smile)

Ishizuka:
So I finally switched to the anime industry. 'Well, there is also an animation industry.' I finally learned that there was a company that made anime.

G:
There was a story that it used to be a drama club. I heard that the anime industry was unaware of its existence, but what was the reason for the direction of theater at that time?

Ishizuka:
This is simply because the child who became friends wanted to join the drama club.

G:
Eh (laughs)

Ishizuka:
That's right, I think that's what it is (laughs) I had a desire to go to Tokyo University of the Arts in the first place, but I accidentally entered a high school. The girl who happened to be in the back seat of me in the new semester of the first grade, is still a good friend and is like a model of Kimari in 'A Place Further than the Universe', but this child is looking at the drama club I wanted to go, so I decided to go.

G:
Did you mean that?

Ishizuka:
I wanted to go to Tokyo University of the Arts, so I was worried that I should join the art club, so I consulted with a senior in the drama club. Then, he said, 'Theatre is also a kind of comprehensive art that requires expressiveness, and isn't there something that can be used as a reference?'

G:
Ah.

Ishizuka:
It's certainly entertainment, and I think it's one of the artistic expressions. When it comes to the drama club, I thought that I had to play, but besides the actors, there are people who make the stage, I have to make stories, there is music, and I just entertain the audience. Must be. That's why I joined the drama club because it was a big deal, but it certainly had a very good experience. I think that the sense of rhythm when watching the story, how to take time to attract customers, how to use the space and the composition of music are alive now.

G:
What did the young director Ishizuka worry about during his various experiences?

Ishizuka:
I had a lot of troubles like people, but after I entered Tokyo University of the Arts, I suddenly flew to London alone.

G:
Why in London?

Ishizuka:
For some reason, I had the image of 'I like painting, so I naturally go to the arts college' from an early age. I went to Tokyo University of the Arts without any doubt, but when I entered, I felt a great difference from myself in the sense, individuality, and identity of the people at Tokyo University of the Arts. I just studied hard at school and came to Tokyo University of the Arts, so I said, 'I'm a boring person here? I don't have anything to express. I thought. I think there is no personality or passion. So there was a time when I didn't really face the work. I think everyone has a time to deny themselves, but that's right.

G:
Ah.

G:
I don't feel confident, or when I compare myself to other people, I think I'm inferior to anyone else. That's why I couldn't make a work ... It's completely a slump, isn't it? I was scared and scared even to go to the drawing paper, and when I said 'to do something about it', I thought that I had to go steadily and said, 'Yes, let's go to London.' I don't remember why it was London, but I decided to go there for the time being. I've never been abroad, and I don't speak English, but I happened to have a receptionist for a short-term study abroad program at a summer school in London, and I was told that I could do a homestay. Is safe, isn't it? '

G:
Then, take your passport saying 'I'm going to summer school for a while' ...? It's a tremendous amount of action.

Ishizuka:
That's right (laughs) I feel like I happened to come to college when I wasn't confident in myself and was busy.

G:
This time, 'Goodbye, Don Gries! ] Depicts the youth of high school students living in rural towns. It is a description that there is such an unreasonable high school student, but does this reflect the experience of the director and friends? Or is it completely separated as a creation?

'Don Gries' gathering at a secret base.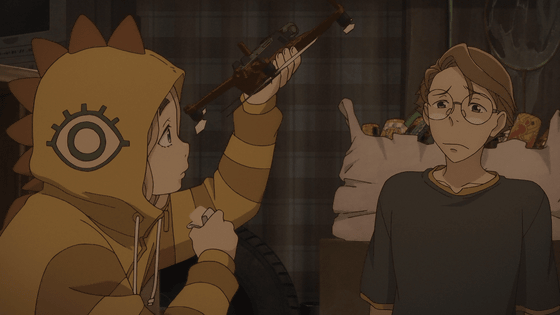 Ishizuka:
It's completely isolated. Basically, I'm a person who forgets the past and lives, and to put it beautifully, 'I can only see the future' (laughs)

G:
(Smile)

Ishizuka:
I don't remember what I've done so far, or if I don't have the opportunity to dig it again, and what I was thinking and what I was making at that time. To be honest, I have little interest in it. If you still feel something, I was curious that it might be an essential part of you.

G:
It means that you are steadily advancing into the future without being bound by the past. In that case, do you feel that what you want to do is incorporated into the work in front of you? Is there something you didn't dare to put in?

Ishizuka:
That is of course. It's impossible to do everything with that work every time. 'The best goal of a work' is not always equal to 'I can do everything myself'. It is meaningless unless the work reaches the person who sees it most straightforwardly, so in that case, it is essential to remove unnecessary things in order to aim for the best goal of the work. And this work is a work to drop one by one what I think 'I wanted to do'.

G:
It looks like a wig ...

Ishizuka:
After all, our staff is aiming not to just incorporate what we want to draw, but to convey what we want to convey, and to make it impressed and enjoyable. I wonder if what I want to do is a different theme or something else. That's why I think that the flow of 'I want to do the original again next time' may lead to the next, so I personally think that I don't have to say everything I want to say.

G:
So that's it. This time, 'Goodbye, Don Gries! Did you find anything new or gained by making '?'

Ishizuka:
It's the theme of this work itself, and I had to think about the theme myself, but I really realized that 'it's a nambo with a broader perspective.'

G:
Did you have a specific feeling while making it?

Ishizuka:
In making a work, it is necessary to learn 'a feeling of expanding the field of view' in order to draw the theme by yourself, but do you feel that you were taught by the characters? , There was always a feeling of being taught by the character. 'Isn't there a place where people live?', 'When I went to the end of the world, there was a world beyond the end,' and 'When I looked down, my town was so small. 'And. That's what I was told, 'Everyone said that the bear wasn't there, but we certainly saw it,' or even though it was a line I wrote myself, 'Sure.'

The casual interaction of the boys may make you feel surprised.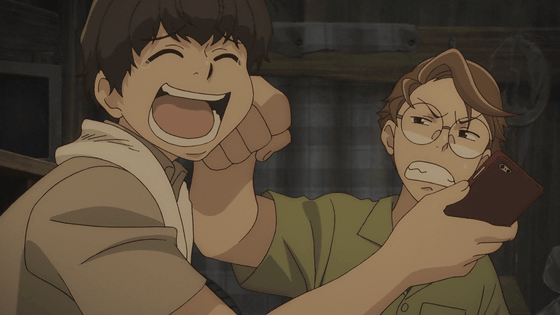 G:
So that's it. As a director, when I tried to make this work and there was a particular response, I thought that it would be a big deal, but what kind of part did you do well when you tried it?

Ishizuka:
In the sense that it went well, is it just going to camp on a mountain road in the middle of the game? I realized that it would be difficult to show how dramatic the middle of the journey after a break, following the early stages that are easily noticed because it presents various information in the story. Originally, I was prepared to be slack in this area and lose my concentration, but there is a high probability that people who saw it in the preview will say 'I like that scene'.

G:
oh.

Ishizuka:
It was a very nice impression to be able to say that I came to that scene that I worked hard to prepare in the middle of the game, which could be boring, and I think it would have worked.

G:
It's a dramatic work not only in the middle stage but also in the early and late stages, so I definitely want you to experience it at the movie theater. Thank you for talking with us today.

The movie 'Goodbye, Don Gries!' Has been released on February 18, 2022 (Friday).

The movie 'Goodbye, Don Gries! 』This notice long ver. --YouTube

©Goodbye,DonGlees Partners

◆ 'Goodbye, Don Gries!' Work information
·cast
Roma (Roma Kamokawa): Natsuki Hanae
Toto (Hokuto Mitarai): Yuki Kaji
Drop (Shizuku Sakuma): Ayumu Murase
Tivoli (Urayasu Chihosato): Kana Hanazawa
Roma's father (Taro Kamokawa): Atsushi Tamura (London Boots No. 1 and No. 2)
Roma's mother (Mako Kamokawa): Rino Sashihara

·staff
Director / Screenplay: Atsuko Ishizuka
Character design: Takahiro Yoshimatsu
Art Director: Ayano Okamoto
Art board production cooperation: Saho Yamane
Art setting: Eiko Tsunagami, Akihiro Hirasawa
Color design: Harue Ohno
Cinematographer: Hiroki Kawashita
3D Director: Shigenori Hirosumi, Kana Imagaki
Edited by: Kashiko Kimura
Music: Yoshiaki Fujisawa
Sound Director: Jin Aketagawa
Sound effect: Tsuyoshi Ueno
Animation production: MADHOUSE
Theme song: [Alexandros] / 'Rock The World' (Universal J / RX-RECORDS)
Distribution: KADOKAWA
Production: Goodbye, Don Gries! Production committee