Optical fiber is shot by someone and tens of thousands of people are unable to use the Internet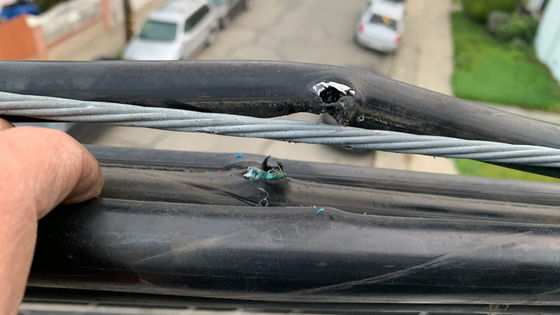 On January 30, 2022, an incident occurred in California, USA, where an optical fiber line was cut and about 20,000 users were damaged. Subsequent investigations reportedly revealed that the communication failure was caused by someone shooting.

Bullets Cause Damage to Comcast Fiber in Oakland
https://california.comcast.com/2022/01/30/bullets-cause-damage-to-comcast-fiber-in-oakland/?linkId=150201906

Multiple bullets hit Xfinity fiber cable, causing outage in Oakland
https://www.mercurynews.com/2022/01/30/sjm-l-xfinity/

Tens of thousands left without Internet as multiple bullets hit Oakland Xfinity fiber cable --DCD
https://www.datacenterdynamics.com/en/news/tens-of-thousands-left-without-internet-as-multiple-bullets-hit-oakland-xfinity-fiber-cable/

The Mercury News, a local newspaper in California, said on January 30 that 'multiple bullets hit the fiber optic cable of communication service Xfinity and the service was stopped, damaging tens of thousands of residents of the city of Auckland. The failure was fully recovered within the same day. '

According to a Xfinity spokeswoman, the failure occurred before 5 am on the 30th and all Xfinity services, including Internet, TV, telephone and home security systems, were shut down. As a result, approximately 20,000 users were affected throughout Auckland.

The Auckland police announced that the gunshot detection system ShotSpotter detected that there were 17 shots in the city around 3:30 on the same day, and it was an obstacle that the cable was cut by a series of shots. It is believed that this is the reason.

Our teams are continuing to work diligently to restore services in Oakland. We sincerely apologize for disruption of services. Https://t.co/W4lmVkJVgd

— Comcast California (@ComcastCA) January 31, 2022


The California-based American football team's San Francisco 49ers vs. Los Angeles Rams match was scheduled to begin at 15:40, so Xfinity rushed to repair it, but service to some users was at 19:00. It seems that it did not recover until 20:00.

In California, other crossroads in San Mateo County had widespread impact on civilian life, including police urging police to refrain from passing through nearby areas due to the suspension of traffic lights at some intersections.