I tried using 'Cup de Cooking Mapo Tofu no Moto' which is OK if you put water and tofu in the microwave and cook it in the microwave.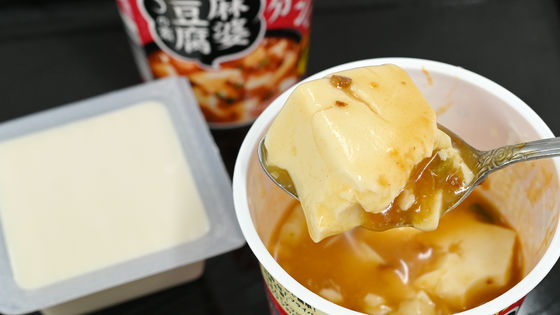 I found 'Cup de Cooking Mapo Tofu no Moto ' that you can easily make mapo tofu by cooking in a range with water and tofu without cutting board, kitchen knife, frying pan or plate, so how easy can you make it? I actually cooked it.

Cup de Cooking Mapo Tofu Element | Cup de Cooking | Cup Foods | Product Category List | Products / Campaigns | Pokka Sapporo Food & Beverage

https://www.pokkasapporo-fb.jp/products/cupfoods/cooking/WC71.html
'Cup de Cooking Mapo Tofu no Moto' that looks like instant ramen or instant miso soup.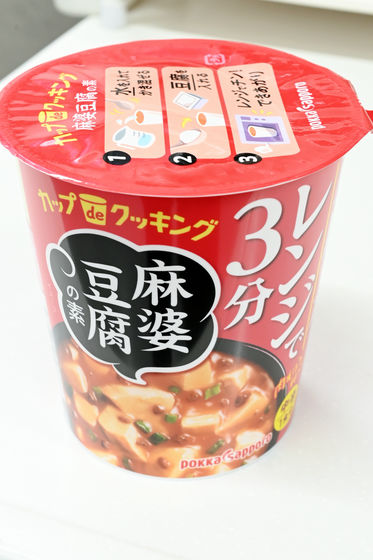 To make mapo tofu, you need to prepare tofu, water, and a spoon or a lotus. The standard tofu is 150g, which is about one of the types sold in packs of 2 or 3. No kitchen knife or cutting board is required as it is not cut. Water is also measured 100 ml with a measuring cup here in an easy-to-understand manner, but since there is a line inside the container, it is not necessary to measure it in advance.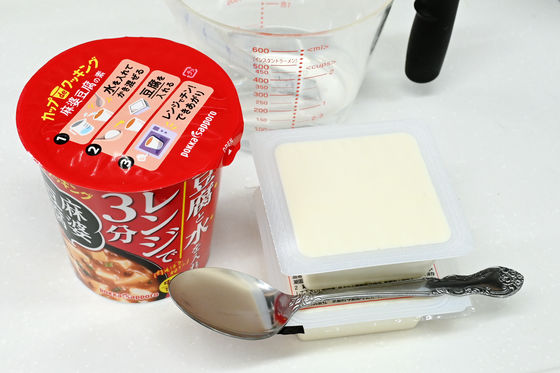 There are roughly 3 steps to make it: 'Add water and stir', 'Add tofu', and 'Chin in the microwave'.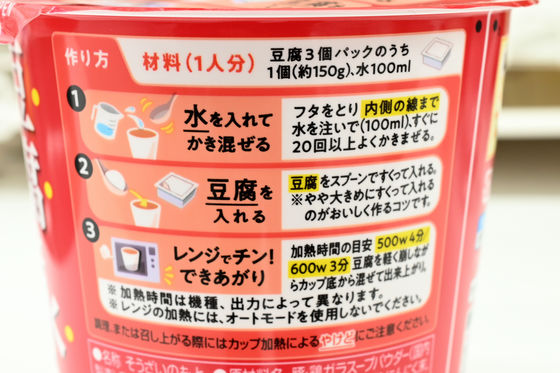 Ingredients include pork and chicken glass soup powder, lactose, sugar, chicken bouillon, pork extract, etc.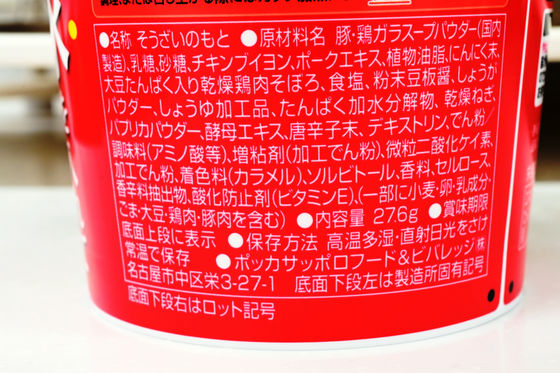 If you remove the lid, you will find such powder.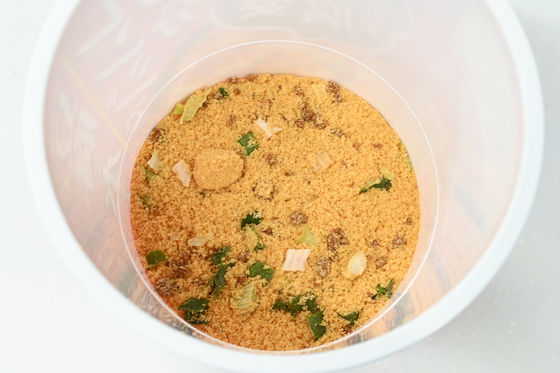 Pour water up to the inner line.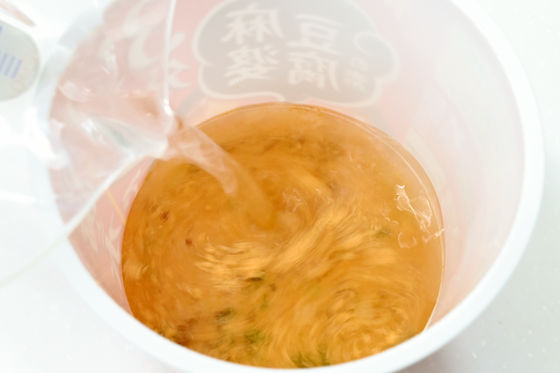 Then immediately mix at least 20 times.



Next, scoop the tofu with a spoon and add it. At this time, the point is to scoop up a large amount.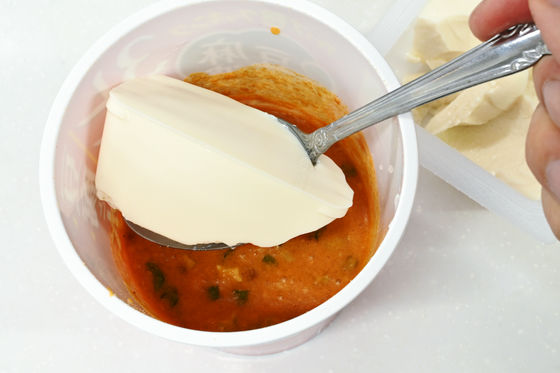 When the tofu is packed tightly, it's ready.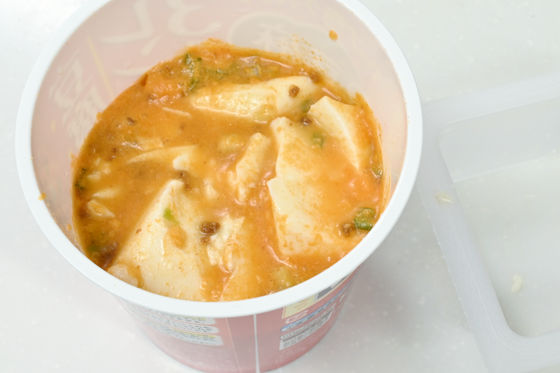 Heat in the microwave for 3 minutes at 600W and 4 minutes at 500W.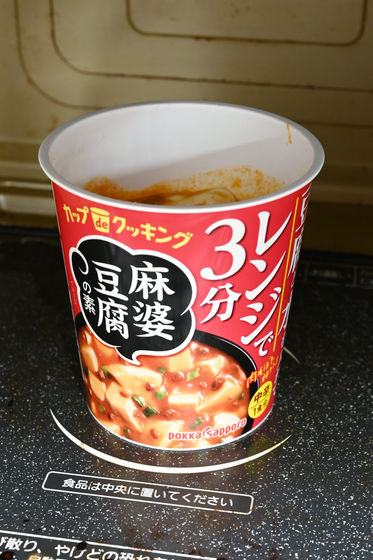 After heating, it looks like this.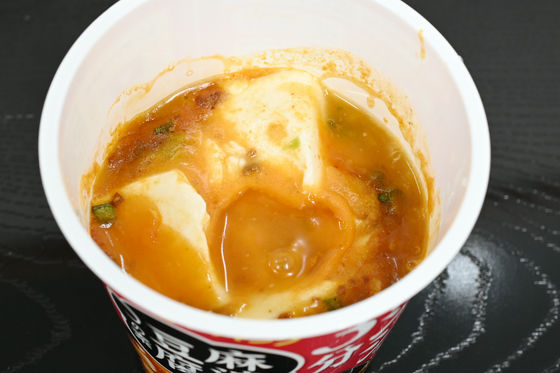 Gently break the tofu and mix well from the bottom to complete. There was a large lump left, 'Is it okay if it's about this size?', But when I tried it, it warmed up to the inside. The sweetness and spiciness are well-balanced, which is perfect for expressing 'medium spicy', and you will want white rice unintentionally.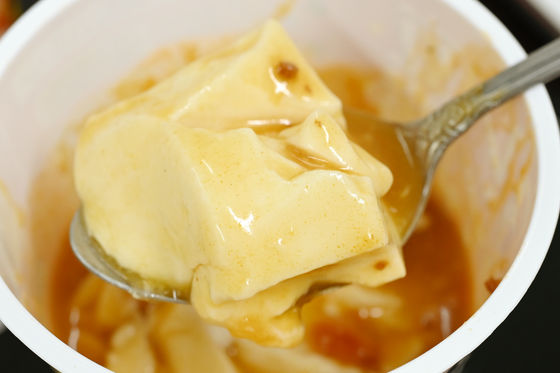 The ingredients that are included from the beginning are chicken soboro and dried green onions, and most of them are tofu because the amount is not large, but 'I don't have the energy to cook, but how about eating only instant noodles? Even when I say, I'm very happy that I can make one dish just by adding water and tofu and chin. As a healthy meal, you can use this one cup as a side dish, or you can use it as a side dish and combine it with rice. It was a handy gem.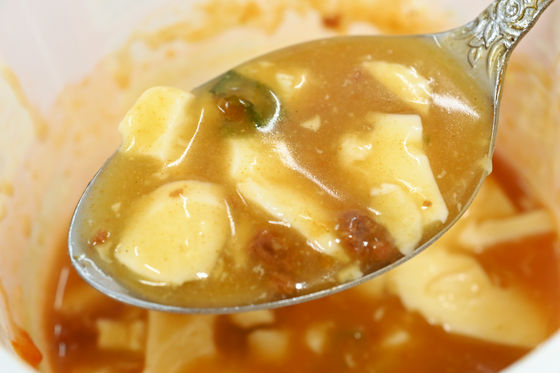 'Cup de Cooking Mapo Tofu no Moto' is 180 yen excluding tax. In addition to 'Mapo Tofu Element', there are also '
Mala Curry Tofu Element
' and '
Meat Soboro Tofu Element
'.
In addition, it may be difficult to find in supermarkets and convenience stores, so if you really want to get one, it is better to buy online. At Amazon.co.jp, a set of 6 is 1166 yen including tax (194 yen including tax per piece).
Amazon | Pokka Sapporo Cup de Cooking Mapo Tofu Base Cup x 6 | Pokka Sapporo Food & Beverage | Food / Beverage / Liquor Store