Tesla promises to 'prevent driving drivers from playing games'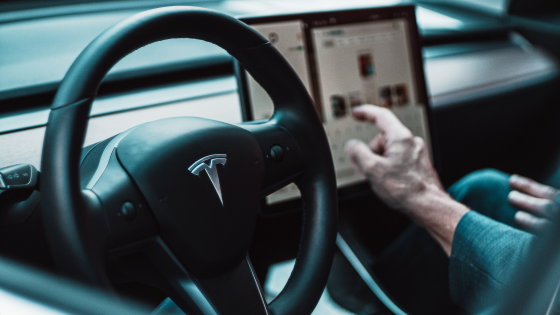 In December 2021, it was reported that 'the driver can play the game' on the touch monitor installed in the driver's seat of the Tesla car. When the US National Highway Traffic Safety Administration (NHTSA) set out to investigate after being pointed out that 'this feature is dangerous,' Tesla promised to 'prevent driving drivers from playing games.' ... apparently ...

Tesla, bowing to pressure, stops allowing drivers to play video games while driving | Tesla | The Guardian
https://www.theguardian.com/technology/2021/dec/23/tesla-vehicles-video-games-driving

Tesla will stop letting people play games in cars that are moving --The Verge
https://www.theverge.com/2021/12/23/22852283/tesla-nhtsa-in-car-games-driving-passenger-play-arcade

Tesla is developing an 'autopilot' that assists in speed and steering in the lane according to traffic conditions, but research results have been reported that 'when the autopilot function is turned on, the driver's inattentive driving will increase'. In fact, there have been collisions with vehicles that have the autopilot function turned on. In response to this situation, Tesla is calling on drivers not to distract while driving.

However, in December 2021, a touch monitor installed in the driver's seat of a Tesla car revealed that 'the driver can play the game while driving.' The game function on the touch monitor can normally be played only when the vehicle is stopped, but some game titles can be played while driving by tapping the button labeled 'I AM A PASSENGER'. Regardless, you will be able to play the game. It seems that there is no system to judge whether the tap was a driver or a passenger, and there were criticisms that it is dangerous for the driver to play the game.

'A function that allows you to play games while driving' was discovered in a Tesla car and was rushed to blame --GIGAZINE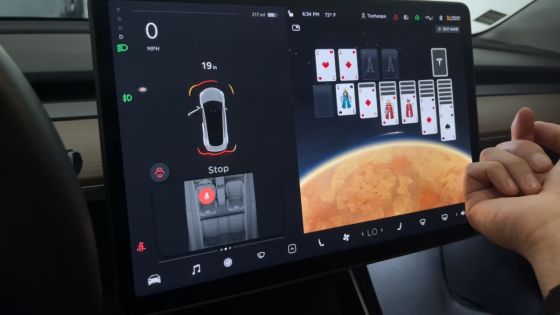 In December, Mercedes-Benz announced a recall of some vehicles, saying that there was a problem that the video could be played on the monitor even while driving in some electric vehicles. This also contributed to highlighting the problem of playing games on the front monitor of a running Tesla car.

Meanwhile, NHTSA announced on December 22 that it will 'investigate the ability of drivers driving in Tesla cars to play games.' This survey is said to have targeted a total of about 580,000 Tesla Model S, Model X, Model Y, and Model 3 produced from 2017 to 2021.

US probes potential of drivers playing video games in Teslas | AP News
https://apnews.com/article/technology-lifestyle-business-video-games-ohio-cdddb5dc6215b844a488e18486d46bad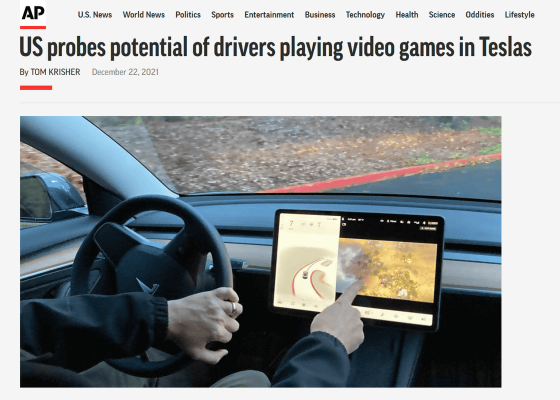 According to NHTSA, drivers who are driving have been able to play games since December 2020 on Tesla vehicles equipped with the above-mentioned function called 'passenger play'. NHTSA spokeswoman said he had received a complaint from one Tesla car owner by December 21, although no accidents or injuries due to gameplay features have been reported so far.

Vince Patton, a Tesla car owner living in Portland, Oregon, who actually complained to NHTSA, saw a video posted on YouTube by another Tesla car owner in August 2021 and drove in his own car. It seems that he confirmed that the game can be played inside. Although Patton loves Tesla cars, he believes that letting a driving driver play a game is life-threatening, claiming that 'someone will be killed. This is insane.' I am.

On December 23, the day after the Tesla vehicle investigation was announced, NHTSA reported that 'after discussing system concerns, Tesla has agreed not to play games on running vehicles.' Tesla will lock the function with a software update so that the game can not be played when the vehicle is moving. The NHTSA investigation itself will continue after the software update.