What are some of the 'features that Apple couldn't release' in 2021?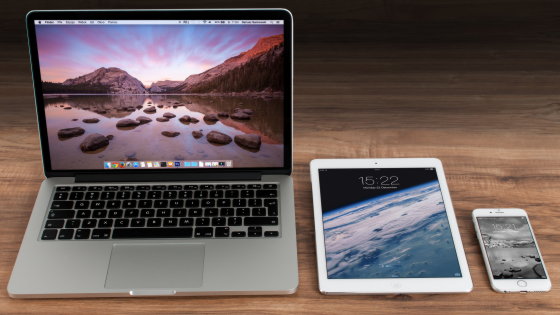 Apple has updated its own operating systems iOS, iPadOS, and macOS several times during the year to add various new features. However, there are some features that were expected to be released in 2021 but not yet released in December. Therefore, Macworld, a web media that reports Apple-related news, summarizes 'features that could not be released in 2021'.

Apple is running out of time to deliver on its 2021 promises | Macworld

https://www.macworld.com/article/557089/apple-ios-macos-features-universal-control-xcode.html
◆ Universal control
At the developer event WWDC
2021 on June 8, 2021, Apple
announced the new features of macOS Monterey
and
iPadOS 15
, 'Universal Control.' Universal Control is a function that seamlessly links Mac and iPad, and if you put Mac and iPad linked with the same Apple account side by side, you can operate across multiple devices with a single keyboard and mouse. It will be.
You can find out more about Universal Control by reading the following articles.
What is the mechanism of 'universal control' that enables direct cooperation just by arranging Mac and iPad side by side? --GIGAZINE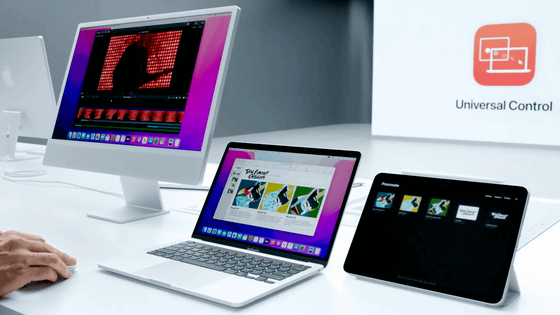 Apple's
official website
says that it will be available in 'Autumn this year', but Universal Control has not been released at the time of writing the article. It is highly unlikely that Universal Control will be released within 2021, as it has rarely appeared in beta.
◆ Share Play
SharePlay
is a function that allows you to share content playback using FaceTime, Apple's calling app, and you can listen to music, watch videos, and share screens while connecting with FaceTime. Already available on iPhone and iPad, but not yet released on macOS. However, according to Macworld, SharePlay is available in the beta version of macOS Monterey 12.1, and it seems likely that SharePlay will be available on the Mac in the not too distant future.
◆ App Privacy Report
Apple has a policy of emphasizing user privacy, such as the introduction of
'App Tracking Transparency (ATT)
', a function that allows users to track users for advertising purposes by apps. Apple plans to introduce
an 'App Privacy Report
' that stores sensors and data from apps on devices and data related to Internet access and makes it available as a report. Although it was not released for general users at the time of writing the article, it is considered to be about to be released as it is available in the beta version of iOS 15.2.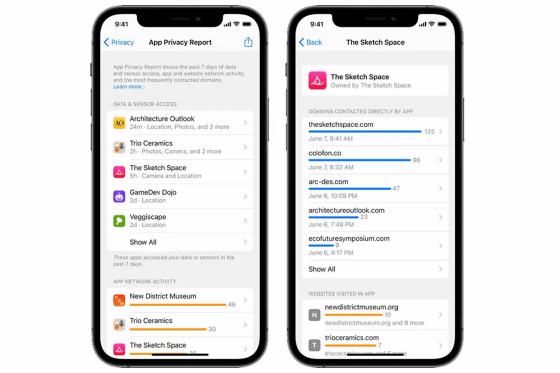 ◆ Digital Legacy
At WWDC 2021, Apple announced a new digital heritage program, Digital Legacy. This is a feature that allows a specified person to take over device data after the user's death, and the survivors can use a recovery code to request access to the deceased's Apple ID. Since it is included in the beta version of iOS 15.2 at the time of writing the article, it is possible that it will be released to general users in 2021.

IOS 15.2 Beta 2 adds the ability for bereaved families to access your iPhone data after death-GIGAZINE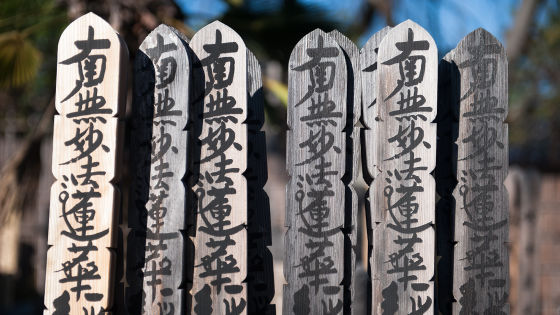 by Thibaud Saintin

◆ Addition of ID card and driver's license
Apple plans to introduce a function to add a driver's license and ID card to iPhone and Apple Watch using Apple Wallet, and in September 2021, Arizona, Connecticut, Georgia, USA, It was announced that Apple Wallet will be available in Iowa, Kentucky, Maryland, Oklahoma, and Utah to present identification. However, implementation of this feature will require collaboration with public authorities, so it is expected that it will actually be available in 2022.

Announcing the regions where you will be able to show your driver's license and ID on your iPhone or Apple Watch-GIGAZINE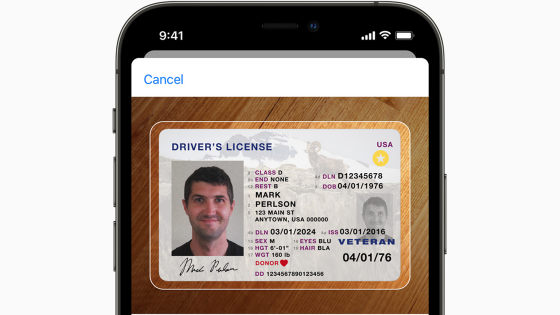 ◆ Submit an app using Swift Playgrounds
Swift Playgrounds is a development environment for Swift , a programming language developed by Apple, and is gaining popularity as an app for beginners to learn programming. Apple is in the WWDC 2021, the application was developed by Swift Playgrounds, Apple's integrated development environment Xcode without having to build with, and it becomes possible to submit to the App Store announcement was. This feature hasn't been released to the general public yet, but it's available in the beta version of Swift Playgrounds 4, which is available to some developers.

◆ Xcode Cloud
Introduced at WWDC 2021, Xcode Cloud is a cloud service built into Xcode apps that allows developers to develop apps such as building apps, running multiple automated tests in parallel, delivering apps to testers, and displaying and managing feedback. There are various tools available to help you. Although Xcode Cloud is gradually being rolled out as a beta version, it is undecided when it will be officially released.