Animated movie 'Hula Fulla Dance' public commemorative stage greeting report by Haruka Fukuhara & Seiji Mizushima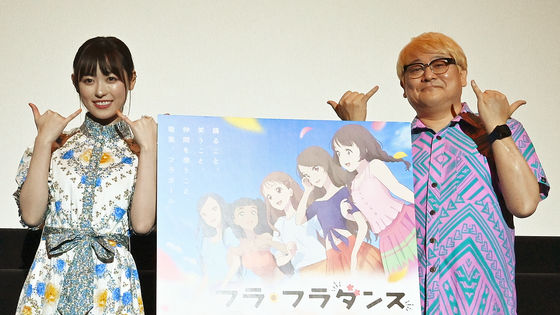 The public commemorative stage greeting of the original animated movie 'Hula Fulla Dance ', which depicts the growth of newcomers 'Hula Girls' at
Spa Resort Hawaiians
and the bonds with the people around them, will be held at
Umeda Burg 7 on Saturday, December 4, 2021.
Haruka Fukuhara,
who played the role of the main character, Natsu Nagi,
and Seiji Mizushima
, the general director, took the stage.
The original animated movie 'Hula Fulla Dance' is now on sale
https://hula-fulladance.com/
Umeda Burg 7 where the announcement of 'Today's stage greeting' appeared under the poster visual.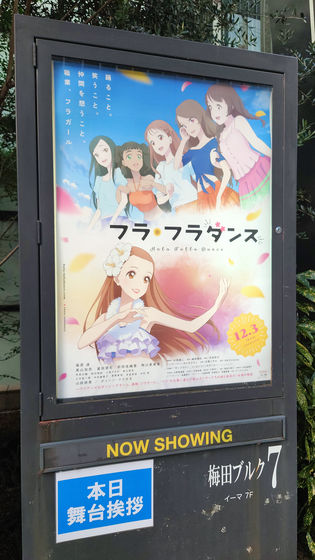 The elevator door was 'Hula Hula Dance'.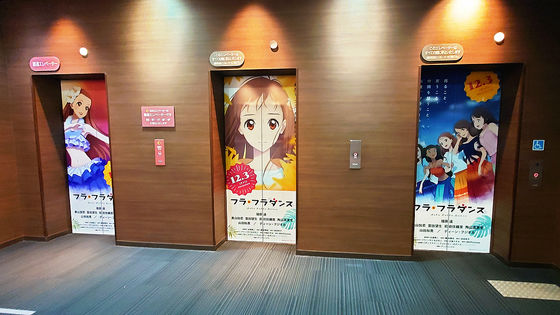 Mr. Fukuhara & Satoru Mizushima who appeared in the stage greeting.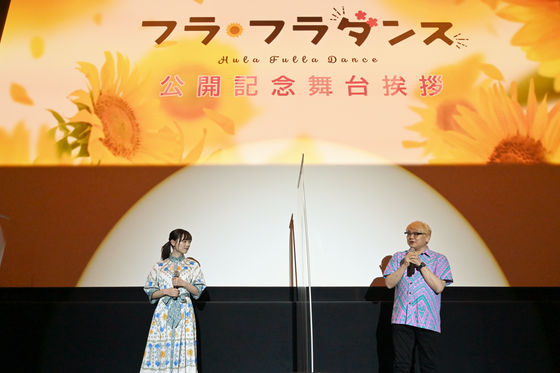 MC
Eri Fukamachi
(hereinafter referred to as MC):
Well then, I would like to say a few words to everyone. First of all, Mr. Fukuhara, please.
Haruka Fukuhara, the role of Hiwa Natsunagi (hereinafter referred to as Fukuhara):
Hello everyone! (Wave your thumb and little finger up) …… Thank you for waving. Thank you for visiting us today. We had the first day yesterday, and I'm really happy that many people came to visit us today. This work is a warm work that can be very positive, so I hope everyone can fully enjoy the warmth. I look forward to working with you today.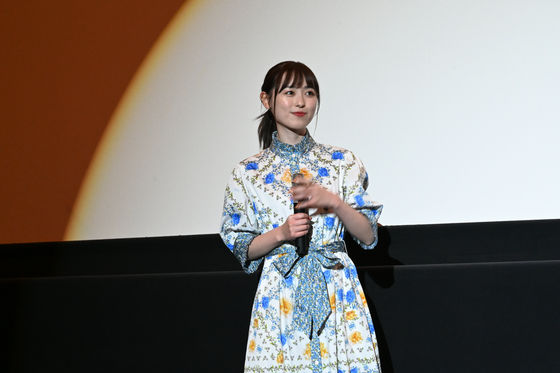 MC:
Next, I would like to thank Satoru Mizushima.

General Director Seiji Mizushima (hereinafter referred to as Mizushima):
Yes, Aloha ~. …… Thank you for shaking this old man. This is Seiji Mizushima, the general director. It's the second day since the first day of the other day, but I'm glad to hear that I feel warm when I see it. I look forward to working with you today.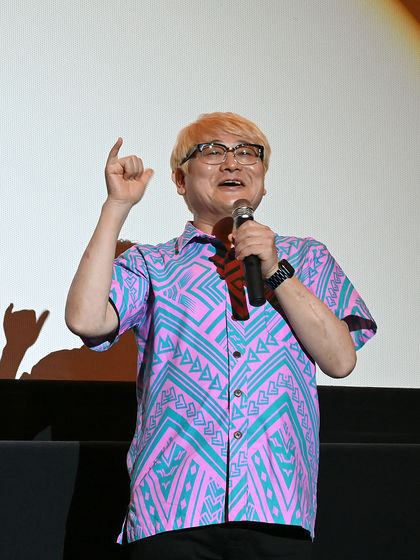 MC:
Thank you very much. Please let us know if you have any feelings about the first day or the reaction that was delivered to you.

Fukuhara:
I've received a lot of comments, and I'm full of joy that 'it's finally released to everyone.' My grandpa and grandma actually saw me at the movie theater and said, 'I was desperate to hold back my tears.' 'I'm glad I was very impressed.' I was happy to hear that the people around me were impressed.

Mizushima:
I was very pleased to hear what I thought 'I want to make this kind of film' by receiving emails from acquaintances I saw and seeing the impressions that the general public saw and tweeted on SNS etc. I feel relieved to receive the reaction. From now on, I'm thinking of sending more from myself, hoping that more and more people will see it.

MC:
Next, I would like to ask Mr. Fukuhara. What are the similarities between you and the main character, Hiwa, and what did you pay attention to when performing?

Fukuhara:
Hiwa-chan has a lot of parts that make me think 'I can really sympathize with you' from the time of the audition, and I feel that they are very similar. I don't have a little confidence. Hiba-chan makes hula dance a job and says, 'I'm doing hula dance to make everyone smile.' I myself am doing this kind of work, and I'm doing something for everyone. I want to deliver it, and I'm doing it with the courage and the desire to have a smile, so I thought that those parts were similar, and I enjoyed playing it.

MC:
What did you think about when you played?

Fukuhara:
Hiwa-chan is a little unconfident, but she is always positive and considerate, so I thought it would be great if she could show her charm, and by delivering Hiwa-chan's positive brightness, it is brighter for the viewer. I played it with the hope that it would make me feel good.

MC:
I would also like to ask Director Mizushima. Since this work is original, I heard that I visited Spa Resort Hawaiians and Iwaki City before making the scenario. How about the challenge because it is a work without an original work?

Mizushima:
Originally, the theme of 'support for earthquake disaster reconstruction' was given in a big project called
'Zutto Ouen. Project' by Fuji TV.
So, instead of drawing the earthquake itself, I wanted to support the people in that region doing their best positively. The essence of going to the site and talking with the townspeople and interviewing the people of Spa Resort Hawaiians about what kind of work should be made by properly entwining the story and the stage to create a story that conveys the warmth and sympathy. Instead of taking it in and making something big and flashy, I thought that something with a firm foot on the ground would fit the purpose of such a project. So, while taking it to the 'youth work story' that I wanted to try once, it is a work that I went to the site and interviewed and solidified that it has animation-like dynamics. ..
MC:
It was a work that fully conveys the charm of Iwaki City. Mr. Fukuhara was challenging the hula dance with Mr. Miu Tomita who co-starred on the YouTube channel. I heard that Satoru Mizushima also experienced hula dance with Shinya Watada and Reiko Yoshida when writing the script. How was it when you actually tried hula?
[Gorgeous collaboration !!] Dance with actress Miu Tomita !? [Challenge] --YouTube
Fukuhara:
Well, it was really difficult. I had a terrible dance that I couldn't see (laughs)
Mizushima:
No, I was able to dance.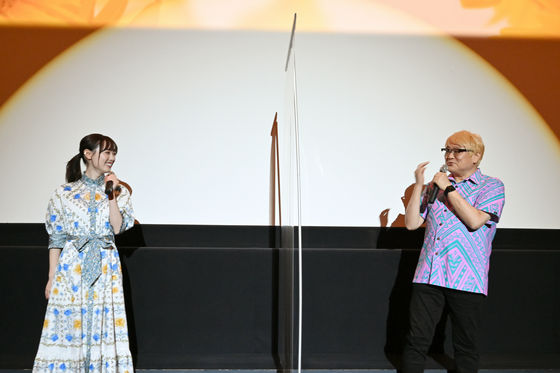 Fukuhara:
Did you see it, I'm glad. It's really difficult and I can't keep up ... l

Mizushima:
You can't remember it once.

Fukuhara:
I can't remember. It's early ...

Mr. Fukuhara making a hula gesture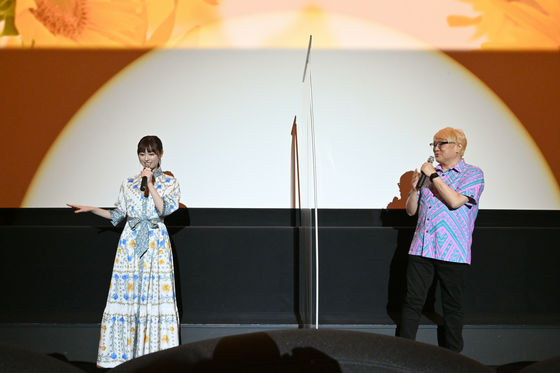 Mizushima:
Isn't it difficult to keep the basic posture?

Fukuhara:
That's right, the core is trained. I was laughing at the staff while moving my muscles all the time. Each pose of hula has a meaning, and it's a very delicate movement, or a very difficult dance that concentrates on the tips of your fingers. There is only. I thought it was a really cool dance.

Mizushima:
Take a slightly lowered posture and keep it to the right and left ... and also add hand motion. It is said, 'Because the movement has meaning, we must express that as well.' In the hula class, people of all ages showed me a sample in front of me, but I thought that I had great physical strength ... It was less than 5 minutes.

Fukuhara:
You're short of breath, aren't you?

Mizushima:
It was really hard. I thought this was a great amount of exercise. I respected that I was doing such a great thing by using my muscles to move slowly and cleanly instead of instantaneous power.

MC:
Did you feel the charm of hula again?

Mizushima:
Originally, I also like idols and I'm involved with them, so I thought it would be great for people who are quick to learn how to dance, but it's a different dimension. When I realized that there was a story in the hula, such as keeping the posture and expressing each fingertip, I thought, 'This must be reproduced in the movie.'

MC:
I would like everyone to experience this with animation after this. During the film, Hiwa looks at the poster at a convenience store and decides to become a hula girl impulsively. Have you ever made an impulsive decision recently?

Fukuhara:
I've been thinking about it for a long time, but I think he's often impulsive. Clothes are decided as soon as I think 'this!' During this time, my favorite hamburger steak went all the way to eat by car, but at noon I couldn't eat because the reservation for the night was full. But don't give up ... The concept of giving up doesn't come to my mind anymore (laughs), and I think it was impulsive to drive to the next store.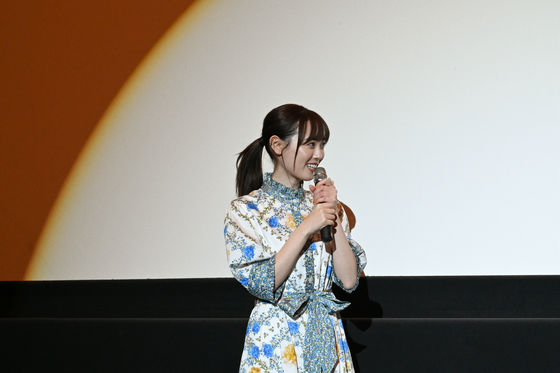 Mizushima:
I understand, I'm doing the same thing (laughs). I also think that it's probably that store. Now you can see the waiting time of multiple stores with the app, so check it ...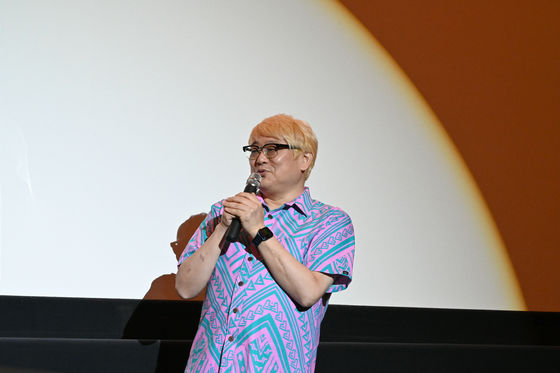 Fukuhara:
That's right!

Mizushima:
I said, 'If this doesn't work, let's go here' (laughs). It's a very popular and famous shop, but you shouldn't say the name (laughs)

MC:
It seems that more people will come in.

Fukuhara:
(smile)

MC:
I love meat that much.

Fukuhara:
I love it.

Mizushima:
it's delicious, is not it?

Fukuhara:
it's delicious. I want to eat it (laughs)

MC:
Then, how about Satoru Mizushima?

Mizushima:
I sometimes buy things impulsively. Like clothes and shoes, I made a big purchase a few months ago. It was time for the car to be inspected, so I took it to the dealer and talked with the person in charge saying, 'This kind of new car is coming out and is popular.' I thought it would be nice to have a different taste from the current car model, but somehow I was recommended ... The bride I was with said 'Isn't it okay?', So I just said 'I'll buy it.' I didn't mean to do that that day, but I made a big impulse purchase. However, that is the story of June, but it is said that the car has not been delivered yet (laugh)

MC:
Haven't you received it yet?

Mizushima:
It seems that it is really popular and selling, and due to this corona damage, it will be delivered next year. I feel like going to Spa Resort Hawaiians last with my current car and going with a new car when it is delivered.

MC:
Both of you are rather impulsive.

Fukuhara:
It may be.

Mizushima:
There is a timing of 'prompt decision' when doing this kind of work.

Fukuhara:
I have. If you miss it, you won't get it anymore.

Mizushima:
I think that such a boldness has come out.

MC:
There is also the part of being impulsive in order to seize the opportunity.

Mizushima:
You should think after taking action. Isn't it something that can be recovered? Isn't there a place where you can wear what you bought even once? (smile)

Fukuhara:
You can learn from it.

MC:
Everyone, let's live impulsively (laughs) By the way, since you are from Tokyo, there are many delicious foods in Osaka. Do you have a favorite or a specialty you want to eat?

Fukuhara:
I forgot the name, but a town full of yakiniku ...

MC:
Is it Tsuruhashi?

Fukuhara:
Tsuruhashi!

MC:
Have you been there?

Fukuhara:
I don't. The moment I got off the train, I heard that it smelled like kimchi.

MC:
I will do it. It smells like grilled meat and kimchi.

Fukuhara:
I'm worried that I can eat rice just by smelling it (laughs)

MC:
If you have time, please visit us. How about Satoru Mizushima?

Mizushima:
I'm solid, but I love Horai's pork buns. My daughter-in-law is from Osaka, and I buy it when I'm dating, and now both of them live in Tokyo, so when I come to Osaka, I buy it as a souvenir. Also, the flour is delicious, like takoyaki. There are shops where you can bake and eat by yourself, and Osaka has a delicious impression no matter what you eat.

MC:
You both like to eat, but what about eating with this team ...?

Mizushima:
I haven't been able to go.

MC:
After all, in this time of the year.

Mizushima:
Because it's a big deal, yakiniku ...

Fukuhara:
I want to go.

MC:
I'd like to talk to you more, but time is approaching. Please give a few words from Satoru Mizushima and Mr. Fukuhara to those who will see it from now on.

Mizushima:
It took two or three years from 2018, and all the staff worked hard to make it, and it is a work that makes everyone feel cheerful and can leave the theater with a gentle feeling. We hope that you will enjoy the movie and leave the theater with a warm feeling. If you find it interesting, please write 'It was interesting' on SNS, and we will be happy to see it. Thank you for your cooperation. Thank you very much for today.

Fukuhara:
I am very happy and grateful to be able to deliver this wonderful work that everyone has made with the support of so many people. We hope that you will enjoy the details such as the wonderfulness of reaching your dreams and goals, the importance of your friends to be stronger and stronger because you have friends, and the charm of Iwaki City and hula dance. I think it's a work that you can enjoy as many times as you like, not just once, but twice or three times, so I hope you'll see it a lot and tell your friends and people around you. Thank you for today.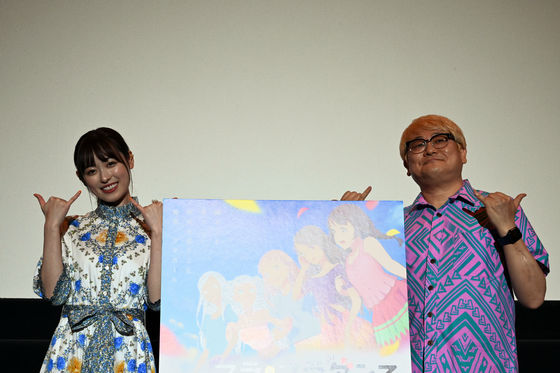 The movie 'Hula Fulla Dance' has been released since December 3, 2021 (Friday).


Original animation movie 'Hula Fulla Dance' book notice [12.3 ROADSHOW] --YouTube
At the shop, 'CoCo Nee-san Plush Toy' (5880 yen including tax) was also on sale.