Oculus Quest version 35 software update now available, adding new features such as mixed reality camera and Messenger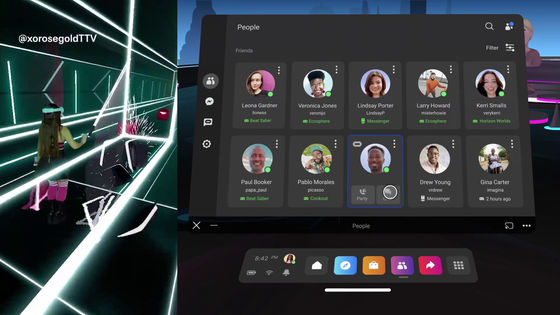 Facebook changed its name to 'Meta' in
October 2021 and at the same time announced a number of new features, including the all-new next-generation high-end VR headset '
Project Cambria.'
A number of new features announced at this time will be phased in from the version 35 software update for Oculus Quest, which began distribution on November 30, 2021 local time.
Mixed reality makes it easy to get the latest information on Messenger calls, cloud backups, and more.
https://www.oculus.com/blog/mixed-reality-made-easy-messenger-calling-cloud-backup-and-more-in-the-newest-oculus-software-update/
Oculus Quest version 35 software update is now available. The functions available from version 35 are as follows.
◆ Mobile mixed reality camera
A mobile mixed reality camera has been implemented in the
Oculus app.
With a mobile mixed reality camera, you can shoot the following movies by shooting a VR game playing with Oculus Quest. In the movie below, I'm shooting Beat Saber playing on Oculus Quest.
Bangarang --Skrillex Music Pack on Beat Saber #Shorts --YouTube
Version 35 of Oculus Quest allows you to watch, record and share your footage within VR games and apps.
In version 29, which was delivered in May 2021,
Oculus Quest added a function called 'live overlay', which was to combine the video from the VR headset perspective with the game video. However, in version 35, it will be possible to combine the video shot with the Oculus app with the game video.
To use the mobile mixed reality camera, simply update Quest or Quest 2 to version 35, and install Oculus app version 139 or later on iPhone X or later devices with iOS 11.0 or later. There are about 12 types of VR games and apps that support mobile mixed reality cameras, such as '
Beat Saber,
' '
SUPERHOT VR,
' '
Pistol Whip,
' and '
Synth Riders.'
◆ Messenger call in VR
From version 35, Messenger will be available on Oculus Quest so that people with or without a VR headset
can easily communicate in voice or text format with the Messenger app.
With the Oculus Quest version of Messenger, you can type text and talk to friends with voice recognition without a keyboard. To make a call or send text with Messenger, the app or game used by Oculus Quest must support Messenger.
You can see what it will be like to use Messenger in VR in one shot by watching the following movie.
Messenger Calls in VR | Quest --YouTube
◆ 'Multi-user' and 'App sharing' are standard specifications
Starting with the version 26 software update, Oculus Quest has launched two key features for families sharing VR headsets:
'multi-user' and 'app sharing
.' 'Multi-user' is a function that allows multiple users to create accounts on the same headset. By using the multi-user function, you will be able to manage your friends list, browser history, privacy settings, unlock patterns, game progress, etc. by account. 'App sharing' is the second and subsequent accounts that allow you to access the content paid by the owner.
Meta has been piloting this 'multi-user' and 'app sharing', but announced that it will be the standard setting for Quest from the version 35 software update. Users who are already using 'multi-user' and 'app sharing' do not need to change anything. Settings related to 'multi-user' and 'app sharing' can be made from the account settings tab.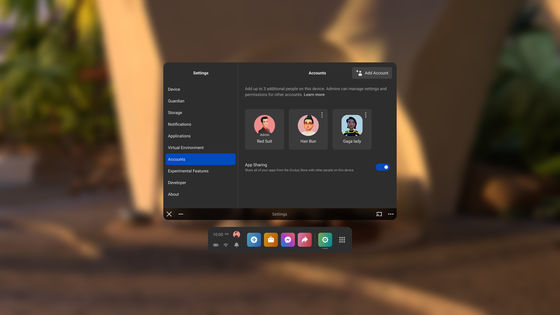 ◆ Cloud backup
A cloud backup feature has been implemented that allows you to continue to use your game progress and settings even if you replace your VR headset with a new one, restore factory settings, or uninstall the game. ..

The cloud backup feature is an opt-in format, but it is enabled by default and developers can optionally disable it. With the advent of the M cloud backup feature, users will have more freedom to use the storage of their limited VR headsets, allowing them to easily remove or reinstall applications and games that they no longer use. ..

The cloud backup function will be available from version 35, but not all users will be able to use it at the same time, and it seems that it will be gradually available to some users. Therefore, Meta writes, 'Please wait a moment' until it is available to all users.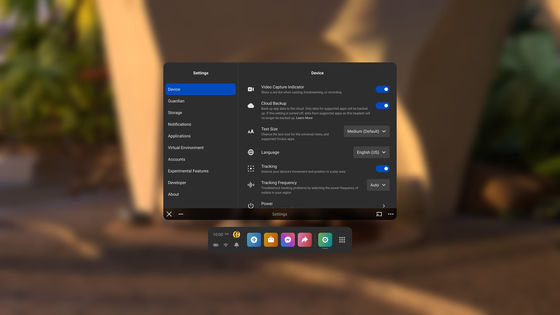 ◆ Customizable office environment for Horizon Workrooms

Horizon Workrooms
, a virtual office app for Oculus that Meta released an open beta in August 2021, is a VR app that can solve problems associated with remote work by allowing teams to hold meetings and brainstorm. Attracted attention as. However, since each real office has its own personality, Meta introduces the ability to customize the Horizon Workrooms office environment in order to add personality to the Horizon Workrooms virtual office. Office customization features will be released in the coming weeks, allowing you to choose your environment from multiple presets, add your company logo, and place and decorate posters.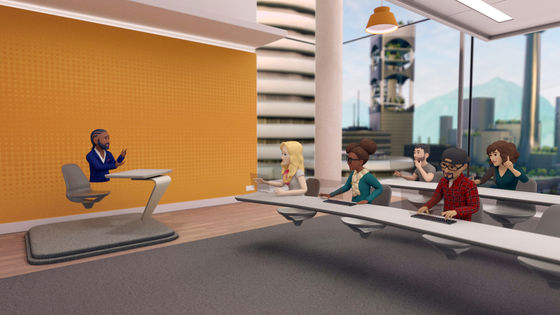 Meta says, 'The Metaverse that Meta thinks of is a place that is created and customized by the users, just like everywhere in the real world. We want you to find a cozy space, and if not. If not, I would like you to create such a place. 'He said that customizing the office environment with Horizon Workrooms would be the first step in the company's metaverse. In addition, this principle will be applied to other platforms including 'Horizon Home' which will be released in the future.

Popular applications such as Facebook and Instagram will be available as 2D panel apps in the upcoming Horizon Home. Meta says, 'Meta's goal is to make Horizon Home a hub for your favorite services, where you can multitask and do more work without being constrained by physical screen space.' He says that he will make VR more accessible through Horizon Home and Oculus Quest.

This is the end of the 2021 Oculus Quest software update, but for users who want to get the latest updates as soon as possible, Meta has a public test channel that allows you to get the latest software version ahead of time. Please check it out.