What is the reason why the number of players at 'Capcom Arcade Stadium' where you can play Capcom's classic masterpieces has soared 27,000 times in just 10 hours?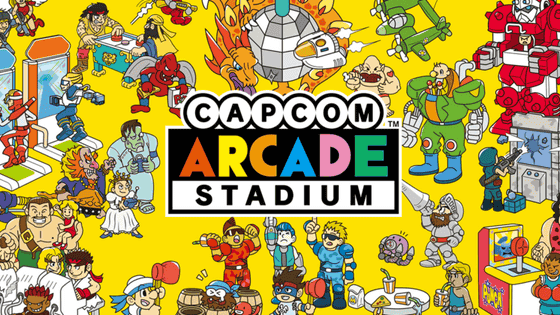 The number of users who log on to Steam and
play 'Capcom Arcade Stadium
' where you can play all 32 classic Capcom titles such as
'Commando
' and '
Street Fighter 2' in just 10 hours is 27,000.
It has doubled. Behind this rapid increase in user numbers is the existence of bots that exploit Steam's system.
Why hundreds of thousands of bots descended on one Steam arcade collection | Ars Technica
https://arstechnica.com/gaming/2021/11/why-hundreds-of-thousands-of-bots-decended-on-one-steam-arcade-collection/
At around 13:00 on November 30, 2021, there were only 18 players in the world playing 'Capcom Arcade Stadium' logged on to Steam. But 10 hours later, the number of players on Steam surged to 488,000. Temporarily ranked 3rd in the number of
simultaneous users on Steam.
Capcom Arcade Stadium · AppID: 1515950 · SteamDB
https://steamdb.info/app/1515950/graphs/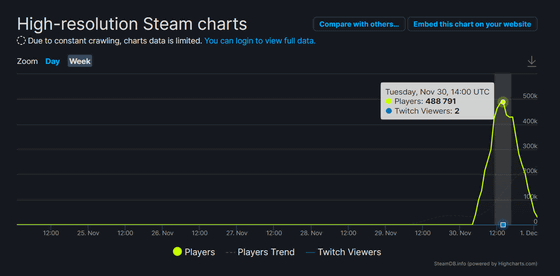 This phenomenon does not mean that Capcom Arcade Stadium has suddenly increased in popularity by 27,000 times, but that it means that bots are making money by misusing 'Steam Trading Cards'. The Steam Trading Card is a digital item that can be used on the Steam platform implemented in 2013, not only acting like a collector's item in itself, but also in exchange for a medal-like item 'badge' that can be displayed on your account. It is possible to earn the XP (experience points) required to raise the level of your Steam account.
Steam Community :: Steam Trading Cards
https://steamcommunity.com/tradingcards/Steam?l=japanese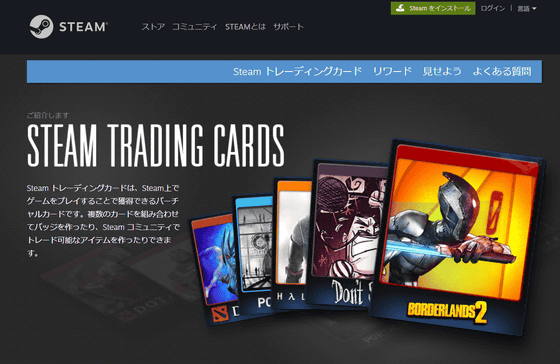 If you want to complete the Steam Trading Cards for the corresponding game, you will only get about half of the cards you can earn by playing, so the rest of the cards must be purchased from the
Steam Community Market, a user-to-user auction system.
Most cards are only worth a few yen, but it is estimated that hundreds of thousands of bots are being used to scrape these cards.
Of course, in order to get these cards, you have to buy the game, so in reality, even if you sell the cards using a bot, you will not make a profit. However, if you have a low-priced game that is close to a fire sale, or a game that is set to drop cards even during the free promotion period due to some mistake, you can profit from selling Steam trading cards. It is possible.
In this case of Capcom Arcade Stadium, the only title that Capcom Arcade Stadium can play completely free of charge is '
1943 Midway Battle
', but it is set that you can get a Steam trading card just by playing this '1943 Midway Battle'. It was said that it became the target of the bot because it was.
Looking at the global play data
of Capcom Arcade Stadium, only 7.9% of users have achieved the achievement 'Arcade Debut' that can be obtained by just playing the first game, so most players 'just launch the game' So, I haven't played at all. '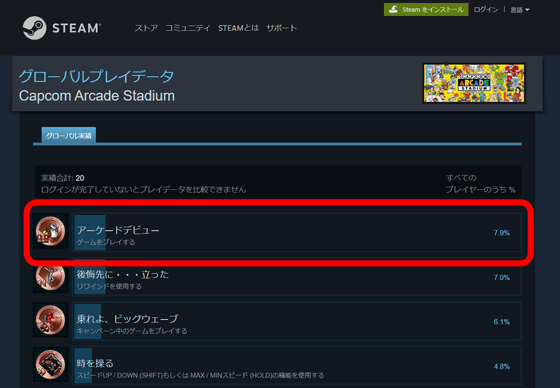 Due to this flood of bots, the value of Steam Trading Cards at Capcom Arcade Stadium has plummeted, with prices going from 7-9 cents (about 8-10 yen) to 3 cents (about 3.4 yen) per card. It is said that there are nearly thousands of 'unsold' copies. Ars Technica, an IT news site that reported this incident, said that Valve did not respond.