What is the effort to make 'inappropriate books' that cannot be viewed in the library available to anyone online?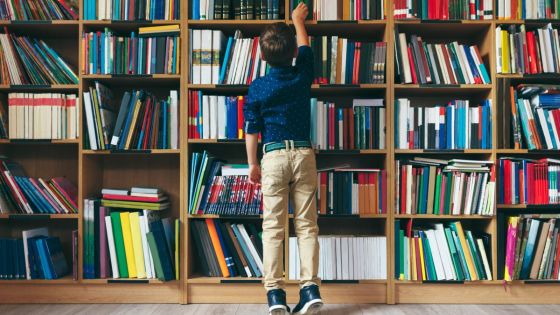 It is desirable that the library holds books and materials from various fields so that they can be viewed and rented at any time. However, there are areas in the world where libraries are being pressured to stop publishing books on sexual minorities and racism. Internet Archive, which develops Internet-related preservation business, is promoting efforts against censorship of books in the electronic library project ' Open Library ', and the efforts are explained on the official blog.

As Calls to Ban Books Intensify, Digital Librarians Offer Perspective --Internet Archive Blogs
http://blog.archive.org/2021/11/24/as-calls-to-ban-books-intensify-digital-librarians-offer-perspective/

Libraries are required to collect and publish materials regardless of their ideological, political or religious positions. For example, the 'Statement on Intellectual Freedom of the Library ' adopted by the Japan Library Association states that 'the library opposes all censorship', and the library is under pressure and interference from individuals, organizations and groups for censorship. It is clearly stated that we oppose it.

However, according to the Internet Archive, books on sexual minorities and racism are banned from school libraries in some states of the United States, such as Texas, Virginia, and Pennsylvania, due to growing voices that are 'inappropriate for students.' It is said that it is being driven into. The Internet Archive says, 'Many school libraries face community pressure, but our digital library project, Open Library, does not face those pressures. Students and teachers limit access to content. Even if it is, Open Library can lend a variety of books to anyone at any time for free. ' ..

Welcome to Open Library | Open Library
https://openlibrary.org/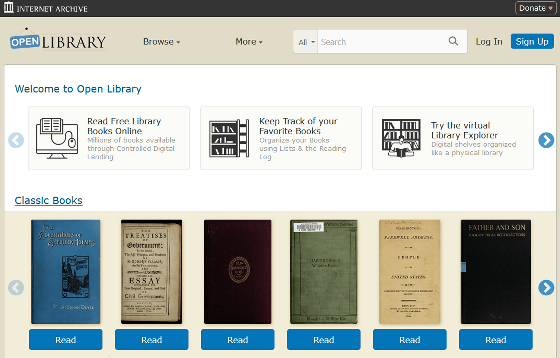 The Open Library creates a collection of books, including the LGBTQ Collection, which contains more than 1800 books on sexual minorities that are often subject to censorship pressure.

LGBTQ Collection | Open Library
https://openlibrary.org/collections/LGBTQ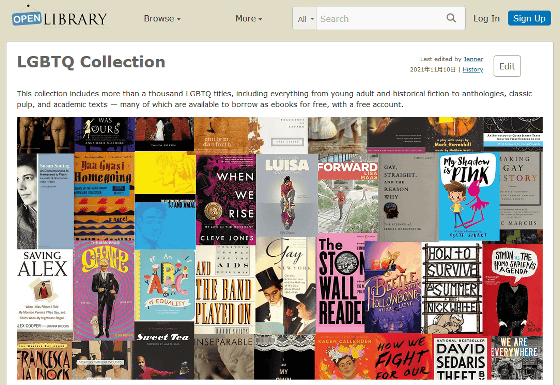 There are also collections targeted at specific school districts, such as 'Books Censored in Goddard School District, Kansas.' This summary page includes books such as 'All Boys Aren't Blue ' dealing with black queer children and 'Crank ' dealing with illegal drugs.

Goddard school district orders 29 books removed from circulation | Open Library
https://openlibrary.org/collections/challenged-goddard-school-district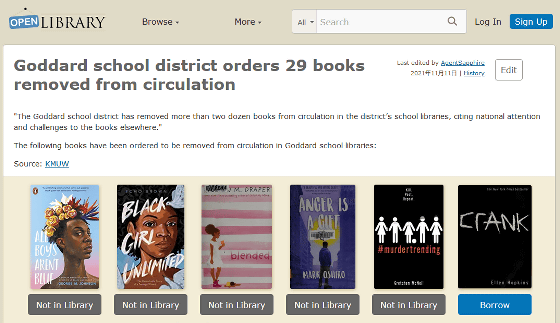 In addition, the following collection contains more than 800 books designated as 'Unsuitable Books for Children' in Texas. According to Lisa Siberg, a key member of the Open Library, in Texas there are 'books that mention sexuality and sexually transmitted diseases' and 'races and genders that can make students feel uncomfortable and distressed.' It is said that 'the book mentioned' is designated as 'inappropriate book'. Seeberg claims that this vague condition censors books in a wide range of genres such as health education, teenage pregnancy, civilian, philosophy, religion, anthropology, and invention.

Books Challenged in Texas | Open Library
https://openlibrary.org/collections/texas-challenged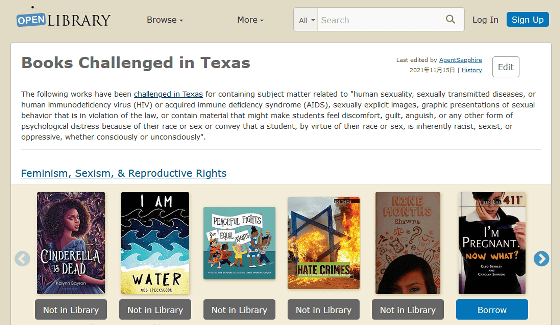 'If students go to the library and get only'books that present only one side of the problem'or'books that are only relevant to a particular group of cultures', they have other content. You won't even know it exists, 'he said, complaining about the current pressure on libraries to censor.