MediaTek announces SoC 'Dimensity 9000' for smartphones with the latest technology such as '4nm process' and 'Arm v9'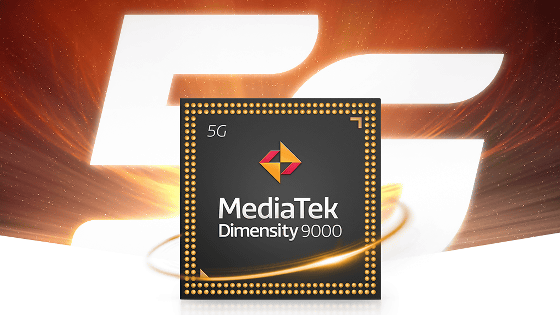 MediaTek , a major semiconductor manufacturer based in Taiwan, announced the SoC ' Dimensity 9000' for smartphones. According to the announcement, the Dimensity 9000 will be the world's first SoC manufactured by the 4nm process. In addition, it is a high-performance SoC packed with the latest technology, such as the world's first CPU equipped with Armv9 architecture.

Summit Dimensity9000
https://i.mediatek.com/summit-dimensity9000

MediaTek Announces Dimensity 9000: Supercharged Flagship SoC on 4nm
https://www.anandtech.com/show/17070/mediatek-announces-dimensity-9000

MediaTek's new Dimensity 9000 flagship could compete with Qualcomm's top-tier Snapdragon chips --The Verge
https://www.theverge.com/2021/11/18/22790189/mediatek-dimensity-9000-flagship-chip-qualcomm-snapdragon-competition-arm

The official page of Dimensity 9000 emphasizes that it is the world's first TSMC 4nm process SoC. 'It's the first time MediaTek has been at the forefront of process nodes since the 20nm era,' said Anand Tech, a tech media.




In addition, the Dimensity 9000 is equipped with the Arm v9 architecture-based CPUs 'Arm Cortex-X2', 'Arm Cortex-A710' and 'Arm Cortex-A510' announced in May 2021 for the first time in the world. In addition, Arm's flagship GPU 'Mali-G710' is also installed, and it is said that it will demonstrate high gaming performance.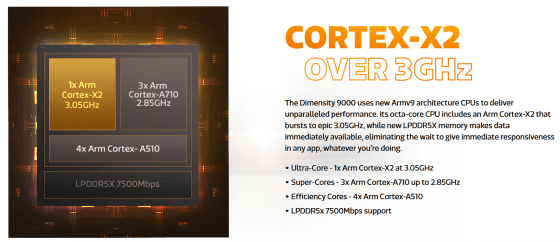 The image processor (ISP) on the Dimensity 9000 is capable of transferring data at 9 gigapixels per second and is the first in the world to support a 320 megapixel image sensor.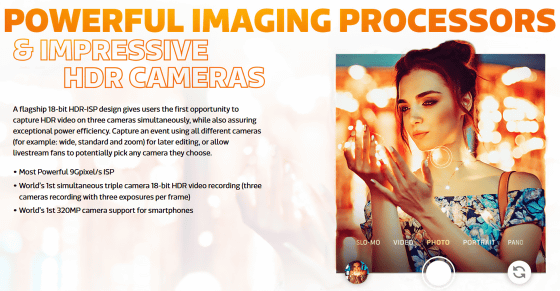 Of course, it also supports 5G communication. In addition, it is equipped with the latest wireless technology, such as being the first SoC for smartphones in the world to support Bluetooth 5.3.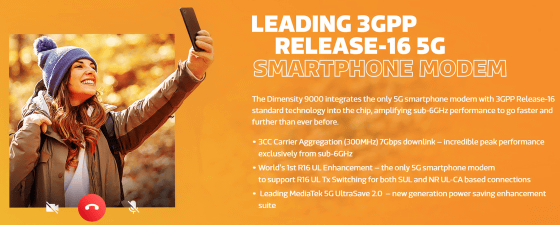 The detailed specifications of Dimensity 9000 are as follows.

CPU
1x Arm Cortex-X2
3x Arm Cortex-A710
4x Arm Cortex-A510
GPU
Mali-G710 MC10
ISP
Imagiq790
modem
5G NR Sub-6
LTE Category 24/18
Media performance
Encoding: 8K30fps, 4K120FPS
Decode: 8K60fps
Process node
4nm
Technology-related media The Verge said, 'At Qualcomm's
Qualcomm Snapdragon Tech Summit
on November 30, 2021, it is expected that the successor SoC of Snapdragon 888
will be announced, and that SoC will also be equipped with a CPU that adopts the Arm v9 architecture. But even if Qualcomm announces a similar-performance SoC, the Dimensity 9000 is a big win for MediaTek, which has been far behind, 'said Dimensity 9000. It emphasizes that it is an SoC equipped with the latest technology one step ahead of other manufacturers.