Netflix announces 'Netflix Top 10', which announces the top 10 popular movies and dramas from all over the world and Japan every week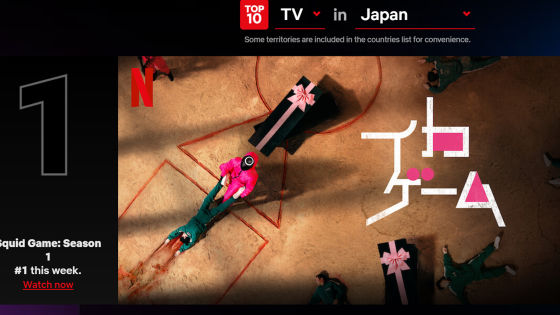 'On the criteria for Netflix to select the TOP10, various opinions have been received so far, such as' Such a stupid ... ',' It's a lie, '' It's a good point, 'and' It's a good idea. ' So, on Tuesday, November 16th, 2021, Netflix announced the ' Top 10 Netflix' using the new standard. Netflix's TOP 10 shows the top 10 most popular titles from around the world and by country, and is updated every Tuesday.

Netflix Top 10 --Global

https://top10.netflix.com/
About Netflix-'10 Reasons' to Adopt New Standards and Launch Weekly Updated 'Top 10 Netflix' Websites
https://about.netflix.com/ja/news/new-top-10-on-netflix
About Netflix-10 things you should know about the weekly Netflix TOP 10
https://about.netflix.com/ja/news/top-10-things-about-netflix-top-10
When
you access 'Netflix Top 10 --Global
', it looks like this. In the default state, the top 10 are displayed by narrowing down to 'Movie (English)'.


Just below the image is a list of the top 10 in the week from November 8th to 14th, 2021.
According to '10 things you should know about the weekly' Netflix TOP10 '
', the viewing time for one week is totaled from Monday to Sunday, and the TOP10 list is updated the following Tuesday. From the left, the movie title, the number of weeks in the top 10, and the viewing time are displayed. Looking at the world, '
Red Notice
' is by far the number one, followed
by 'Love Hard
', '
The Harder They Fall: The Wilderness of Retribution
' and '
Army of Sheaves'.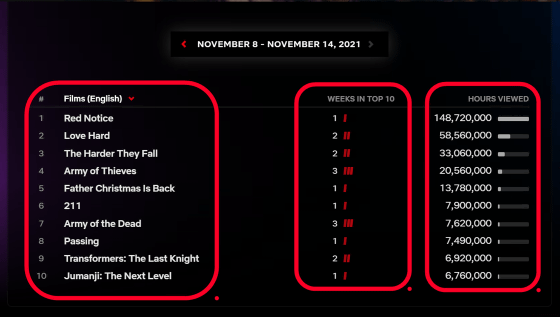 Below the Top 10, you can see the countries in which the Top 10 titles were ranked during the same period.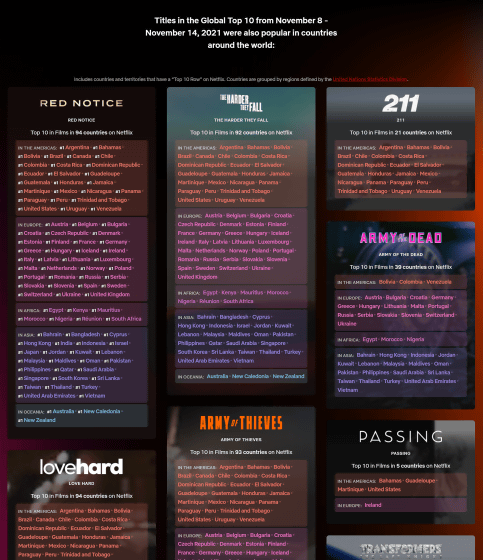 For example, Red Notice ranks in various regions / countries such as the United States, Europe, Africa, Asia and Oceania.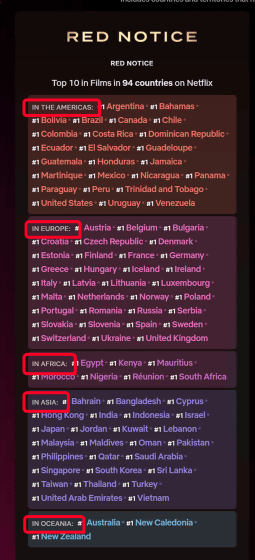 On the other hand, ' Code 211 ' starring Nicolas Cage seems to be popular only in the United States.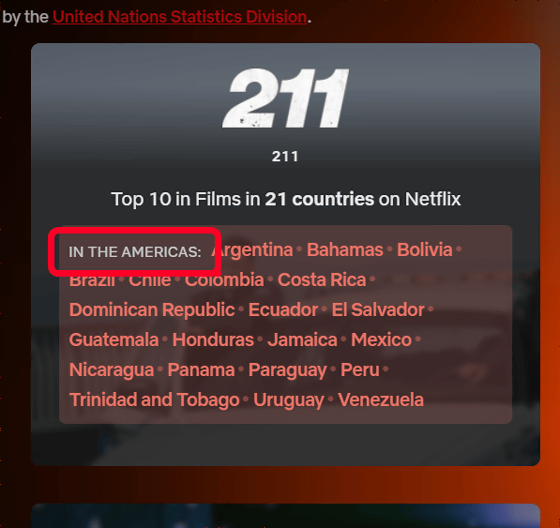 In addition, click 'Or, see Top 10 lists by country' at the top of the top page.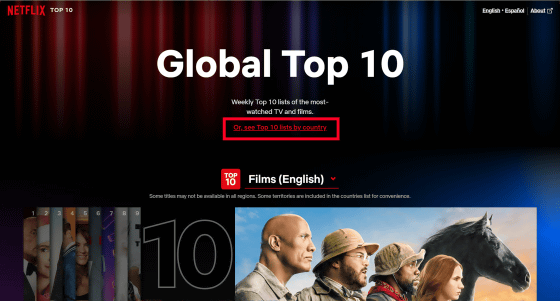 From here you can switch from the top 10 movies in the world to the top 10 movies by country, or view the top 10 TV shows instead of movies. First of all, I tried switching the country from the United States to Japan with the pull-down menu.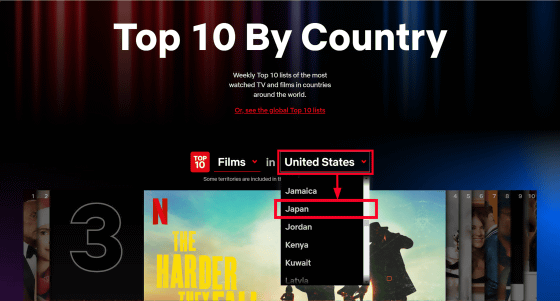 When you switch to the top 10 Japanese movies, the page changes like this.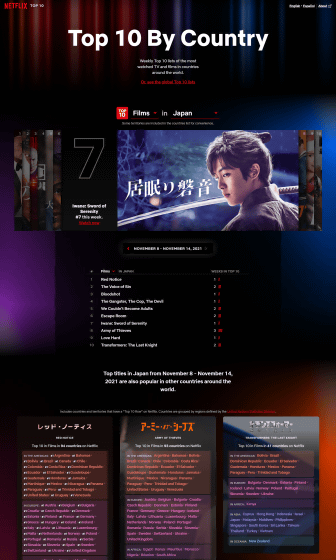 Ranked # 1 is, but is just the same 'Red Notice', Takeshi Yantian
original
, Oguri 'in season starring
the voice of sin
and', 'of Vin Diesel starring
Brad shot
', the Korean movie '
villain Den
', Moriyama
'We all couldn't grow up
', which starred in Mirai Moriyama, was ranked in, and the content is quite different from the worldwide version.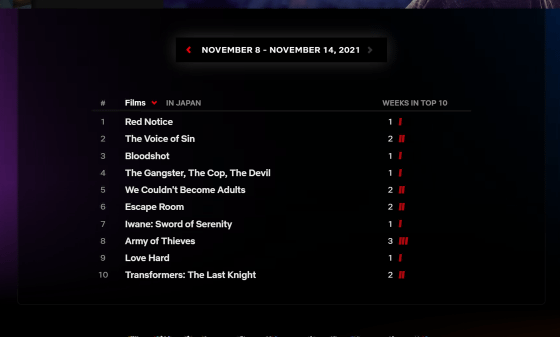 Below the Top 10, as with the worldwide version, you can see where the Top 10 works are popular outside of Japan.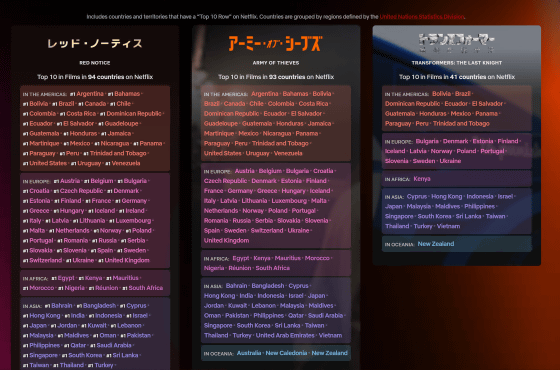 It is also possible to display the top 10 TV shows instead of movies.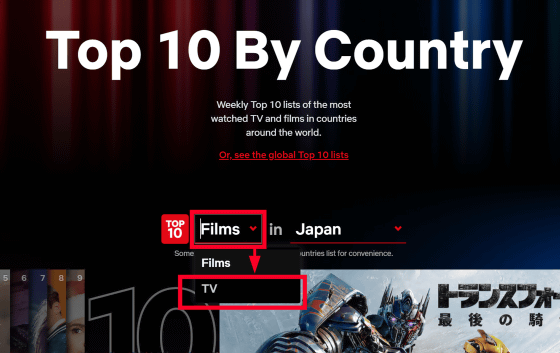 Most movies have been in the top 10 for a week or two, but TV shows have been in the top 10 for 20 weeks, and their popularity seems to be protracted.
The most popular 'Squid Game
' from November 8th to 14th, 2021 is in the top 10 for 9 consecutive weeks. '
Emergency landing of love
' and '
Itaewon class
' has become a popular that is top 10 in 20 consecutive weeks. In the case of TV dramas, one season is counted as one work, and if it spans multiple seasons, each is counted as a separate work.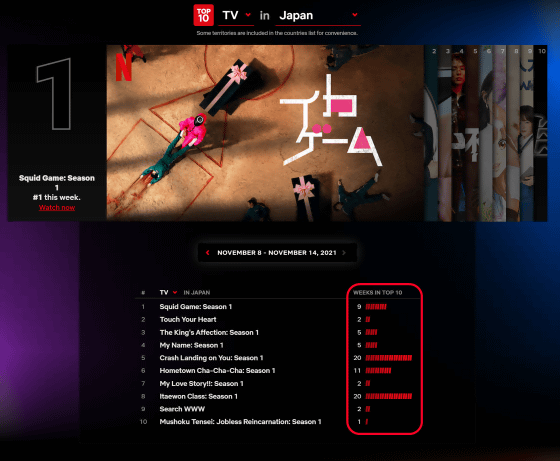 From the bottom of the page, you can download the 'World List', 'Country List', and 'List of Most Popular Works' as TSV files and Excel files.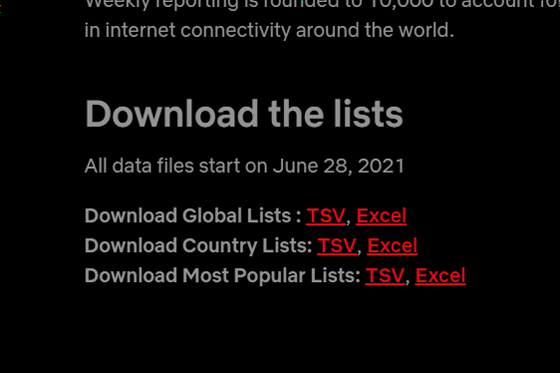 in Movie, Posted by logq_fa