It turns out that AMD is developing two types of 'Zen 4' processors, what kind of use will it be used for?


AMD held an online event on the data center on November 8, 2021. During the event, it was revealed that there are two types of variations in the CPU architecture 'Zen4' being developed by AMD.

AMD Accelerated Data Center Premiere | AMD

https://www.amd.com/ja/events/data-center
At the event, AMD CEO Lisa Su announced the 4th generation product line of the server CPU 'EPYC' that adopted Zen4.
First, Sue announced a CPU (codename: Genoa) with up to 96 Zen4 cores. Genoa supports DDR5 memory and PCIe 5.0, and will demonstrate twice the power efficiency and 1.25 times the performance of
the 3rd generation EPYC 'Milan'.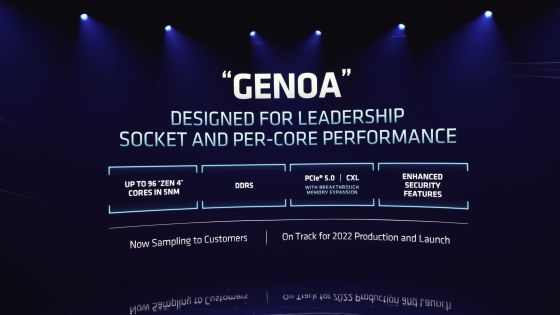 In addition, CEO Sue announced a CPU architecture called 'Zen 4c'. 'Zen 4c' is an architecture optimized for cloud computing, and it is said that the core density and cache amount are different from Zen 4.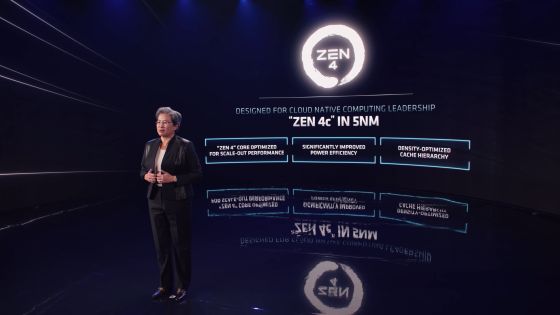 In addition, a CPU (codename: Bergamo) equipped with up to 128 Zen 4c cores was also announced. Bergamo, like Genoa, supports DDR5 memory and PCIe 5.0.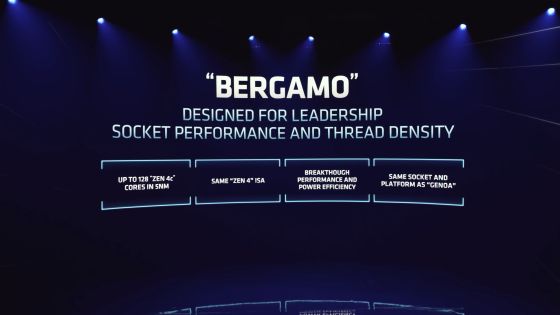 According to AMD, Genoa and Bergamo sockets are compatible. Genoa will be available in 2022, and Bergamo will be available in late 2022 and early 2023.

·bonus
During the event, the 3rd EPYC 'Milan-X' equipped with 3D V-Cache memory was also announced. Milan-X has up to 768MB of L3 cache and up to 64 Zen 3 cores. The lineup of Milan-X is unknown, but it is scheduled to be launched in the first quarter of 2022.