How to identify stolen items when EVGA graphic boards are stolen in transit?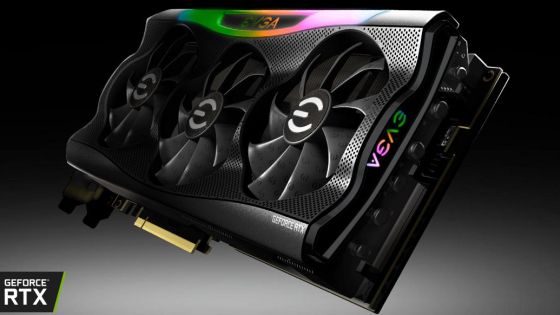 Due to the global shortage of semiconductors and
rising demand for mining
, the graphic board market around the world continues to run short. Meanwhile, PC parts maker
EVGA
reported the theft damage of the graphic board. At the same time, EVGA has disclosed how to identify stolen goods and is urging them not to buy stolen goods.
Notice of Stolen EVGA GeForce RTX 30-Series Graphics Cards --EVGA Forums
https://forums.evga.com/Notice-of-Stolen-EVGA-GeForce-RTX-30Series-Graphics-Cards-m3490851.aspx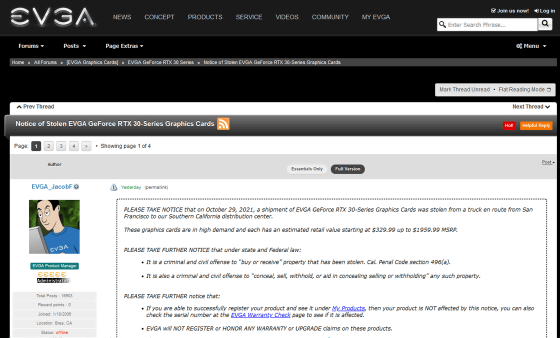 EVGA is a PC parts manufacturer that develops graphic boards, power supplies, motherboards, etc., and the
GeForce RTX 30 series
graphic boards that appeared in 2020 also have a wide lineup of overclocking models and water-cooled models.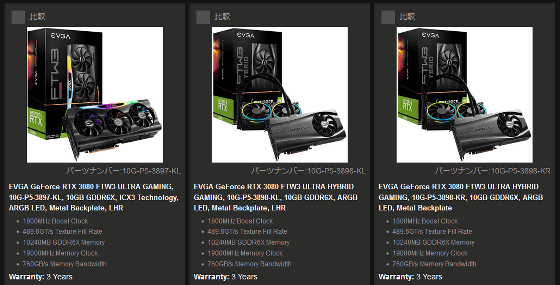 At EVGA's official forum, product manager Jacob Freeman said, 'On October 29, 2021, an EVGA GeForce RTX 30 series graphics board was stolen from a truck on the way from San Francisco to a distribution center in Southern California. Please note that, 'he posted, revealing that the EVGA graphic board was stolen from a truck in transit.

In addition, Freeman said 'buying or receiving stolen property' was a criminal and civil crime under US state and federal law, calling for the purchase of stolen graphics boards.

◆ How to identify stolen goods
Freeman shows you two ways to tell if your graphics board is stolen. The first method is to register the purchased graphic board on the EVGA product registration page. If the product registration is completed as usual, it may be a genuine product, and if the registration is not completed, it may be a stolen product. The second method is to enter your graphics board serial number on the EVGA warranty confirmation page, which you can access below.

EVGA --Warranty --Check Status
https://www.evga.com/warranty/check.asp



EVGA does not offer any warranty or upgrade for stolen graphics boards.