Microsoft forcibly installs 'PC Health Check' on Windows 10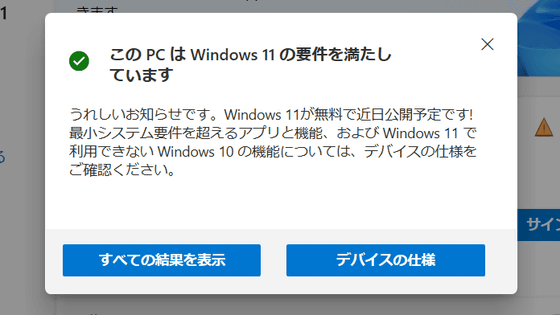 It has been revealed that Microsoft has released the Windows 10 update '
KB5005463
' and has forcibly installed the application 'PC Health Check
' to check whether the Windows 11 update is possible.
Microsoft is force installing PC Health Check in Windows 10
https://www.bleepingcomputer.com/news/microsoft/microsoft-is-force-installing-pc-health-check-in-windows-10/
When I actually looked at the update history of Windows, KB5005463 was displayed in 'Other updates'. This program installs the application 'PC normality check' that checks the specifications of the PC and confirms the mobility of Windows 11.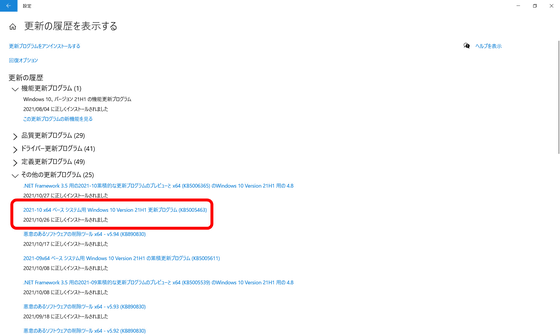 You can understand what kind of tool PC health check is by reading the following article.


'PC normality check' to check whether Windows 11 can be installed has evolved to tell you 'why it can not be installed', and I actually used it --GIGAZINE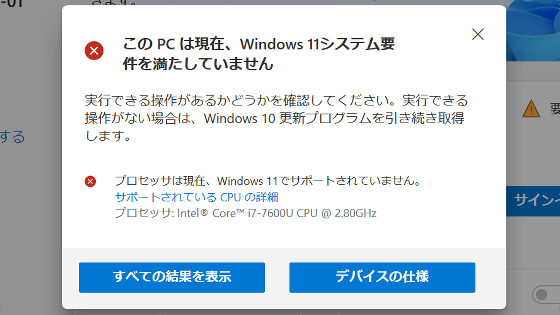 The PC health check is not executed automatically and there is no particular reason to avoid installation, but this PC health check can be uninstalled from 'Apps and Features'. However, the PC-related news site Bleeping Computer points out that the app may be reinstalled after each update check.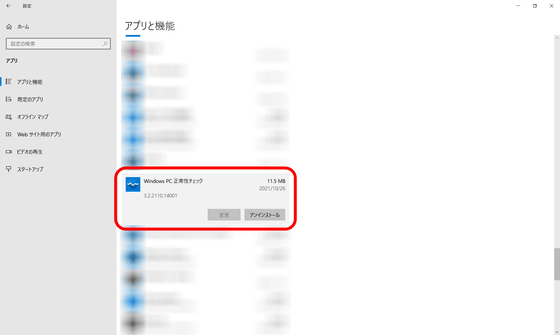 Bleeping Computer also reports that if you try to uninstall KB5005463 itself, you may not be able to uninstall KB5005463 with the message 'KB5005463 update is not installed on this computer'.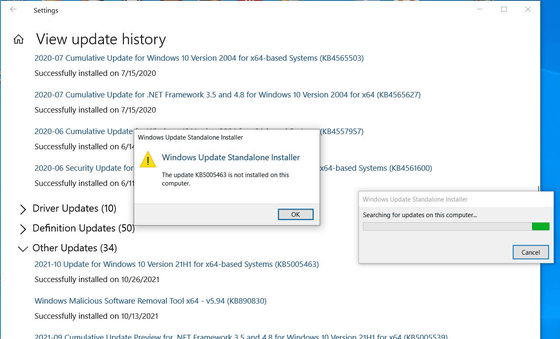 According to Bleeping Computer, once the PC health check is uninstalled from the PC, 'Previous Unknown' will be created in 'HKEY_LOCAL_MACHINE \ SOFTWARE \ Microsoft \ PCHC'. If this value is 1, it seems that the PC health check will not be reinstalled even if you check for updates with Windows Update.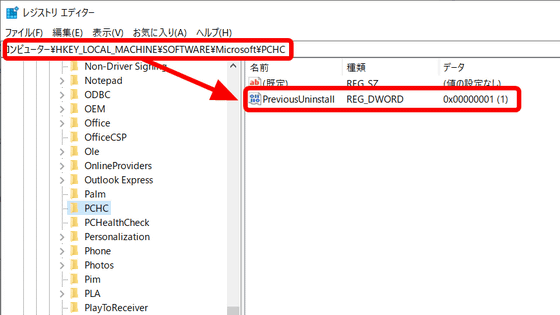 However, there are cases where 'Previous Unistall' is not created for some users, or even though 'Previous Unistall' is created, it is ignored and the PC health check is installed. matter. Bleeping Computer emailed Microsoft about this, but said it hadn't received a response at the time of writing the article.