AMD's third-quarter computing and graphics revenue increased 44% year-over-year, and enterprise, embedded, and semi-custom revenue was $ 1.9 billion, up 69% year-over-year.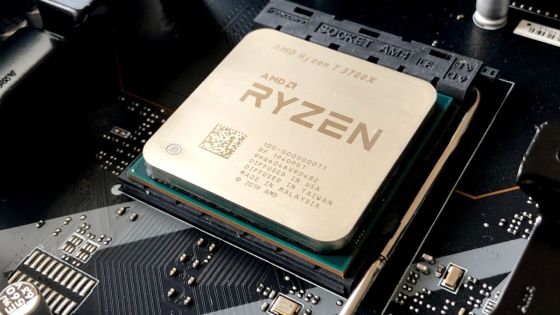 AMD, a major semiconductor manufacturer, reported its financial results for the third quarter of 2021 (July-September). According to the financial results report, due to the strong performance of Ryzen, Radeon, and EPYC, overall sales increased 54% year-on-year to $ 4,313 million (about 492.2 billion yen), and operating profit increased 111% year-on-year. It is said that it has reached 448 million dollars (about 108.2 billion yen).

AMD Reports Third Quarter 2021 Financial Results :: Advanced Micro Devices, Inc. (AMD)

https://ir.amd.com/news-events/press-releases/detail/1027/amd-reports-third-quarter-2021-financial-results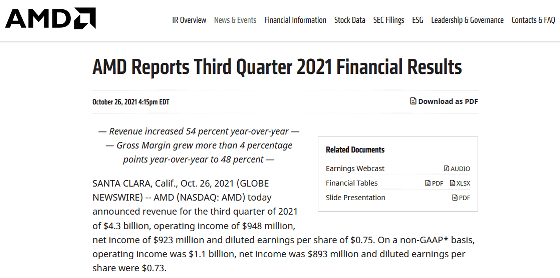 THIRD QUARTER 2021 FINANCIAL RESULTS
(PDF file) https://d1io3yog0oux5.cloudfront.net/_6ffb78f5da225a90430df040bbd58d8b/amd/db/778/6672/file/AMD+Q3%2721+Financial+Results+Slides.pdf
AMD's third-quarter 2021 earnings report highlights sales of $ 4,313 million, up 54% year-over-year. In addition, operating profit reached $ 948 million, up 111% year-on-year. AMD CEO Lisa Su emphasized AMD's growth, saying, 'The third quarter of 2021 was a record quarter as revenues increased 54% and operating profit doubled year-over-year.' I am.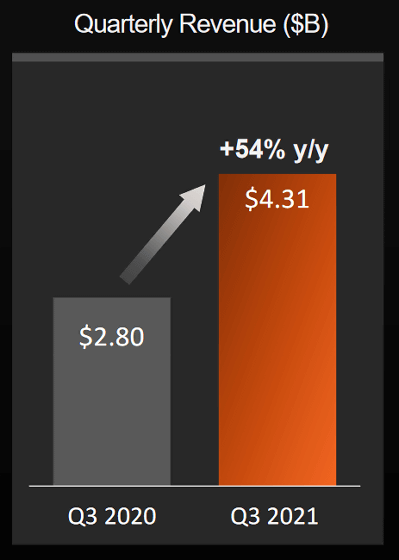 Looking at the breakdown of sales, the computing and graphics division, which handles CPUs and GPUs, increased 44% year-on-year to $ 2.4 billion. AMD has attributed the growth factors in the computing and graphics sector to the strong performance of the Zen 3 architecture CPU
'Ryzen 5000' series
and the GPU with RDNA 2 architecture
'Radeon RX 6000' series
that appeared in 2020.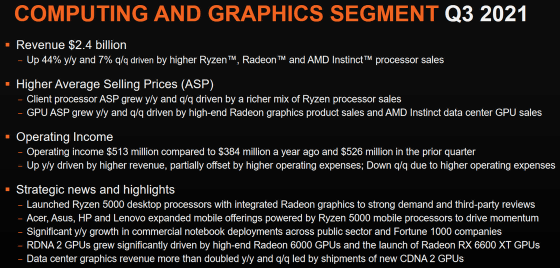 In addition, sales in the Enterprise, Embedded and Semi-Custom divisions increased 69% year-on-year to $ 1.9 billion. AMD has
adopted the 'EPYC 7003' series, which is the third generation product of the CPU 'EPYC' for servers
, in cloud computing services of Microsoft and Google, and companies such as Cloudflare, Netflix, Vimeo are the third generation EPYC. It appeals that it has
announced the
adoption. In addition, CEO Sue said, 'AMD's data center division sales have doubled as shipments of third-generation EPYC processors have increased significantly.'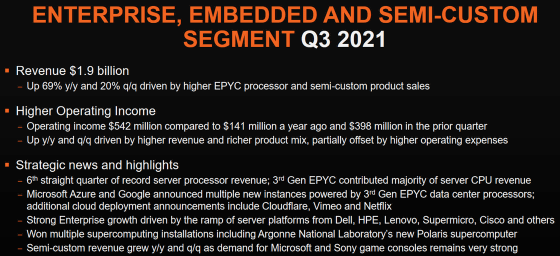 Below is a graph showing AMD's quarterly sales trends. If you look at the graph, you can see that AMD's sales have continued to grow since the first quarter of 2020. AMD released a forecast in its financial report that 'sales in the fourth quarter of 2021 will reach about $ 4.5 billion (about 513.8 billion yen), up 39% year-on-year as all businesses grow.' However, I am confident in my future growth.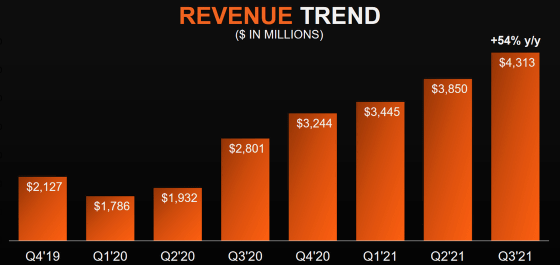 in Note, Posted by log1o_hf