Apple could be accused of violating EU antitrust laws related to NFC chips, will contactless payments like Apple Pay be open to other services?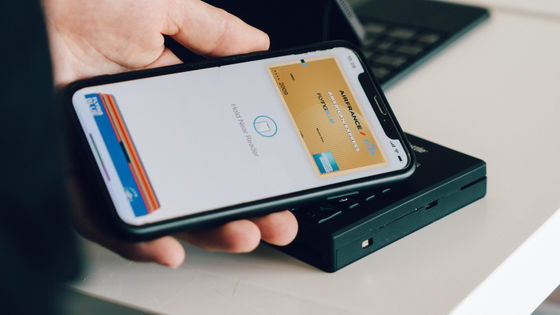 Apple offers 'Apple Pay
', a non-contact payment service, and iPhones and Apple Watch
use NFC
to exchange data. However, the NFC technology 'Apple could be accused of violating EU antitrust laws,' Reuters reported.
EXCLUSIVE Apple to face EU antitrust charge over NFC chip --sources | Reuters
https://www.reuters.com/technology/exclusive-eu-antitrust-regulators-charge-apple-over-its-nfc-chip-tech-sources-2021-10-06/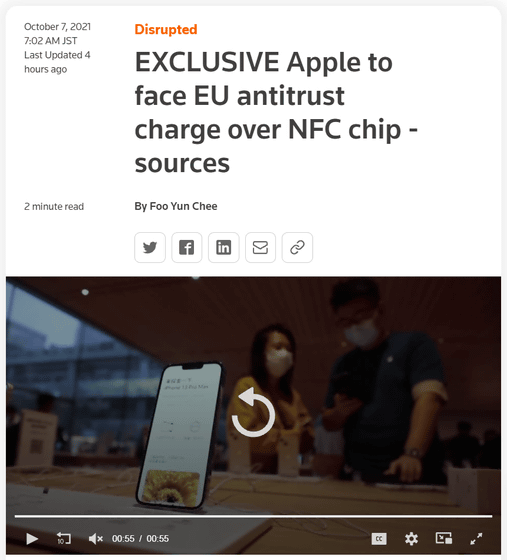 Report: EU to file NFC antitrust charges against Apple Pay • The Register
https://www.theregister.com/2021/10/06/eu_apple_nfc/
Report: EU to charge Apple with anticompetitive behavior over Apple Pay and iPhone's NFC chip --9to5Mac
https://9to5mac.com/2021/10/06/apple-pay-iphone-nfc-antitrust/
Apple to face EU antitrust charge over NFC chip --Hardware --iTnews
https://www.itnews.com.au/news/apple-to-face-eu-antitrust-charge-over-nfc-chip-570896
Margrethe Vestager, an antitrust watcher at the European Commission
, the EU's policy enforcement agency, began investigating Apple Pay, Apple's payment service, in June 2020. Initially, Mr. Vestair said Apple Pay's 'NFC chip that enables contactless payments,' 'Terms and conditions that allow Apple Pay to be used in apps and websites,' and 'Deny access to rival payment systems.' I was worried about these three things, but it seems that the investigation is finally focusing on 'NFC chips that can only be accessed from Apple Pay'.
According to sources, the European Commission is preparing a document outlining the anti-competitive acts committed by Apple and may send it to Apple in 2022. This document is generally sent to 'practices that regulators consider to be anti-competitive,' which means that Apple could be accused of violating EU antitrust laws in connection with NFC chips. There is sex.
Reuters said that if an NFC chip that can only be accessed from Apple Pay is accused of violating the Antimonopoly Act, the NFC chip will be open to payment services of other companies, and more payment services will be released by Apple Pay. It states that it may be possible to make 'contactless' payments such as.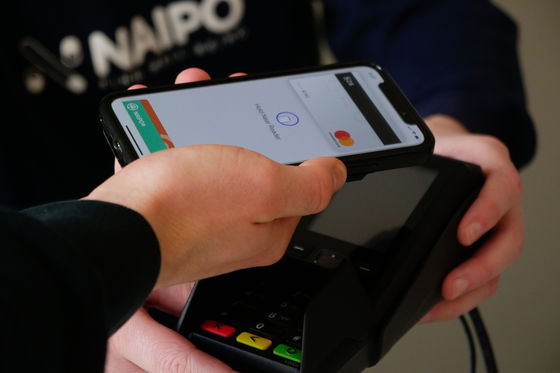 'Non-contact' payments using NFC are becoming more popular due to the pandemic of the new coronavirus. 'Apple Pay is more competitive than its competitors,' said some analysts, citing Apple Pay's wide reach and availability both on its website and in-store.

Apple Pay is also monitored by regulatory agencies outside the EU. For example, South Korea has approved a bill banning major app store operators, including Apple, from 'forcing software developers to use payment systems.' In addition, Germany passed a law in 2019 requiring Apple to open its mobile payment system to rivals at a reasonable price.

The European Commission has filed three proceedings against Apple, but has not responded to requests for comment from Reuters. The European Commission can fine Apple up to 10% of 2020 sales for violating EU regulations. This amount reaches 27.4 billion dollars (about 3 trillion yen).