What about the overseas review summary of 'Windows 11', sophisticated design and 'snap layout' that arranges multiple windows?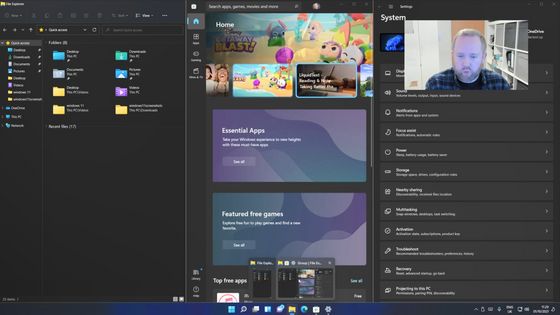 On Tuesday, October 5, 2021, the latest Windows OS '
Windows 11
' was
officially released
. At the same time, several foreign media outlets that have previously tried development builds through the
Windows Insider Program
are publishing reviews of Windows 11 at this time.
Windows 11 review: a familiar home that's still being renovated --The Verge
https://www.theverge.com/22708762/microsoft-windows-11-review
Windows 11: The Ars Technica review | Ars Technica
https://arstechnica.com/gadgets/2021/10/windows-11-the-ars-technica-review/
Windows 11 vs Windows 10: Here's what's new | Tom's Guide
https://www.tomsguide.com/news/windows-11-vs-windows-10
You can see what kind of OS Windows 11 looks like by watching the following movie released by The Verge.
Windows 11 review: an overhaul in progress --YouTube
The first thing that was mentioned in the Windows 11 review was the overall design change, which many media said was 'more sophisticated and easier to see.' From the setting screen, it is possible to switch to 'dark mode' for the entire OS in Windows 11, and it is possible to change the color scheme at once, including wallpapers, menus, and applications.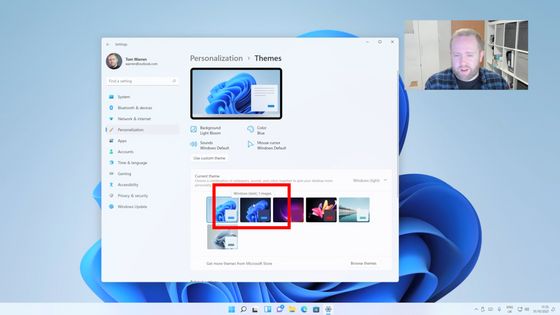 When you switch to dark mode, it looks like this. In traditional Windows, the taskbar icons were lined up at the bottom left, but in Windows 11 they are placed at the bottom center by default. In addition, it is also possible to return the arrangement of the taskbar to the left side.



When you open the start menu, it looks like this. The '
live tiles' that were inherited from Windows 8 to Windows 10 have been abolished
, and simple apps are lined up.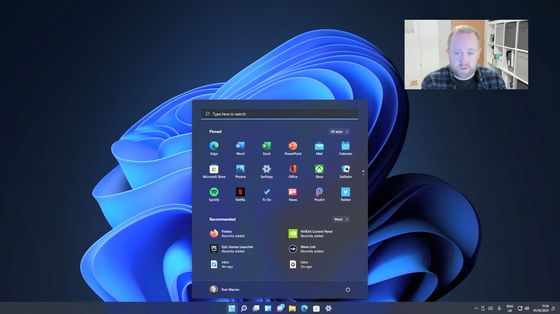 In Windows 11, the user interface such as the menu panel and notification box has been changed to a rounded appearance, giving the impression that the screen is easier to see due to the color and depth.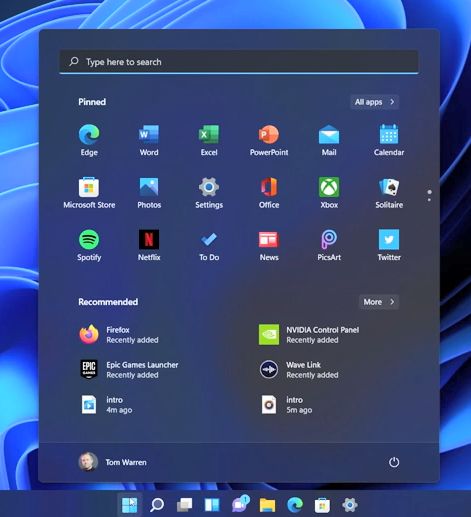 The design of each icon such as 'Desktop', 'Download', 'Document' and 'Picture' has also changed.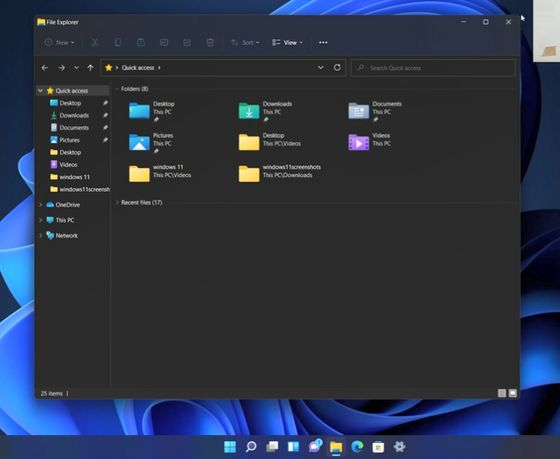 The setting screen of Windows 11 looks like this. Colors and icons were added to identify each section. The Verge reviewer Tom Warren said he was initially confused by the difference from Windows 10, but once he got used to the new settings screen, Windows 11 was much easier to use.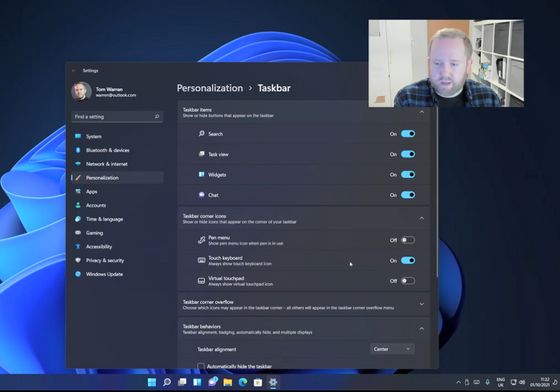 By default, the taskbar has the Microsoft Teams icon. In Windows 11, the built-in video and text chat app has been replaced by Microsoft Teams from Skype, which was acquired in 2011, and is now available to users for free.



Also, in Windows 11, a personalized news widget is placed on the taskbar, and when opened, information such as weather, sports results, and recommended news is displayed in a list. It's a widget that looks useful, but Warren points out that clicking a website link from a widget or start menu will force Edge to open even if the default browser is set to Chrome, the default. I am complaining about the specification that does not prioritize the browser.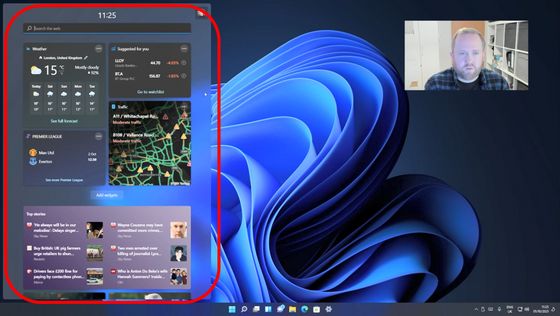 It has also been pointed out
that changing the default browser is a hassle in
Windows 11, 'Warren said,' Microsoft's browser-related changes aren't user-friendly at all. Microsoft wants a new version of Windows like this. I'm surprised that it's shipping. '
'Snap Layout' is a new feature that has been enhanced in Windows 11. When working with multiple windows open, you may want to place the material on the left side of the screen and a text editor on the right side to write the manuscript while looking at the material. Deployment is easier with Windows 11.
Hovering over the maximize button in the upper right corner of the window brings up a snap layout menu that matches the resolution of your display, allowing you to choose the pattern in which you want to place the window. In addition to arranging windows one by one on the left and right, there are many variations such as vertically dividing them into three, arranging one on the left side and arranging two on the right side vertically, and arranging the screen in four parts. .. If you are using a vertically long window, you can also arrange two screens above and below.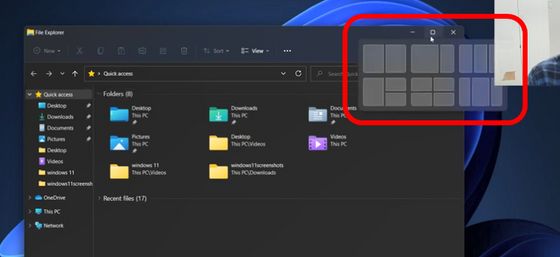 If you use snap layout with multiple windows open ...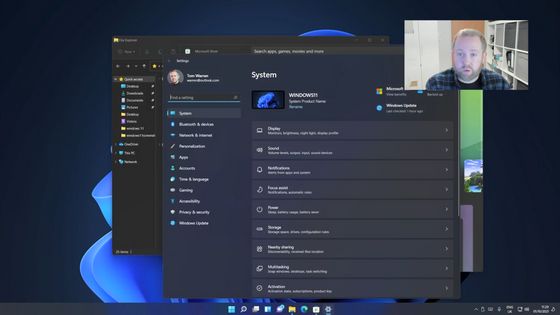 You can easily select how to arrange each window.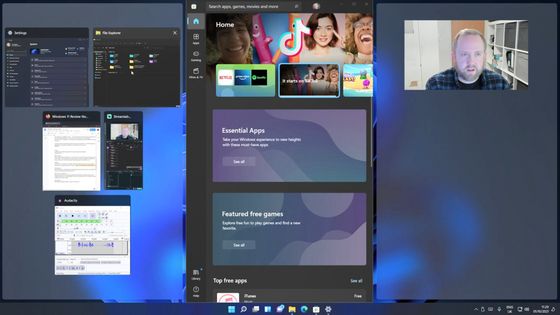 This is the best function for multitasking because you can easily place multiple windows in easy-to-see positions.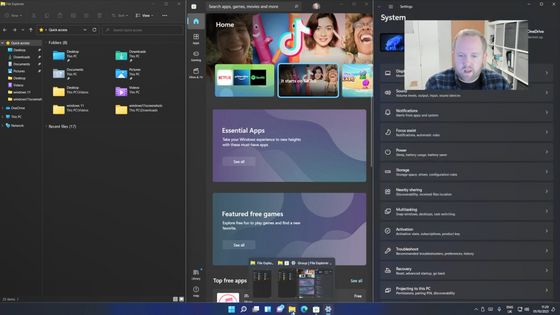 You can also drag the window itself to the edge of the screen to see a translucent layer. This shows where the dragged window will be placed when you release it, and Windows 11 also supports a new special layout that makes manual window placement easier.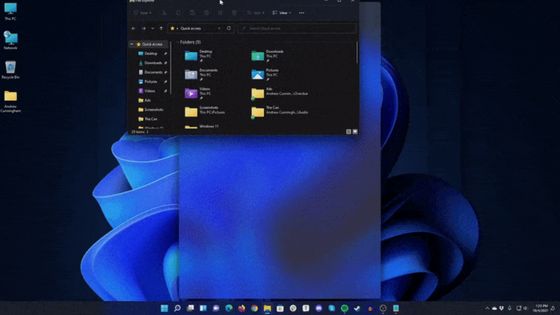 In addition, tech media Tom's Guide points out that Windows 11 has also improved '
virtual desktops
' so that you can create as many virtual desktops as you need. As a result, he said that it is possible to create various virtual desktop environments for multiple purposes such as 'work', 'hobby', and 'study', and quickly switch between them.
Windows 11 also has improved touch, pen, and voice input support for users of mobile devices such as tablets. In Windows 11, the touch target on the touch screen has become larger and easier to operate, and visual clues have been added to make it easier to resize and move windows. Tom's Guide also reports that touchscreen gestures that are compatible with traditional touchpad gestures have been added to improve tactile feedback with a pen or stylus.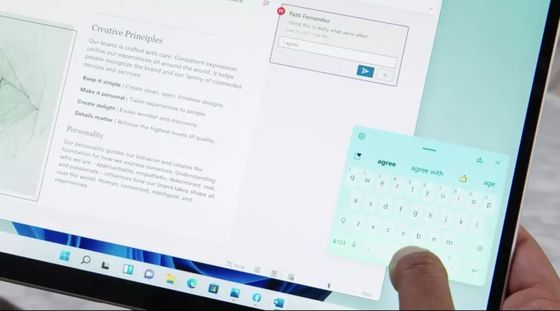 Improvements to the Microsoft Store are also major changes in Windows 11. Since Microsoft has made it possible for developers to distribute any application from the Microsoft Store, third-party applications such as Discord, Zoom, and LibreOffice are also distributed from the Microsoft Store. This allows users to install apps from the Microsoft Store with peace of mind without risking installing apps with copy software or malware that exist on the Internet.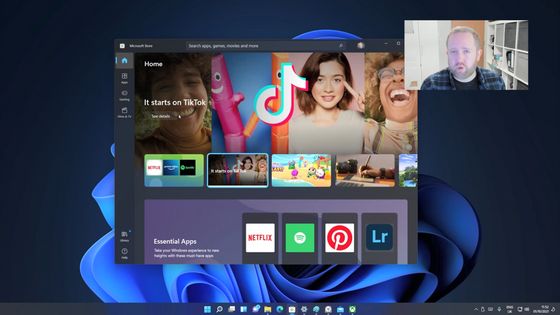 In addition, Windows 11 will also be equipped with a function to install and execute Android applications, but it is said that Windows 11 at the time of release does not support Android applications .