It is pointed out that the full-size keyboard scheduled to be installed in Apple Watch Series 7 is 'Pakuri of the existing application'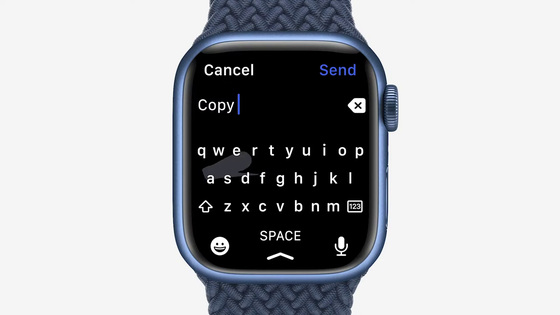 Apple Watch Series 7 , announced at Apple's new product launch event on September 15, 2021, announced that it will include a QWERTY full-size keyboard as a new input method. This full-size keyboard closely resembles an app released by Apple's long-held developers, suggesting that developers are also looking to litigation.

Apple blocked the FlickType Watch keyboard ... then announced a clone of it
https://www.inputmag.com/tech/apple-blocked-the-flicktype-watch-keyboard-then-announced-a-clone-of-it

The Apple Watch Series 7 features a 20% wider display area than the previous generation Series 6 due to the extremely narrow screen bezel (outer frame). By adjusting the UI for the larger screens of the Series 7, the amount of text that can be displayed has increased by about 50% compared to the Series 6, and it is now possible to display a full-sized keyboard for entering characters. ..

'FlickType, ' a popular keyboard app for the Apple Watch, makes an angry comment saying, 'You all know, see you in court, Apple.' It is Mr. Costa Eleph Seryu who had released.

So now we know. See you in court, @Apple . Https://t.co/hJtPI2Z83J pic.twitter.com/1s7MUSLTpc

— Kosta Eleftheriou (@keleftheriou) September 14, 2021


Eleph Seryu has been a strong critic of Apple over how to deal with fraudulent apps on the App Store.

What are the 'problems of the App Store' pointed out by app developers? --GIGAZINE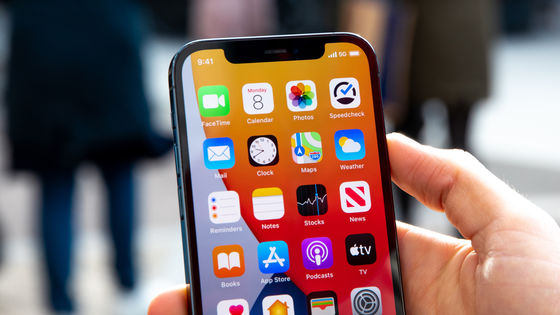 Until now, Apple Watch did not have a keyboard due to its narrow screen, and voice input was the basis for free character input. FlickType, developed by Mr. Eleph Seryu, is an application that allows you to enter characters by displaying a QWERTY keyboard on the screen of your Apple Watch. The input keys are very small, but if you touch the area around the key you want to input, you can predict the word you want to input, which is almost the same mechanism as the new keyboard that was revealed at the new product announcement event. The point of FlickType is that it can be used as an iPhone keyboard for visually impaired users because it is possible to type sentences by estimation even with rough input.

One Weird Trick to record Apple Watch videos, when no one's around to hold the camera! ???? https://t.co/mBaqm4pyc3 pic.twitter.com/3vdm22ktPC

— FlickType Watch Keyboard (@FlickType) January 21, 2021


However, in August 2021, the FlickType development team said, 'While being harassed by Apple for years, we were trying to provide an app to improve people's lives, but no longer. I can't stand it, 'he said, and announced that he would stop offering the iPhone version.

It's with a heavy heart today that we're announcing the discontinuation of our award-winning iPhone keyboard for blind users.

Has Thrown Us Apple Obstacle After Obstacle For Years While We Try To Provide An App To Improve People'S Lives, And We Can No Longer Endure Their Abuse. Pic.Twitter.Com/cH1HCQzeP1

— FlickType Watch Keyboard (@FlickType) August 16, 2021


According to the development team, it seems that Apple has applied for an update to improve accessibility, but Apple updated the application because 'it is a function that does not work unless all the contents entered with the keyboard are transferred to the developer'. He said he refused. The development team has made many offers to Apple, but Apple has been focusing on privacy protection in recent years, so it seems that it was not accepted.

However, the full-size keyboard of Apple Watch Series 7, which was revealed at Apple's new product announcement event, is also equipped with a function called 'Quick Path' that predicts the words to be entered using machine learning, which is exactly FlickType itself. Immediately after the announcement, it was pointed out on Twitter that 'this is Mr. Eleph Seryu's Flick Type pakuri.'

Apple just one for one copied @keleftheriou @FlickType watch keyboard app. #AppleEvent pic.twitter.com/usrEcHbNdS

— Euan Traynor (@EuanFTraynor) September 14, 2021


It is unclear at the time of writing whether Mr. Eleph Seryu will actually file a lawsuit against Apple, but Kpaw, the developer of FlickType, said that 'false advertisements' and 'unfair violations of California's business and occupational standards' He sued Apple in March 2021 for 'competition' and 'violations of honest and fair trade, fraud, negligence and careless misrepresentation.'