Chinese operatives may be calling for demonstrations in English or Japanese on various SNS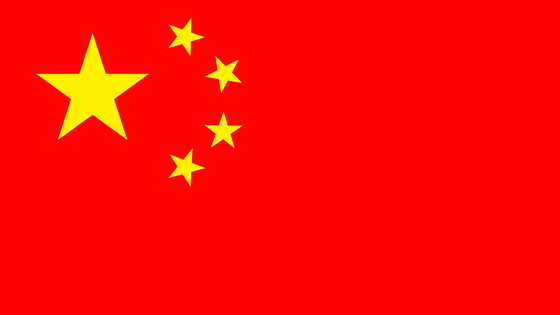 Mandiant, a security threat research firm under the cybersecurity company FireEye, has released a report that 'Chinese operatives used dozens of social media platforms to disseminate false information in multiple languages.' The network in question was simultaneously posting comments from a large number of SNS accounts that instigated fake news and demonstrations by taking advantage of the turmoil of the new coronavirus.

Pro-PRC Influence Campaign Expands to Dozens of Social Media Platforms, Websites, and Forums in at Least Seven Languages, Attempted to Physically Mobilize Protesters in the US | FireEye Inc

https://www.fireeye.com/blog/threat-research/2021/09/pro-prc-influence-campaign-social-media-websites-forums.html
Pro-China Online Network Used Fake Accounts to Urge Asian-Americans to Attend Protests, Researchers Say --WSJ
https://www.wsj.com/articles/pro-china-online-network-used-fake-accounts-to-urge-asian-americans-to-attend-protests-researchers-say-11631109601
Pro-Beijing operatives used social media to try promoting NYC protest
https://www.cyberscoop.com/china-social-media-nyc-protest-mandiant/
A 2019 study found that accounts that over-defended China appeared on Twitter, Facebook, and YouTube, blaming Hong Kong's democratization movement.
Twitter and Facebook announce that the Chinese government is manipulating information on Hong Kong demonstrations on SNS --GIGAZINE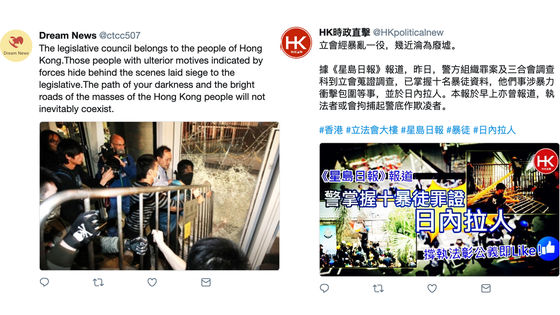 The Chinese advocacy account found in this survey uses 'artificially created pictures' for profile pictures, and topics related to the new coronavirus infection and Chinese dissident
Guo Wengui
It turned out that he was actively launching comments criticizing the faction and criticizing the domestic politics of the United States.
For example, Guo, former White House Chief Strategist Steve Bannon, and Li-Meng Yan, a researcher at the University of Hong Kong's School of Public Health, said, 'The new corona virus is made in a Chinese laboratory. In response to the claim, the pro-Chinese account posted thousands of times using the same text, images, and videos. In addition, the videos used used automatic audio in Chinese and English, and the contents also showed the characteristics seen in the parent-China network so far.


These pro-Chinese accounts are 30 types of social media such as Facebook, Twitter, YouTube, and more than 40 types of websites and forums, and a huge number of accounts are in Russian, German, Spanish, Korean, Japanese. It turns out that I was active in at least 7 languages such as.

In a Russian article posted on the diary-type SNS
LiveJournal,
I found an article claiming that Fort Detrick
in Maryland, USA, is the source of the new coronavirus, not China. This account was created as of December 2019 when the existence of the new coronavirus was discovered, and from the beginning, SNS posts of people suspected of being infected with the new coronavirus outside China were translated into Russian and posted. It turned out that it was. At the same time, he shared an article that 'a new type of coronavirus has appeared in the United States and Europe rather than China.'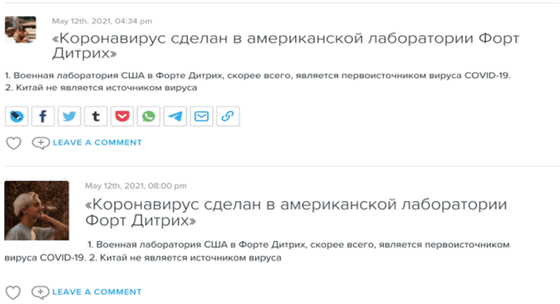 Similar posts have also been found in German and Spanish, but Mandiant points out that both have found multiple grammatical errors and are likely created by someone who is not native to the language. increase.



The following is a tweet posted on Twitter by a specific account using the same content and illustrations in Japanese, Korean, and English. If you look at the tweets in Japanese, you can see that they are clearly grammatically unnatural.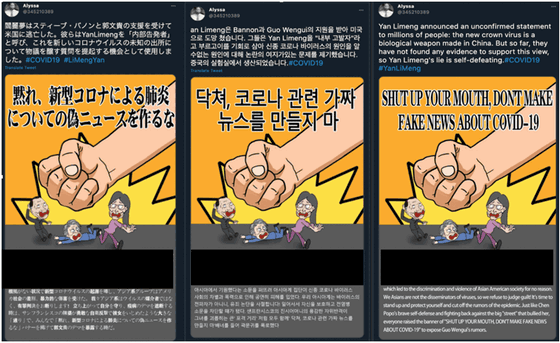 The image below is an article calling for participation in a demonstration in New York, claiming that 'Guo Wengui's supporters have assaulted Asian Americans and other minority groups,' and the photo used in the article. On the sign that the woman has, there is a big cross on Mr. Guo's face.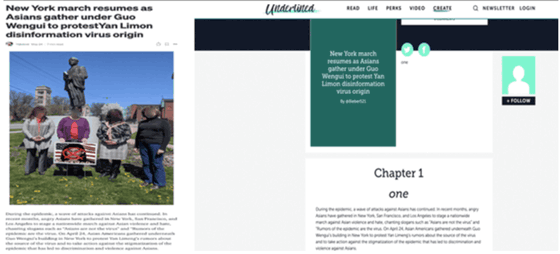 However, this photo was originally on the right side of the image below, and what was written on the signboard was a message from the
YWCA saying 'Let's face racial discrimination.'
In other words, the photos in the shared article were completely collages and forged. And, by this post, at least one American really expressed his intention to participate in the demonstration.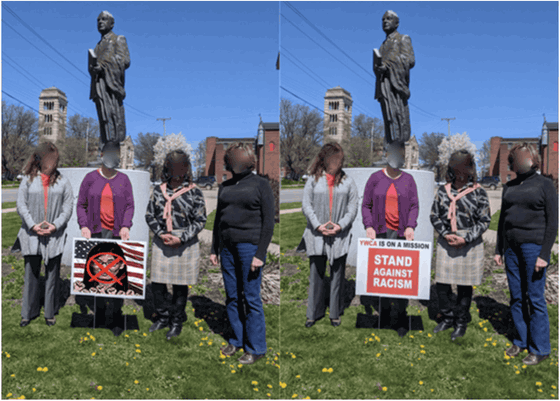 Mandiant said, 'Pro-Chinese activities are carried out not only on Facebook, Twitter and YouTube, but also on at least 30 social media and dozens of websites and forums, and the languages are German as well as English and Chinese. , Russian, Spanish, Korean, Japanese, etc. This allows the people involved in the series of campaigns to significantly expand their online activities, have a presence on as many platforms as possible, and the world. I think we are trying to reach the various people inside. ' He also warned that some pro-Chinese networks have instigated protests in the United States. Pro-Chinese networks have begun to seek ways of direct influence, suggesting that they may be trying to take real action outside of China.

in Note, Posted by log1i_yk