NVIDIA's performance surpasses market expectations, but crypto asset chip sales are sluggish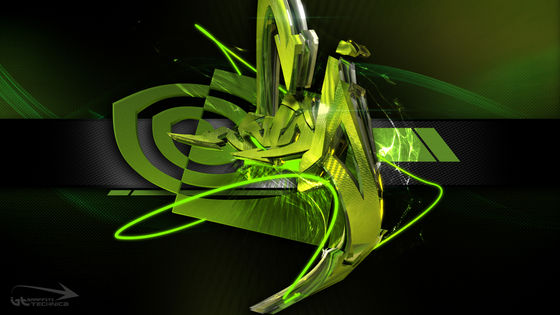 by
Alexey Vinokurov
On August 18, 2021, we announced the results for the second quarter, which ended on August 1. As a result, while the company's profits were strong, breaking the record high in the previous fiscal year and far exceeding the market's expectations, it is clear that the growth of chips for cryptocurrency mining has begun to decline. became.
NVIDIA Announces Financial Results for Second Quarter Fiscal 2022 | NVIDIA Newsroom
https://nvidianews.nvidia.com/news/nvidia-announces-financial-results-for-second-quarter-fiscal-2022
Nvidia (NVDA) earnings Q2 2022
https://www.cnbc.com/2021/08/18/nvidia-nvda-earnings-q2-2022.html
Below is NVIDIA's financial summary (
GAAP
basis) for the current quarter. Sales increased 68% year-on-year to about $ 6.51 billion (about 710 billion yen), a record high. This exceeds the forecast of $ 6.33 billion (about 700 billion yen) by financial market research firm Refinitiv.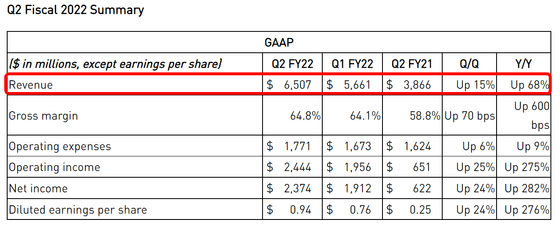 The gaming sector was a particularly strong driver of NVIDIA's performance, with sales increasing 85% year-on-year and 11% year-on-year to $ 3.06 billion (approximately $ 330 billion). It has become a shape that supports almost half.
In June 2021, NVIDIA introduced the high-end GPUs 'GeForce RTX 3080 Ti
' and '
GeForce RTX 3070 Ti
' that achieved up to 50% performance improvement compared to the previous generation, and in July, cloud gaming service
We are announcing
that the number of distribution titles of GeForce NOW has reached 1000 titles, which exceeds the others.
The data center business was also strong, rising 35% year-on-year and 16% year-on-year to $ 2.37 billion. In June, NVIDIA developed and released AI, including
NVIDIA Base Command
and
NVIDIA Fleet Command
, which are software platforms optimized for AI, and
NVIDIA AI LaunchPad,
which provides AI infrastructure for enterprises. We have launched a service that strongly supports NVIDIA. As a result of these efforts, the company's data center business shows great strengths in terms of both software and hardware, with 342 of the supercomputers ranked in the
TOP500 supercomputers using NVIDIA technology.
..
According to US news media CNBC, the breakthrough in the game field is due to both sales of the GeForce series and processor demand for Nintendo Switch. The data center business is also said to have been greatly boosted by sales of graphic cards for data centers.



On the other hand, sales of graphic cards for crypto assets were sluggish at 266 million dollars (about 30 billion yen), which was 33% lower than the market expectation. NVIDIA in May, 'mining dedicated GPU of' CMP of the 'series of sales will be about 4 billion dollars (about 44 billion yen),' expected to have been announced, sales of the current fiscal year of encryption assets for chip The result was well below both our company's expectations and market expectations.

NVIDIA Chief Financial Officer Colette Cress said in a earnings report that the outlook for the next fiscal year is 'Demand in the gaming sector is expected to be extraordinarily strong and will continue to outpace supply. And the data center business. Will be the largest source of growth next quarter, while the future contribution of the CMP series is expected to be minimal. '

in Note, Posted by log1l_ks