Qualcomm Proposes Acquisition to Veoneer of Automotive Technology for 500 Billion Yen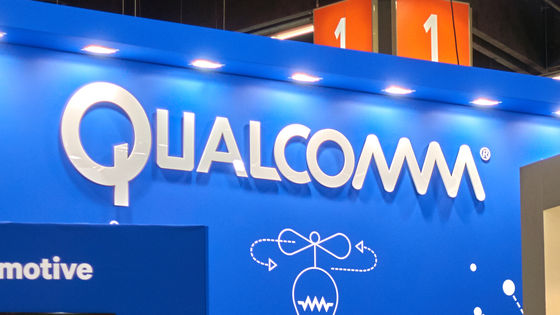 by
eugenuity
On August 5, 2021, semiconductor company
Qualcomm
announced that it had proposed to automobile technology development company
Veoneer to buy it
for $ 37 per share (about 4000 yen). Veoneer has just announced on July 23, 2021 that it has signed a merger agreement proposed by
auto parts manufacturer Magna International.
Qualcomm Offers to Acquire Veoneer for $ 37 per Share in Cash | Qualcomm
https://www.qualcomm.com/news/releases/2021/08/05/qualcomm-offers-acquire-veoneer-37-share-cash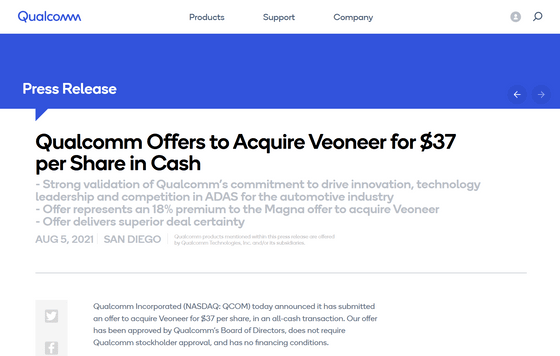 Veoneer confirms receipt of Qualcomm proposal | Veoneer

https://www.veoneer.com/en/press-releases?page=0press/perma/1936620
Qualcomm offers to buy Veoneer for $ 4.6 billion, topping Magna's $ 3.8 billion bid | Automotive News
https://www.autonews.com/suppliers/qualcomm-offers-buy-veoneer-46-billion-topping-magna-bid
Veoneer is a technology development company specializing in automobiles that mainly deals with
advanced driver assistance systems (ADAS).
It was reported that
it developed an automatic driving system and an airbag control unit, and became the parent company of
Nissin Kogyo,
a major Japanese brake manufacturer, in 2018.
Qualcomm CEO Cristiano Amon said, 'As the automotive industry changes, it is becoming increasingly important for automakers to have partners that drive innovation and enable competition. Leading the industry with the proposed acquisitions. Qualcomm's solutions and Vionia's driving assets will be integrated to bring ADAS to automakers. '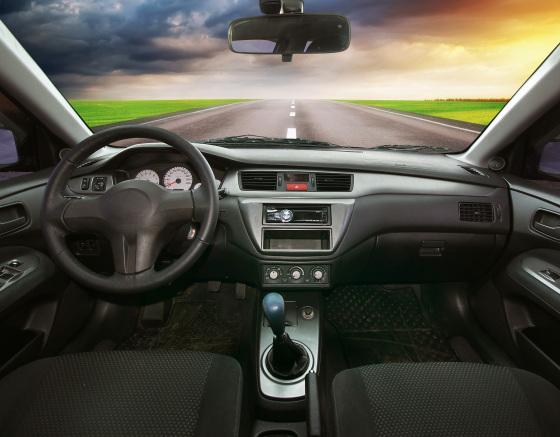 Veoneer just announced on July 23, 2021 that it had made a financial report for the second quarter of 2021 (April-June) and that it had 'finally signed the Veoneer merger agreement proposed by Magna International.' was.

In response to Qualcomm's announcement, Veoneer 'confirmed that it had received a non-binding proposal from Qualcomm. Veoneer's board of directors evaluates it in conjunction with its legal obligations and the merger agreement with Magna International. Magna・ The merger agreement with International remains valid. It was announced under the disclosure obligation of the EU's market abuse regulations. '

Qualcomm emphasized that semiconductor sales are strong in the announcement of financial results for the third quarter of 2021 (April to June) on July 29, 2021. It announced that in-vehicle chips achieved sales of 253 million dollars (about 28 billion yen), an increase of 83% from the same period of the previous year.

Qualcomm announces third quarter settlement, semiconductor sales are strong, sales increase 65% year-on-year-GIGAZINE