It is reported that the Justice Ministry is investigating the issuer of the virtual currency 'Tether' with a market capitalization of over 6 trillion yen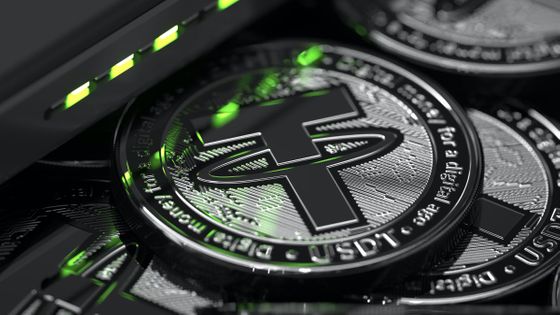 Of encryption assets (virtual currency)
tether
was in conjunction with the US Dollar
stable coin
is, and they are used as the place of legal currency in trading of virtual currency.
Bloomberg, an overseas media outlet, said
that the U.S. Department of Justice was investigating Tether, the publisher of such tethers, on suspicion that it had 'illegally concealed from banks that it was a transaction related to virtual currencies.' I reported.
Tether Executives Said to Face Criminal Probe Into Bank Fraud --Bloomberg
https://www.bloomberg.com/news/articles/2021-07-26/tether-executives-said-to-face-criminal-probe-into-bank-fraud
DOJ reportedly considers filing criminal charges against Tether and Bitfinex execs --The Verge
https://www.theverge.com/2021/7/26/22594699/tether-cryptocurrency-stablecoin-bitfinex-investigation
DOJ reportedly probes crypto company Tether for possible bank fraud
https://www.cnbc.com/2021/07/26/doj-reportedly-probes-crypto-company-tether-for-possible-bank-fraud.html
Tether, which was launched in February 2015, is a virtual currency with a market capitalization of about 62 billion dollars (about 6.8 trillion yen) at the time of article creation. The biggest feature is that the price is linked to the US dollar, so it is used by cryptocurrency traders to move funds quickly between exchanges, or when the price of cryptocurrencies fluctuates. It is used as a refuge for assets and as a substitute for legal tender.
On July 26, 2021 local time, Bloomberg suspected that 'a transaction with a bank in the early days of Tether's establishment illegally hid information that it was a cryptocurrency-related transaction,' the Justice Department said on Tether. I reported that I was investigating an executive of. According to an anonymous informant, federal prosecutors have sent documents to executives who have been investigated in the last few months, and that they are being investigated and that the results of the investigation will be revealed in the near future. It seems that he notified.
Following Bloomberg's coverage, Tether issued a statement on its site. 'Bloomberg has published an article designed to generate clicks based on anonymous sources and claims years ago. This article is a pattern of repackaging old claims as'news'. 'Tether has regular open dialogue with law enforcement agencies, including the U.S. Department of Justice, as part of its commitment to collaboration, transparency and accountability,' Bloomberg reports as just gaining access. I argued.
Tether responds to Bloomberg article | Tether
https://tether.to/tether-responds-to-bloomberg-article/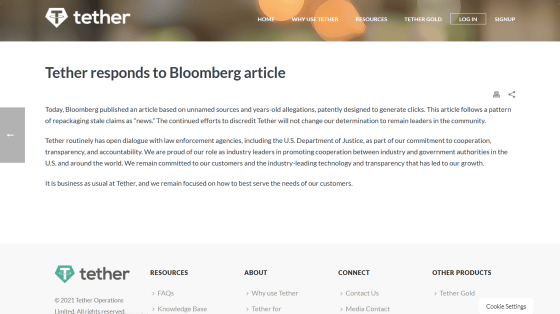 Despite Bloomberg's coverage, the value of tether remains linked to the US dollar.
Looking at the data
of CoinGecko, at the time of writing the article, the price of 1 dollar (about 110 yen) per tether is maintained.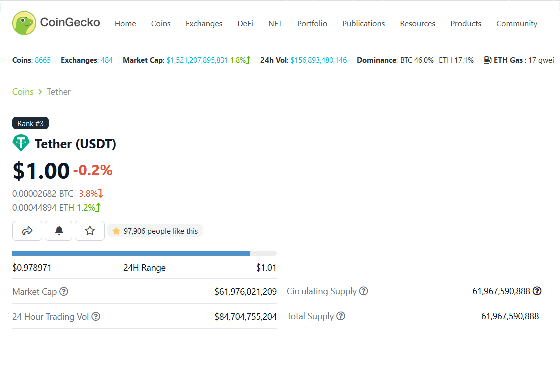 Although Tether has established itself as a stablecoin, there have been some suspicions that Tether does not have enough US dollars to reserve stablecoin. In 2019, the New York state judiciary filed a lawsuit that 'Bitfinex , a cryptocurrency exchange closely related to Tether, used Tether's funds to conceal losses.' The proceedings have agreed that Tether will pay a settlement of $ 18.5 million.

Bitfinex and Tether pay a fine of about 1.9 billion yen and settle with New York Attorney General-GIGAZINE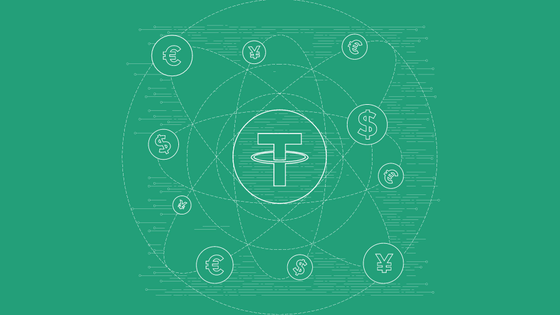 in Note, Posted by log1h_ik