'Apple and the government should crack down on smartphone monitoring software'Pegasus',' said WhatsApp CEO.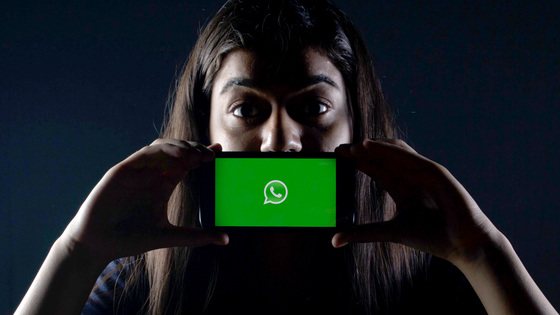 It was discovered that the spyware 'Pegasus ' developed and sold by Israeli technology company NSO Group was hacking the smartphones of journalists, human rights activists and political activists around the world to collect call content and location information. did. In response, Will Cascato, CEO of WhatsApp, the messaging app used to route Pegasus infection, called on Apple and the government to 'take a strict stance on the NSO Group.'

Officials who are US allies among targets of NSO malware, says WhatsApp chief | WhatsApp | The Guardian
https://www.theguardian.com/technology/2021/jul/24/officials-who-are-us-allies-among-targets-of-nso-malware-says-whatsapp-chief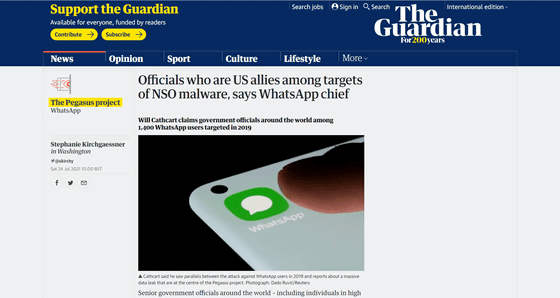 When NSO Group's Pegasus infects a smartphone, personal calls, messages, photos, and location information can be monitored, and it can also be remotely eavesdropped through a mobile phone. The existence of Pegasus has already been pointed out in 2020, and in July 2021 Amnesty International , an international human rights NGO, said, 'Pegasus was used to monitor activists, journalists and human rights defenders active in 45 countries around the world. I have released a report.

Amnesty International et al. Announce that Israeli spy software is used in 45 countries around the world-GIGAZINE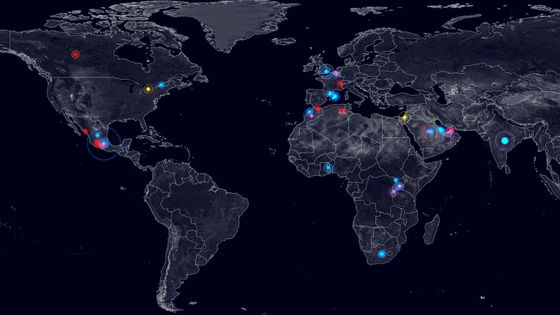 In addition, Amnesty International revealed that more than 50,000 phone numbers were on the 'list of people to watch' leaked from NSO Group customers. Traces of hacking were found on the phone numbers on the list, two of which were from Saudi Arabian journalist Jamal Khashoggi 's smartphone assassinated in 2018 via WhatsApp. It turns out that Pegasus was sent to the smartphone. We also found that the list included other national leaders such as the president, prime minister, and king.

Smartphone monitoring software 'Pegasus' may have been used to monitor more than 180 journalists in 20 countries --GIGAZINE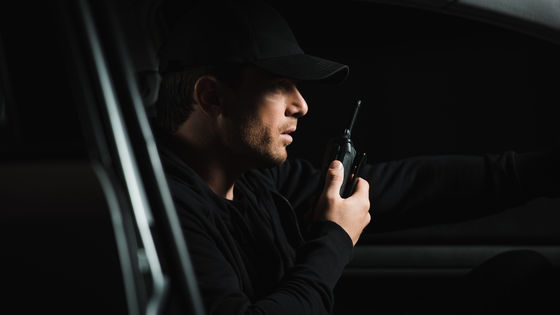 WhatsApp, which was used as the transmission route for Pegasus, was aware of 'hacking with technology developed by NSO Group' as of 2019. 'In the two weeks from the end of April to mid-May 2019, the smartphones of more than 1,400 WhatsApp users in 20 countries were attacked by the technology developed by NSO Group,' WhatsApp told the court. NSO Group will permanently suspend access to WhatsApp and Facebook systems. '

WhatsApp sues Israeli tech company over global hacks that have created assassinations and intimidation-GIGAZINE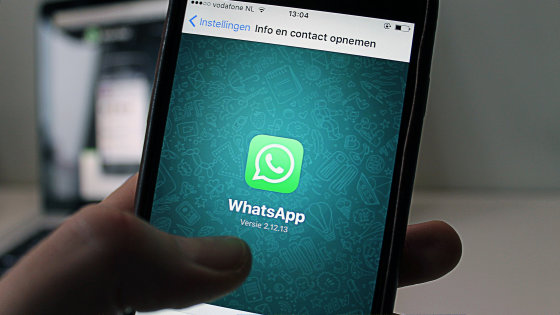 'The hacking by Pegasus reported by Amnesty International is in line with the attacks we discovered in 2019 and is very similar to what we alleged loudly,' said Cathcart. 'We should warn of Internet security. Mobile phones are no longer safe for everyone,' he said.

'We talked with governments and tech companies around the world about the attacks discovered in 2019,' said Cascato. In fact, in December 2020, multiple companies such as Microsoft and Google submitted a written opinion (PDF file) instructing WhatsApp proceedings. However, Apple, which sells the iPhone, wasn't on the list in this opinion.

Cathcart CEO said, 'I hope Apple will take a tough stance on the NSO Group. Join us loudly.'Most users don't have to worry about this.'' Thousands, There are only tens of thousands of victims. "It's not enough to say," he said, calling on Apple to participate in protests against the NSO Group.

In addition, Cathcart CEO claims, 'The NSO Group claims that many governments buy their software, which means that some countries are funding Pegasus. Will they stop using Pegasus? We should discuss which governments are spending money on Pegasus. '' Spyware is a national security threat. Governments to companies like NSO Group We should take responsibility. We need the government to advocate stronger security rather than weakening it, 'he said, calling on the federal government to pursue accountability to the NSO Group. rice field.

Spyware is a national security threat. Governments should hold these companies accountable.
This is also why we oppose calls from some governments to weaken end-to-end encryption. We need governments to advocate for stronger security, not weaker security. Https://t.co/7DP2kwJofO

— Will Cathcart (@wcathcart) July 20, 2021


A spokeswoman for the NSO Group said, 'We are doing our best to create a safer world. Law enforcement and intelligence agencies legally detect the wrongdoing of pediatric lovers, terrorists and criminals. Does Cascard CEO have an alternative to an end-to-end encryption platform that can prevent it? If so, please let us know. ' I am commenting.