Predicted that 'Face ID' will be installed on Mac soon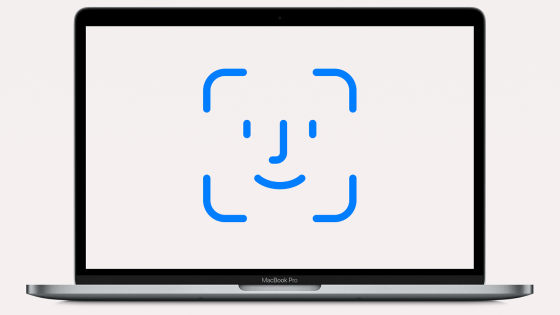 Apple's face recognition system 'Face ID' is installed in high-end model iPhones, but some iPhones and Macs such as iPhone SE use fingerprint recognition 'Touch ID'. However, there is a new possibility that Face ID will be installed on Mac and all iPhones.

Gurman: Face ID coming to Macs, all iPhones and iPads within a'couple of years' ―― 9to5Mac

https://9to5mac.com/2021/07/25/gurman-face-id-coming-to-macs-all-iphones-and-ipads-within-a-couple-of-years/
Gurman: Face ID on the Mac Coming Within a'Couple of Years' --MacRumors
https://www.macrumors.com/2021/07/25/face-id-for-mac-couple-of-years/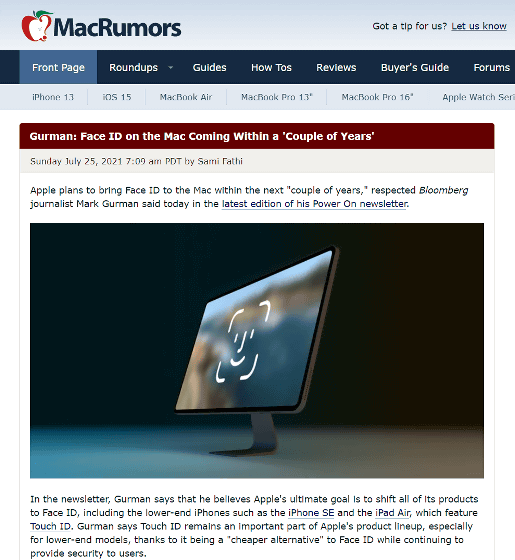 'Within a few years, Apple will have Face ID on its Mac,'
Mark Gurman of
Bloomberg, who reports inside Apple-related information, said in a
newsletter.
Also, Apple did not have Face ID on iPhone SE or non-Pro iPad at the time of article creation to reduce costs, but it is said that Face ID will be installed on these terminals in the near future.
Gherman explains that Macs and some iPhones and iPads don't have Face ID for different reasons. As mentioned above, Touch ID is used instead of Face ID because relatively inexpensive mobile devices need to 'enhance security while reducing costs.' On the other hand, Mac laptops have the problem that the screen is too thin to embed the depth sensor.
But Garman claims that 'Apple will eventually embed Face ID on all major device screens.' 'By embedding the camera in the screen, we can differentiate the iPhone as a more expensive device by eliminating the need for a notch at the top of the screen.' And apart from this, Apple analyst Minchey Kuo also speculates that the iPhone will be redesigned in 2022 with a notchless design.
Samsung has already adopted
a 'punchhole display design' with no notches and holes for the camera in the screen, but the iPhone will replace the design, Kuo said. Both predict that the iPhone will be redesigned as early as 2022 instead of 2021.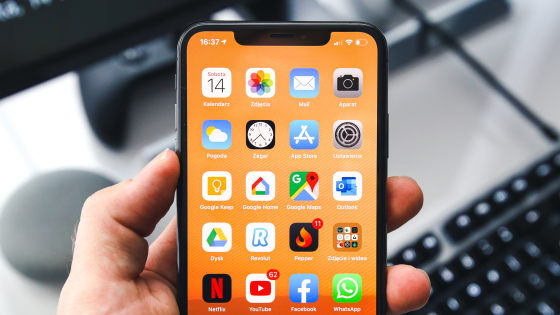 Regarding the new Mac, it has been reported that 'Apple is developing a 27-inch iMac equipped with a more powerful'M2X'chip', but to concentrate on the 24-inch iMac released in May 2021, Mac Rumors reports that development of terminals with M2X chips has been temporarily suspended. In addition to this, the epidemic of the new coronavirus infection (COVID-19) and the global shortage of semiconductors may have affected the timeline of plans to install Face ID on Macs. , 9to5Mac is tells .