Apple falls from the world's second largest smartphone market share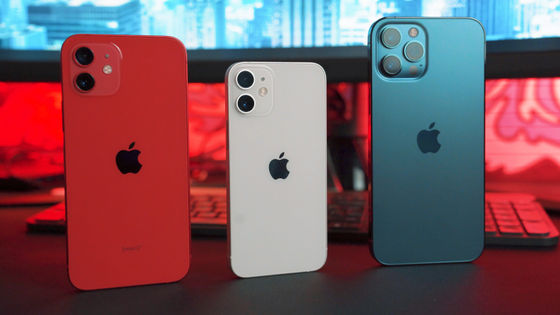 Canalys, an
IT market research company, has announced the 'Smartphone Market Share Ranking for the Second Quarter of 2021'. Chinese smartphone maker
Xiaomi
has seen rapid growth, overtaking Apple, which held second place in
the first quarters
of 2020
and 2021.
Canalys Newsroom- Xiaomi becomes number two smartphone vendors for first time ever in Q2 2021
https://www.canalys.com/newsroom/global-smartphone-market-q2-2021
Xiaomi Surpasses Apple to Become Number Two Worldwide Smartphone Vendor in Q2 2021 --MacRumors
https://www.macrumors.com/2021/07/15/xiaomi-apple-smartphone-shipments-q2-2021/
iPhone 12 line accounts for 63% of US iPhone sales in Q3 2021 --9to5Mac
https://9to5mac.com/2021/07/15/iphone-12-line-accounted-for-63-of-us-iphone-sales-in-q3-iphone-12-mini-has-5-share/
The smartphone market share ranking for the second quarter of 2021 announced by Canalys is as follows. Samsung showed a 15% increase from the previous year and maintained the number one share in the world. On the other hand, the second place was maintained by Apple throughout 2020 and the first quarter of 2021, but Xiaomi took it with a rapid growth of 83% from the previous year. Apple had a low growth rate of 1% year-on-year, with other manufacturers showing steady growth against the backdrop of a global economy revived from a pandemic. Chinese smartphone makers Oppo and Vivo are in 4th and 5th place.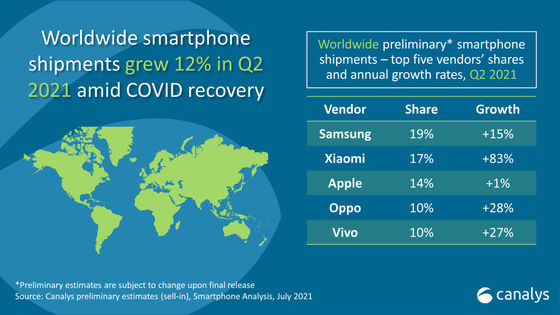 According to Canalys research manager Ben Stanton, Xiaomi's breakthrough is due to the rapid growth of its overseas business. Xiaomi's smartphone shipments are up 300% to Latin America, 150% to Africa and 50% to Western Europe, and along with the increase in shipments, the business system will also be integrated with partner companies and inventories in the open market. We have made a transition to a level that cannot be said to be the "challenge side", such as improving the efficiency of adjustments.

Canalys cites Xiaomi's problem as being 'dependent on the mass market,' pointing out that it has only a cheap lineup of 40% off compared to Samsung and 70% off compared to Apple. In order to break away from this business model
, it insists that sales of high-end machines such as 'Mi 11 Ultra
' should be increased, but in that case it is predicted that it will compete with Oppo and Vivo which have the same goal. Did.
Regarding Apple's slump, market research firm Consumer Intelligence Research Partners said that iPhone sales in the United States 'market share fell from 65% to 63% in the second quarter of 2021 compared to the same period of the previous year'
(PDF) File) Announcement
. 9to5Mac, which specializes in Apple-related information, said that the iPhone 12 mini showed a particularly low share of only 5%, so 'It's no wonder Apple is planning to discontinue the mini model from 2022.'
Said
. The 'model percentage' of iPhones sold between the third quarter of 2020 and the second quarter of 2021 is as follows.