How are 'propaganda videos in which Uighurs deny persecution themselves' spread on Twitter and YouTube?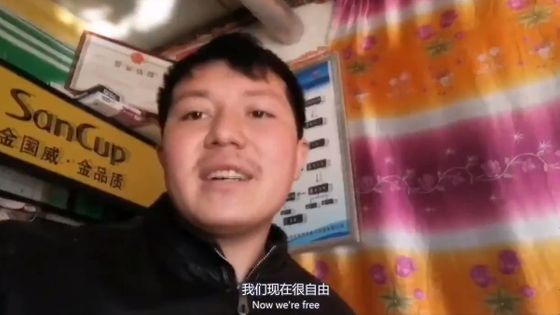 It has been
pointed out that the
Xinjiang Uighur Autonomous Region
of China is persecuting ethnic minority Uighurs, but Chinese authorities have denied this. Meanwhile, non-profit news agency ProPublica, in collaboration with the New York Times, reported that 'Chinese authorities have shot thousands of videos of Uighur denying persecution and spread them on Twitter and YouTube.' rice field.
How China Spreads Its Propaganda Version of Life for Uyghurs — ProPublica
https://www.propublica.org/article/how-china-uses-youtube-and-twitter-to-spread-its-propaganda-version-of-life-for-uyghurs-in-xinjiang
How China Spreads Propaganda About Uyghurs in Xinjiang --The New York Times
https://www.nytimes.com/interactive/2021/06/22/technology/xinjiang-uyghurs-china-propaganda.html
This is one of the 'videos of Uighurs denying persecution' by ProPublica journalist Jeff Kao.
1 / It started in late Jan. When we noticed odd videos like this one on YouTube and Twitter.

Today, my latest for @propublica and @nytimes uncovers one of the most elaborate efforts to date by the CCP to deny its ongoing oppression of Uyghurs in Xinjiang.

How we got here: pic.twitter.com/1SvwRoEEOM

— Jeff Kao (@jeffykao) June 23, 2021


Former Secretary of State Mike Pompeo has identified the persecution of the Uighur tribe as 'genocide ,' said Pompeo, a former student at the Center for Vocational Skills Education and Training. Claims that his remarks are nonsense.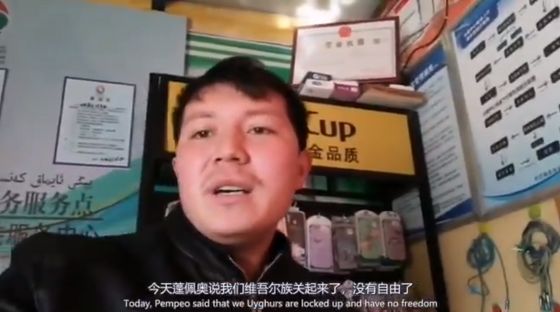 It seems that the man was able to learn Chinese law and skills at the training center and get rid of radical religious ideas, and now he runs a store and earns money.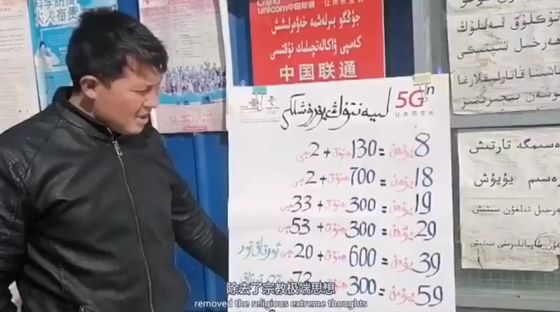 At the end of the video, 'Now we are free. Our lives are getting better and better. The Communist Party and the government care about us and our lives. People no longer say Pompeo. I don't believe him. He's a liar. '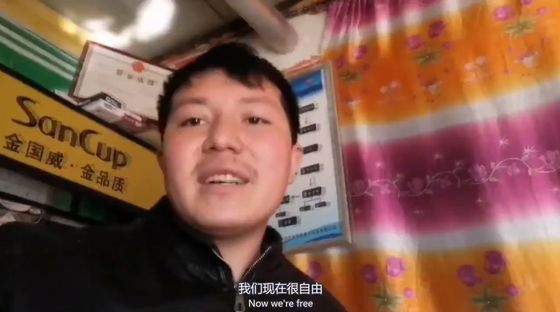 A video similar to the above has been shot and posted by various Uighurs such as textile company workers, taxi drivers, and old men in their 80s, and all Uighurs appearing in the video are 'We are free.' '. These videos, intended to give a glimpse into the lives of people living in the Xinjiang Uygur Autonomous Region, are believed to have been shot for propaganda purposes by Chinese authorities. Although most videos don't have logos or telops to show that they're official promotions, ProPablica worked with the New York Times to investigate these videos to see what the Chinese authorities' propaganda campaign looks like. ..

According to a survey by ProPublica, most of the videos posted in the form of selfies of people living in Xinjiang Uighur Autonomous Region are in Chinese or Uighur, and all the contents are in line with the basic format. .. The basic format is that the video contributor first introduces himself, then appeals how rich and happy his life is, and finally claims that there is no oppressive policy in Xinjiang Uygur Autonomous Region. thing. The Uighur shopkeeper's video by Kao follows a similar format.

ProPublica also points out that the same phrase is often used in multiple videos. For example, the word 'Dosei Docho (born and raised in the land)' appears in more than 280 of the more than 2000 videos that blame Pompeo found on YouTube and Twitter. In addition, it seems that the word 'Hu-San Hachimichi (saying unfounded crap)' and its variations appeared in more than 600 videos that denied Mr. Pompeo's remarks.



ProPublica reportedly contacted the owner of a used car dealer who posted one of these propaganda videos over the phone and received testimony that the video was created by local propaganda authorities. ProPublica says that the shop owner succeeded in finding out the phone number of the official concerned, but there was no response when calling that number.

YouTube and Twitter label government-related accounts and posts to promote transparency, but these videos featuring people from the Xinjiang Uygur Autonomous Region are not tagged. When ProPublica inquired about the reason for this, YouTube replied that 'the video does not violate the community guidelines' and Twitter declined to comment on the video.

A series of propaganda campaigns took place after Pompeo claimed on January 19, 2021 that 'China is genocide in the Xinjiang Uygur Autonomous Region.' A few days after Pompeo's allegations were reported, videos criticizing Pompeo began to be posted on the local news app 'Pomegranate Cloud' owned by the Chinese Communist Party magazine People's Daily. matter. ProPublica claims that it was reprinted on social media in China and then posted on international social media such as Twitter and YouTube.

According to a survey by ProPublica and The New York Times, propaganda videos are shared by more than 300 accounts on Twitter, but these accounts are not considered to be ordinary users. The following post that the account 'Li Sung Kiri' shared a Uighur video ...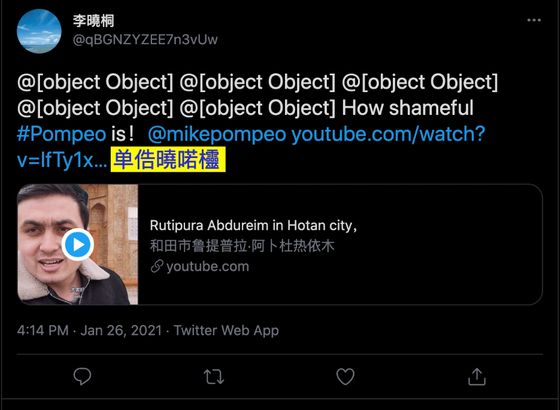 The ones posted by the account 'Roh Jijo' are common except for the last 5 characters. It seems that these strings were found in three-quarters of accounts that shared Uighur videos, and by replacing only the last few characters with random strings, they avoid being judged as spam. And that.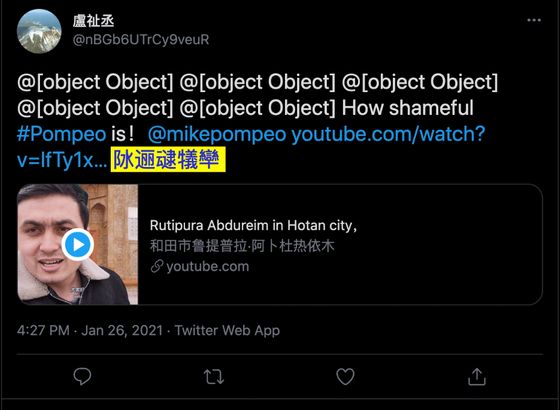 In addition, ProPublica points out that all Twitter accounts have been registered in the last few months, most of them haven't followed and have less than five followers. The fact that most of the tweets were concentrated between 10am and 8pm Beijing time, and that the percentage of Twitter accounts responding within 30 minutes of posting the video on YouTube exceeded three-quarters. , These accounts are believed to have been operated by Chinese authorities.

In addition, Twitter temporarily suspended many of these accounts in March and April 2021 before ProPublica and the New York Times contacted us. According to Twitter, these accounts violated the platform's operational and spam policies.

Propaganda videos that appear to have been posted by Chinese authorities are not the only ones that deny genocide. In the following video shared by Zhao Lijian , a spokesman for the Ministry of Foreign Affairs of China, a Uighur woman denied forced labor by Chinese authorities and said, 'I have five greenhouses and force everyone to work in the greenhouse. I haven't done it. ' This video was originally, by the Global Times state-run newspaper short video app-China free hand that the thing that has been posted to.

Listen to what local people in #Xinjiang say about the 'forced labor'. Hotan resident: 'I have 5 greeehouses and no one forces me work in greenhouses.' Pic.twitter.com/6i6eWC1mbc

— Lijian Zhao Zhao Lijian (@ zlj517) February 4, 2021


In addition, a video accusing H & M, a major apparel company that has suspended transactions with Chinese companies that have been pointed out to force Uighurs to work, saying, 'While using cotton from Xinjiang Uygur Autonomous Region, I say bad things about Xinjiang Uygur Autonomous Region.' There are also videos posted by a family of Uighur activists who have been exiled abroad, complaining, 'I hope you are not fooled by bad foreigners.'

Rebiya Kadeer, a Uighur activist whose granddaughter has appealed to her by appearing in propaganda videos, said, 'Some people watch these videos and believe that Uighurs are living a happy life. 'Let's do it.' 'What they say in this video is not true. They understand that they are not telling the truth, but the Chinese government has to say what they want them to say.' I told ProPublica.

It is said that the total number of views of the YouTube channel posting these videos has exceeded 480,000 times, which means that if you include other platforms, you are earning more views. Pompeo, who responded to a telephone interview with ProPublica, admits that his friends and family have found these videos online and sent them to Pompeo. Each video looks sloppy, but Pompeo underestimates his influence, pointing out that 'where many media are inaccessible, those videos have the ability to be played repeatedly and settled.' He expressed the view that it should not be.

After the articles on ProPublica and the New York Times were published, YouTube deleted some channels related to Uighur propaganda videos. According to spokeswoman Ivy Choi, the channel 'acted in concert' when uploading a video of the Xinjiang Uygur Autonomous Region, removing the channel as part of a fight against attempts to exert influence on the platform. It states that it did. In addition, some channels were deleted because they violated the policy regarding spam and deception.