AMD explains 'AMD FidelityFX Super Resolution', a super-resolution technology that supports from the latest grabbo to old-fashioned grabbo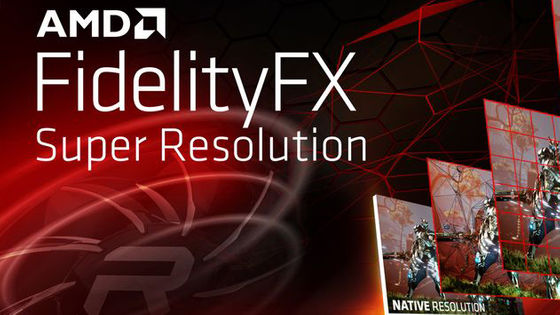 On June 22, 2021, AMD released a game title corresponding to the new technology '
AMD FidelityFX Super Resolution
(FSR)
' announced at the Taipei International Computer Trade Fair (Computex 2021) held in early June.
, Provides an overview of this technology.
AMD FidelityFX Super Resolution is Here --AMD Community
https://community.amd.com/t5/blogs/amd-fidelityfx-super-resolution-is-here/ba-p/477919
In recent years, gamers have used laptops to play on high-resolution displays, enjoy next-generation video technologies such as
ray tracing, and play games while maximizing hardware performance.
To meet these demands, developers have also come to support a wide range of hardware and aim for as many gamers as possible to play games at high frame rates.
Among them, upscaling
has become a common issue for gamers and developers. There have been upscaling technologies in the past, but AMD's new technology,
AMD FidelityFX Super Resolution (FSR)
, launched in Computex 2021 is an upscaling technology that sets it apart from the past.
FSR features improve performance when using high-performance technologies such as ray tracing, achieve high frame conditions when playing the latest games on high refresh rate monitors, and laptops and older graphics cards. Examples include performance when playing the latest games. For example, in FSR's 'Performance' mode, the performance of 4K games will average 2.4 times that without FSR. Including other than 'Performance', FSR has four modes described later, so it covers a wide range of hardware from the latest graphics cards to 2016 AMD graphics cards.
FSR was also developed with support for game developers in mind, it runs on a variety of operating systems and APIs, is easy to integrate, and requires no special adjustments for each game.
It can also be used with other Fidelity FX
technologies offered by AMD's open source
SDK
, GPU Open, allowing you to incorporate advanced features like ray tracing into a wide range of games. The FSR will be open sourced in mid-July 2021 and will be available to game developers through GPU Open.
Below is a diagram showing how the FSR works specifically. FSR first lowers the rendering resolution of the game to ensure performance, then upscales it to the target resolution to improve image quality to near-native levels.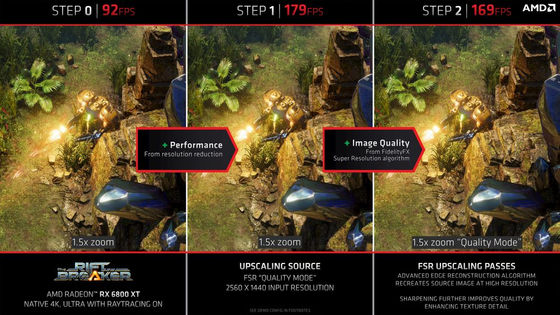 The specific order of the upscaling process is to first analyze the video to detect edges and then reconstruct at the target high resolution. Next, sharpness is applied to make the pixel details finer. Since these two processes are
done in one step in the graphics pipeline
, game developers can easily make the game compatible with FSR.
For FSR, we pursue the ultimate performance, the highest quality 'Ultra Quality' mode that is almost the same as native rendering, the 'Quality' mode with image quality close to native rendering, the 'Balanced' mode that demonstrates excellent performance for gamers. 'Performance' mode is installed.
Below is a table of scale factors and input resolutions when each mode operates at a typical game resolution.
| | | | |
| --- | --- | --- | --- |
| mode | Scale factor | Input resolution when outputting at 1440p | Same 4K |
| Ultra Quality | 1.3 times | 1970 x 1108 | 2954 x 1662 |
| Quality | 1.5 times | 1706 x 960 | 2560 x 1440 |
| Balanced | 1.7 times | 1506 x 847 | 2259 x 1270 |
| Performance | 2.0 times | 1280 x 720 | 1920 x 1080 |
In addition, the following is a concrete benchmark result showing the performance improvement when using FSR with Radeon RX 6900 XT, and the graph shows the FSR compatible titles 'TERMINATOR: RESISTANCE (left)' 'Godfall (center)' 'The Riftbreaker' (Right) '' FSR off (1% LOW FPS: the value when the lowest FPS is 1%) '' FSR off (AVG FPS: average FPS) '' FSR on (1% LOW FPS) '' FSR on ( It shows the score when playing with 'AVG FPS)'.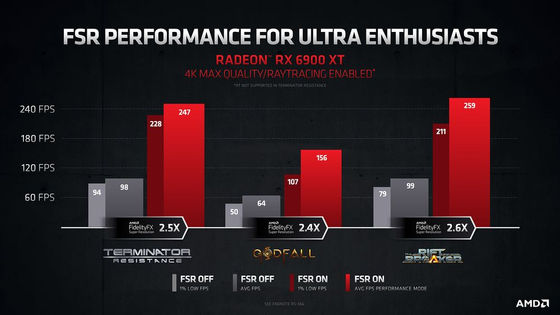 Radeon RX 6800 XT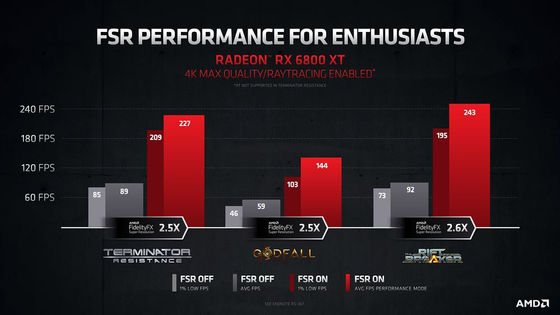 Radeon RX 6700 XT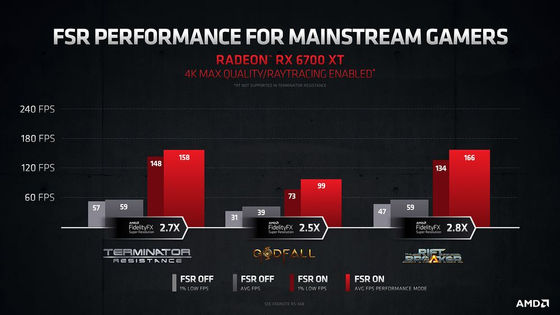 Radeon RX 580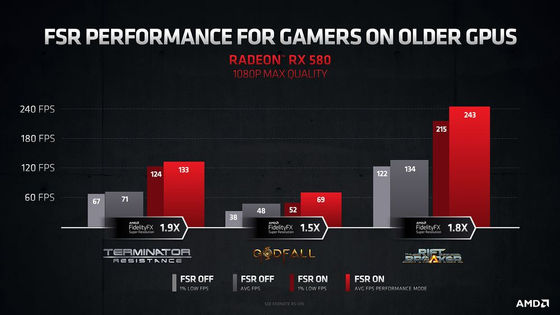 AMD products compatible with FSR are 'AMD Radeon 6000 series' 'AMD Radeon 6000M series' 'AMD Radeon 5000 series' 'AMD Radeon 5000M series' 'AMD Radeon VII' 'AMD Radeon RX Vega series' 'AMD Radeon 600 series' ' AMD Radeon 500 series '' AMD Radeon RX 480/470/460 '' AMD Ryzen desktop processor / mobile processor equipped with AMD Radeon '.

FSR also supports NVIDIA as well as AMD products. For example, the benchmark results on GeForce GTX 1060 are as follows. In addition, it has been confirmed that it is compatible with GeForce RTX 30/20 series and GeForce RTX GTX 16/10 series.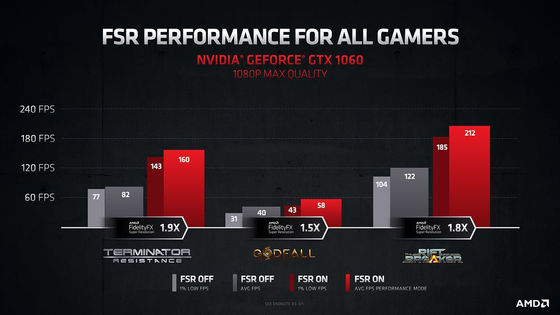 It has already been found that 'Godfall', 'The Riftbreaker', '22 Racing Series', 'Anno 1800', 'Evil Genius 2: World Domination', 'Kingshunt', and 'TERMINATOR: RESISTANCE' support FSR.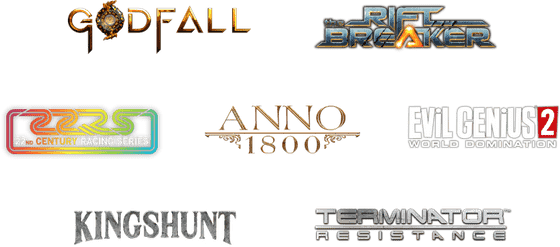 Also, 'Asterigos' 'Baldur's Gate 3' 'DOTA 2' 'Edge of Eternity' 'Far Cry 6' 'Farming Simulator 22' 'Forspoken' 'Myst' 'Necromunda: Hired Gun' 'Biohazard Village' 'Swordsman Remake' 'Vampire: The Masquerade --Bloodhunt' and others are also planned to be supported.