Search engine 'DuckDuckGo' that emphasizes privacy protection has grown rapidly, and the number of application downloads has exceeded 50 million in the past year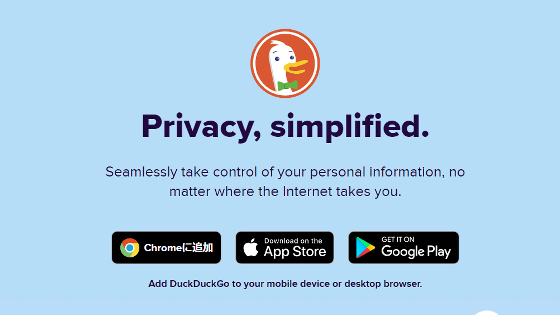 DuckDuckGo, an
internet search engine, focuses on protecting user privacy, so it has a strong presence as an alternative to Google search, which actively utilizes user information and personalizes search results. On June 16, 2021 local time, DuckDuckGo said, 'Over 50 million DuckDuckGo apps have been downloaded in the last 12 months, increasing search traffic by 55% and ranking second in the United States, Canada, Australia, the Netherlands, etc. It's now a mobile search engine. '
Thanks to you, over the last 12 months we've been DuckDuckGrowing like crazy!

• More than 50M app downloads
• 55% increase in search traffic
• Became the # 2 search engine on mobile in the US, Canada, Australia, the Netherlands & more https://t.co/tnZGvzWBPs pic.twitter.com/zkIb5ou3r4

— DuckDuckGo (@DuckDuckGo) June 16, 2021


Millions Choose Simple Privacy Protection with DuckDuckGo
https://spreadprivacy.com/duckduckgrowing/

DuckDuckGo said in an official blog that privacy skeptics have previously pointed out that 'people care about privacy, but do nothing to protect it.' However, with iOS 14.5 released by Apple in April 2021 to allow apps to refuse to track users for advertising purposes, it became clear that most users are refusing to track them. 'Most people choose privacy when they create a simple, non-sacrificing way,' said DuckDuckGo about the move.

'DuckDuckGo is an'easy-to-choose option'for online privacy,' he said, reporting that the official DuckDuckGo app has recorded over 50 million downloads in the last 12 months. The number of downloads of 50 million times exceeds the total number of downloads before this.

As a result of the increased usage of the DuckDuckGo app, the number of search queries per day exceeded the 100 million mark in January 2021. Also increased 55% search traffic per month in the past 12 months, DuckDuckGo is the second largest mobile search engine next to Google search in several countries, including the United States, Canada, Australia and the Netherlands growth was.

If you look at the graph below, where the vertical axis shows the number of searches performed by DuckDuckGo per month and the horizontal axis shows the year, you can see at a glance that the number of searches has increased sharply in recent years. Although DuckDuckGo does not track users, it is not possible to calculate the exact number of users, but based on the estimated market share, the number of downloads, the results of national surveys, etc., the number of users is 70 million to 1 worldwide. It is estimated that there are about 100 million people.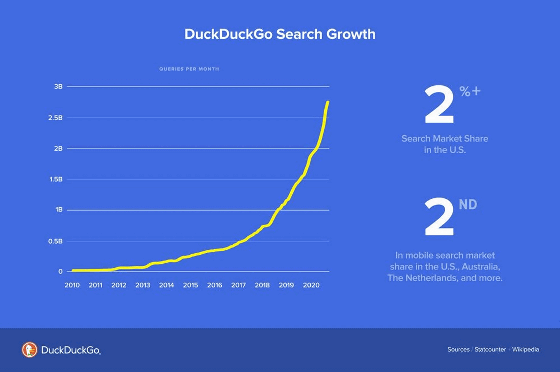 DuckDuckGo claims that its strength is that it can introduce important DuckDuckGo privacy features such as tracking blocking and top-level HTTPS connection support by downloading a single app or extension. He said users can activate an all-in-one 'privacy set' for free and by default, as no complicated settings are required during deployment.

DuckDuckGo will continue to roll out additional privacy features, and within a few weeks it will offer an email protection feature called 'DuckDuckGo Email Protection' in beta. Also, in the second half of the summer of 2021, the ability to block app tracking on Android devices will be available in beta, and it is planned to release a desktop version of the browser app by the end of 2021. ..

In addition, DuckDuckGo has been making profits continuously since 2014, and at the time of writing the article, it states that the annual revenue exceeds 100 million dollars (about 11 billion yen). By the end of 2020, it had successfully raised over $ 100 million in secondary investment from new and existing investors.