Twitter plans to add newsletter subscription button to profile screen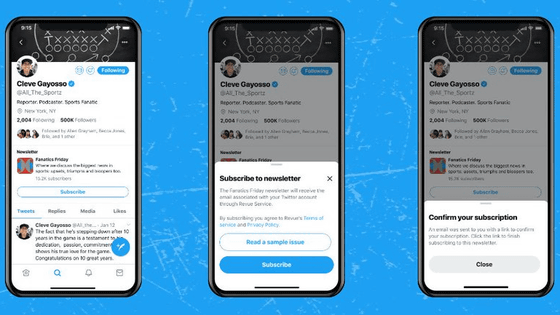 Revue, a newsletter distribution service acquired by Twitter in January 2021, has announced that it will display a newsletter subscription button on Twitter's profile screen as a new way to increase the number of users using the newsletter. Announced.

Revue newsletter signup button to show up in Twitter profiles --Neowin
https://www.neowin.net/news/revue-newsletter-signup-button-to-show-up-in-twitter-profiles/

Revue has announced that it will add a button to its Twitter profile screen to subscribe to the newsletter. Regarding this new tool, Revue said on its official Twitter account, 'We want to give writers a tool to turn their enthusiastic Twitter audience into newsletter subscribers, as they will soon be available in Revue's newsletter. Please wait for a while. '

We want to give writers tools to turn their growing, engaged Twitter audience into newsletter subscribers. This will be available for Revue newsletters soon, so stay tuned. Now, back to work to keep building.

— Revue (@revue) June 10, 2021


The newsletter subscription button looks like this: The newsletter name, details, and subscribe button (Subscribe) are lined up in the middle part of the screen, and it seems that tweets are displayed below it.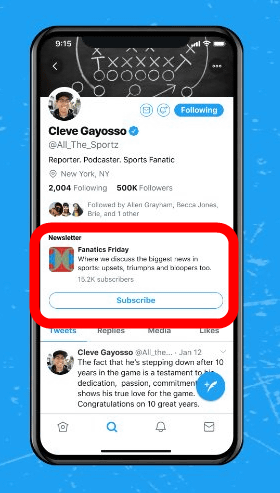 According to foreign media Neowin, the newsletter subscription button will first appear on the web and Android versions, with the iOS version expected in late 2021.

The subscribe button is displayed only on the profile screen of the person who has a Revue account. You can subscribe directly by tapping the subscribe button. You can also read a sample newsletter before subscribing. The subscribed newsletter will be sent to the email address associated with your Twitter account.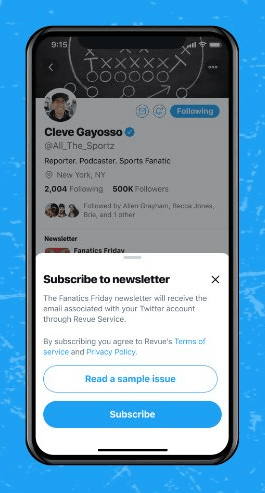 Since the introduction of the newsletter service Substack in 2017, the number of newsletter subscriptions has skyrocketed. The direct integration of Revue and services by Twitter, which is used by celebrities and government agencies around the world, could lead to a rapid increase in the number of users subscribing to newsletters via Revue. Also, for those who originally have a lot of followers on Twitter, having them subscribe to the newsletter via Twitter 'may be a more attractive option,' Neowin points out.

Revue offers both free and paid newsletters, and Twitter collects 5% of the subscription fee from paid newsletters as a commission. On the other hand, Substack collects 10% of the subscription fee as a commission.