A patch is under development to complete the inoculation of the new 'just paste' corona vaccine.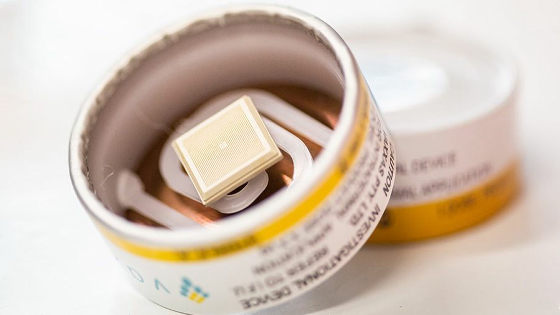 Vaccination is generally done by injection, but a new patch has been announced that completes vaccination against the new coronavirus infection (COVID-19) by simply sticking it on the skin.

Complete protection by a single dose skin patch delivered SARS-CoV-2 spike vaccine | bioRxiv

https://www.biorxiv.org/content/10.1101/2021.05.30.446357v1
Preclinical Studies From Vaxxas and Collaborators Reveal Potential of Vaxxas' Novel High-Density Microarray Patch (HD-MAP) to Effectively Deliver SARS-CoV-2 Spike Vaccine | Business Wire
https://www.businesswire.com/news/home/20210602005365/en/Preclinical-Studies-From-Vaxxas-and-Collaborators-Reveal-Potential-of-Vaxxas%E2%80%99-Novel-High-Density- Microarray-Patch-HD-MAP-to-Effectively-Deliver-SARS-CoV-2-Spike-Vaccine
Needle-free COVID-19 vaccineshows promise
https://stories.uq.edu.au/news/2021/needle-free-covid-19-vaccine-shows-promise/index.html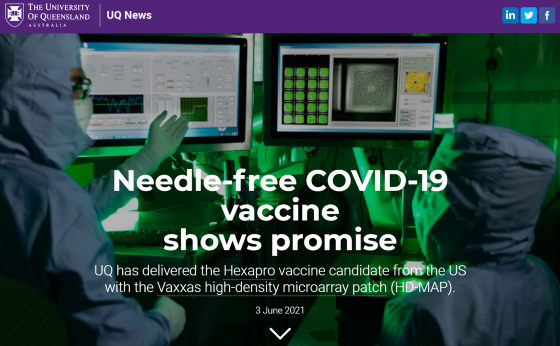 In a new study, an experiment was conducted in which a vaccine patch called 'HD-MAP' was used for mice infected with the new coronavirus (SARS-CoV-2). The patch has about 5,000 fine protrusions, and the research team vaccinated the mice by 'applying the patch with the vaccine applied to the protrusions to the skin only once'. The results showed that patch vaccination resulted in a greater response to
T cells
and
spike antibodies compared to syringe vaccination of animals.
The vaccine used this time is not an existing vaccine developed by Pfizer or Moderna, but a new one called
'HexaPro' under development by the University of Texas.
HexaPro has been noted as having the potential to be more effective than existing vaccines.
The following is a vaccine patch under development.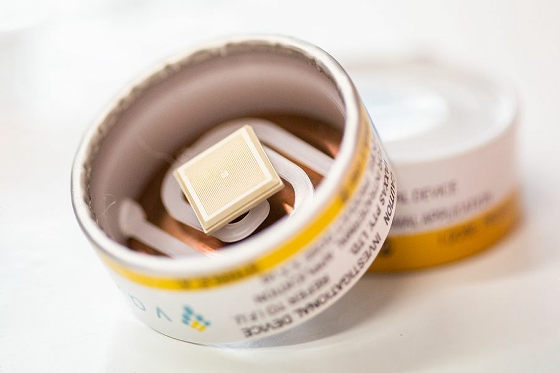 Vaccine patch may be effective against mutant strains such as 'B.1.1.7' in the United Kingdom and 'B.1.351' in South Africa, based on the antibody level contained in the serum of mice with the vaccine patch. Was shown, the research team said.

In addition, vaccines have the problem that temperature control is difficult, but vaccine patches that are stored in a dry state can maintain a stable state at 25 degrees Celsius for at least 30 days. Therefore, it has the potential to solve distribution issues in many ways.


The University of Queensland, which conducted the research, established Vaxxas
, a nanopatch development company, in 2011 through UniQuest, which commercializes the research. The new research was also carried out in collaboration with Vaxxas and a research team including David Muller of the Department of Chemistry and Molecular Biology, University of Queensland.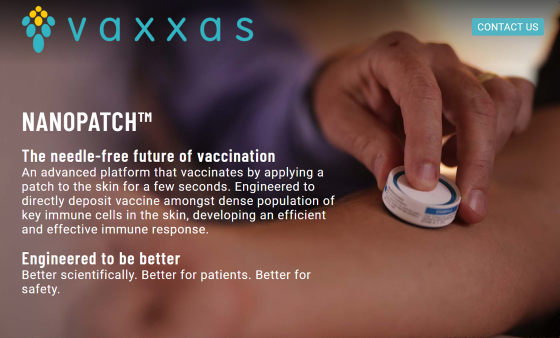 'This study was conducted to address the ongoing and serious need to improve global vaccination efforts for COVID-19 and future pandemics. Based on the findings, we I believe that HD-MAP has the potential to solve the problem of 'reducing the number of vaccinations and making it easier to distribute without refrigeration.' 'This makes HD-MAP the world. It has the potential to meet the large population of vaccine needs. We believe that vaccine patches will be an excellent alternative to traditional inoculum vaccines, 'Muller said.

The University of Queensland, which published the paper, gave a lecture in 2013 on nanopatches that enable painless vaccination.

'Nanopatch' that removes needle pain from injections with nanotechnology --GIGAZINE