Samsung, Micron, SK Hynix filed class action proceedings for 'manipulating DRAM prices'
Samsung
,
SK Hynix,
and
Micron
, which account for 90% of the global
DRAM
market share, said that they are 'manipulating DRAM prices,' said Hagens Berman, an American law firm, on May 3, 2021. Has filed a lawsuit against three companies. The plaintiffs allege that 'the prices of electronic devices that use DRAM have risen artificially and violate antitrust laws.'
Lawsuit filed against Samsung, SK in US
https://www.koreatimes.co.kr/www/tech/2021/05/133_308452.html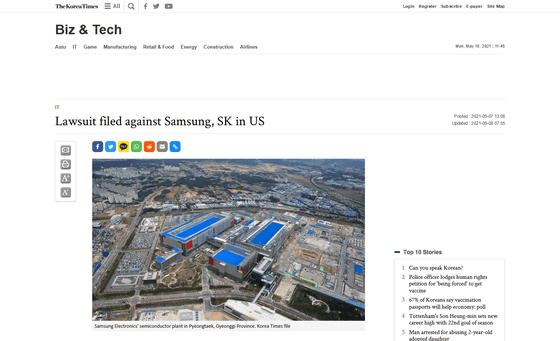 Samsung, Micron, SK Hynix sued again over alleged DRAM price fixing | AppleInsider
https://appleinsider.com/articles/21/05/09/memory-producers-sued-over-alleged-dram-price-fixing
The suits were filed by Samsung headquarters and the chip business division, SK Hynix headquarters and the US branch office in South Korea, and two Micron affiliates. The plaintiffs were 14 individuals who purchased DRAM and laptops and filed suits on behalf of American consumers who purchased smartphones and PCs between 2016 and 2017.
'DRAM prices have risen by more than 130% over a period of time, and Samsung, SK Hynix, and Micron's profits have more than doubled,' said Hagens Berman, a lawyer representing the plaintiffs' group. He argued that the collusion hindered free competition.
According to market research firm
TrendForce
, Samsung has 41.3% of the DRAM market share, SK Hynix has 28.2%, and Micron has 25.0% as of the third quarter of 2020 (July-September). It has a market share of about 94.5%. In addition, the same Korean company Samsung and SK Hynix
signed a cross-licensing agreement
in 2013 to share patents on semiconductors, and Samsung, SK Hynix, and Micron's stronghold, which is a major driver of the DRAM market, can be destroyed by other manufacturers. It is as solid as it can be.


This is not the first time Hagens Berman has sued Samsung, SK Hynix, and Micron, and in recent years, similar class actions have been filed against three companies in April 2018 and October 2019. Of these, the court dismissed the case in December 2020 for the 2018 proceedings. However, Hagensu Berman is a lawsuit filed in 2006, that it has won a settlement of 345 million dollars (about 380 billion yen) appeal has been.

Korea Times, a Korean English-language newspaper, said that 'DRAM pricing is in sync with changes in supply and demand.' 'Samsung, SK Hynix, and Micron have artificially raised DRAM prices. It's hard to say. DRAM prices have been declining over the last two years, 'reports industry insiders' testimony, skeptical of Hagens Berman's claim.

The Korea Times asked Samsung and SK Hynix to comment on the proceedings, but both companies declined to respond.