Indian cities lock down in response to reports of the highly infectious new coronavirus mutant 'N440K', but experts point out that 'the virus is on the decline'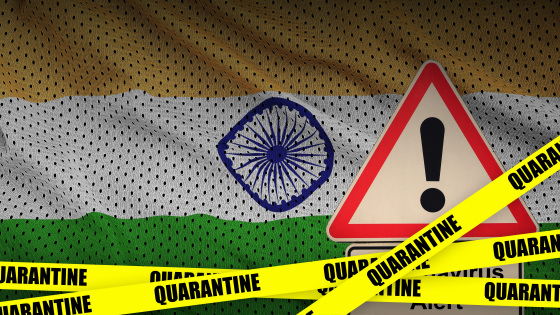 It is also known that the new coronavirus (SARS-CoV-2), which is rampant all over the world, is prevalent as a 'mutant strain' that has higher infectivity and mortality rate when infected than conventional viruses. .. Infection number of people per day were more than 30 million people in India, during the epidemic in some areas B.1.617 mutant strain or the British type, B.1.1.7 infectivity than the mutant strain is 10 times stronger After receiving a report that the 'N440K' mutant was confirmed in Andra Pradesh , the neighboring states such as Orissa have moved to a high alert, but experts said, 'N440K is a known mutant and is on the decline.' He points out and advises to deal calmly.

N440K alert: Odisha tightens the reins on Andhra border- The New Indian Express
https://www.newindianexpress.com/states/odisha/2021/may/05/n440k-alert-odisha-tightens-the-reins-on-andhra-border-2298638.html

There's no unique Andhra Covid strain which is 15 times more virulent, says CCMB chief
https://theprint.in/health/thees-no-unique-andhra-covid-strain-which-is-15-times-more-virulent-says-ccmb-chief/652773/

Covid-19: N440K variant, which wreaked havoc in South India last year, now fading, says CCMB --Coronavirus Outbreak News
https://www.indiatoday.in/coronavirus-outbreak/story/covid-19-n440k-variant-which-wreaked-havoc-in-south-india-last-year-now-fading-says-ccmb-1799090- 2021-05-05

In Orissa, following reports of N440K variants in neighboring Andhra Pradesh and Telangana, all roads connecting the two states and Orissa will be inspected to track all immigrants. I requested. Persons entering the state by vehicle or plane from both states will be forced to quarantine for 14 days at temporary medical centers (TMCs) located in each region. As an exception, those who have completed vaccination are allowed 7 days of home quarantine if they submit a certificate of vaccination completion or a report that is negative on the PCR test within 48 hours of entering the state. It will be done.

The N440K mutant has been reported as a B.1.617 mutant or a mutant that is 10 times more infectious and 15 times more lethal than the B.1.1.7 mutant, and has been infected in India since around March 2021. Some have argued that it may be the cause of the second wave of expansion.

However, Rakesh Mishra, director of the Center for Cellular and Molecular Biology (CCMB) in India, said, 'It is a misconception that the N440K mutant has been around for quite some time and is more toxic than existing mutants. Mutant strains are on the decline. '

Citing a study that may have been misleading, Mishra said, 'Sure, N440K has 10 times higher viral titer in culture than the A2a variant that is prevalent in India, but that's just an experiment. It's just the result of, and human immunity is not taken into account. '

The author of the paper, CCMB's Vishal Shah, said, 'Nowhere in the study is it stated that it was compared to the B.1.617 or B.1.1.7 mutants,' the information circulating about N440K. I'm asking you to look up the information properly.

We did not compare the infective titer of N440K with UK or double mutant in this study. We compared it with its parent strain which did not have N440K mutation and with another strain which is now almost lost among the population.

— Vishal Sah (@acurious_one) May 4, 2021


In addition, CCMB scientist Divya Tej Sowpati said, 'N440K emerged as a alarming mutant in the first wave of infection spread, but is now a B.1.617 mutant and a B.1.1.7 mutant. It has been replaced. '

Lineages with # N440K are NOT the dominant ones in the second wave of # Covid19inIndia . While N440K was a indeed mutation of concern in South India during and after the first wave, current data shows that it is essentially replaced by new VoCs such as # B1617 and # B117 pic.twitter.com/3mbjLNijny

— Divya Tej Sowpati (@TejSowpati) May 3, 2021


CCMB said, 'As the new coronavirus continues to spread, more mutant strains will emerge, leading to fear and information uncertainty, but masking, avoiding crowds and vaccination can spread the virus. It certainly helps to control the virus in some way. '