Research reveals 'the most Instagram-worthy bird'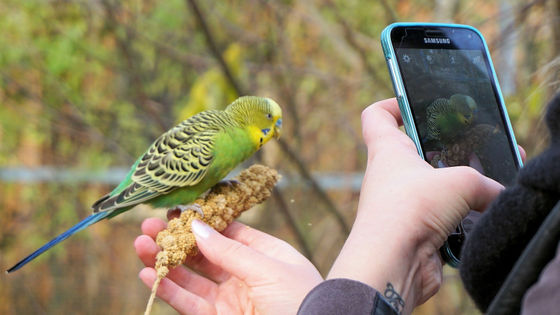 As a result of investigating about 27,000 bird photos posted on Instagram, 'the most instagram-worthy bird' was revealed.

What Instagram Can Teach Us About Bird Photography: The Most Photogenic Bird and Color Preferences --Katja Thömmes, Gregor Hayn-Leichsenring, 2021

https://journals.sagepub.com/doi/full/10.1177/20416695211003585
This Muppet-faced frogmouth is the'most Instagrammable bird' on Earth | Live Science
https://www.livescience.com/frogmouth-most-instagrammable-bird.html
The most Instagram-worthy birds were researched by Katja Thömmes of the University of Konstanz in Germany and Gregor Hayn-Leichsenring of the University of Jena. Thömmes et al. Photographed about 27,000 bird photos posted on Instagram to answer the question, 'What makes a'wonderful bird photo'?' We conducted a survey on the relationship between bird species and the number of likes.
The photos surveyed are
@best_birds_planet
,
@best_birds_of_world
,
@nuts_about_birds
,
@birdfreaks
,
@birdsonearth
,
@bestbirdshots
,
@audubonsociety
,
@bird_brilliance
,
@ Posted
by 9 accounts of your_best_birds. These nine accounts total more than 3.5 million followers.
BEST BIRDS PLANET (@best_birds_planet) • Instagram Photos and Videos
https://www.instagram.com/best_birds_planet/

To find out how posts on these accounts are affected by the 'birds that were the subject,' Thömmes and colleagues expect each post to come from the number of followers and posting time in the account. ! "Number is standardized. Posts with more likes than this standardized value will be given a positive score to the subject bird, and posts with fewer likes will be given a negative score to the subject bird. Gave.
When I created a ranking based on this score, I found that the 'bird's appearance' greatly affects the rank. As an example, birds with wings made up of 'blue and yellow' consistently rank higher than birds with wings made up of 'yellow and green', and birds with a 'unique and unusual look' score better. Has improved.
And the bird that won first place in this ranking was '
Frogmouth
', which looks like an owl and has a big mouth.
View this post on Instagram


The second place after Frogmouth is 'Pigeon', which also posts seeds with rainbow-colored hair. The third place was 'Turaco ', which was named because the shape of the crest on the head resembles the eboshi worn by the Heian Aristocracy.

View this post on Instagram


On the other hand, at the bottom was ' Sandpiper ', which has a plain color.

View this post on Instagram


Frogmouth, who won first place, is often referred to as 'the most unfortunate-faced bird,' and Thömmes and colleagues commented that it 'suggests a problem with the judge's favor.'