'The AMD chips manufactured by TSMC have been delivered to the TSMC factory,' reported that the AMD EPYC processor was adopted in the production line.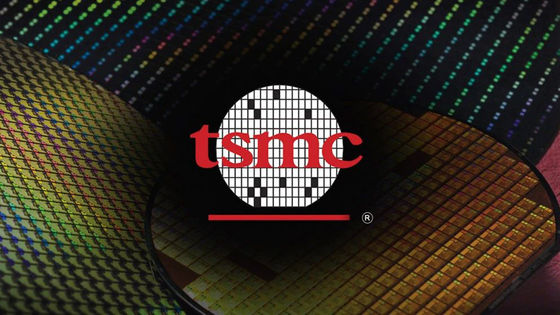 AMD, a major semiconductor company in the United States, has
announced
that it is supplying its server CPU 'EPYC' to Taiwan's semiconductor manufacturing foundry TSMC. EPYC is known to be manufactured on TSMC's 7nm process.
TSMC | AMD
https://www.amd.com/ja/case-studies/tsmc
TSMC is using the AMD EPYC processors that it manufactures | Windows Central
https://www.windowscentral.com/tsmc-using-amd-epyc-processors-it-manufactures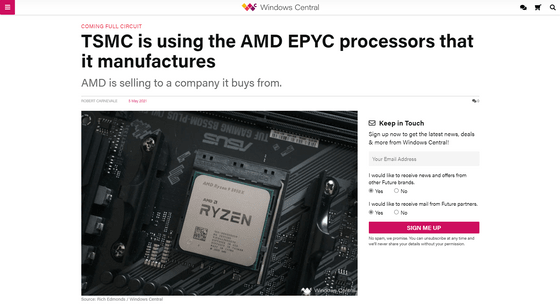 AMD EPYC CPUs Are Helping TSMC Manufacturer Next-Generation Chips Faster

https://wccftech.com/amd-epyc-cpus-are-helping-tsmc-manufacturer-next-generation-chips-faster/
AMD isn't just buying from TSMC, TSMC is buying EPYC chips from AMD | PC Gamer
https://www.pcgamer.com/amd-isnt-just-buying-from-tsmc-tsmc-is-buying-epyc-chips-from-amd/
AMD posted the case of TSMC as a use case of EPYC introduced on the company's official website, and announced that 'EPYC is used for the control server of TSMC's chip manufacturing factory'. .. Regarding this, overseas media Windows Central revealed that 'AMD is not only a seller but also a buyer of chips, referring to'TSMC is a manufacturer of EPYC chips'. This is a big high-tech fueled It's a cycle. '
Simon Wang, director of infrastructure at TSMC, said in a
(PDF file) presentation:
'To automate machines in a factory, to control operating speeds and electricity, gas, and water supplies. Each machine
requires one x86 server
. ' He said that AMD's EPYC is used for the CPU of the server.
TSMC and AMD have built a good alliance for a long time, but they are not simply given preferential treatment because they are good customers. 'After a thorough discussion with another company that provides our manufacturing platform, Wang said it will be powered by the
EPYC 7702P, which has compatibility and excellent performance that can be incorporated directly into existing architectures.
We have decided to adopt a new server. ' In particular, the second generation '
EPYC Rome
' including EPYC 7702P was said to have excellent memory density.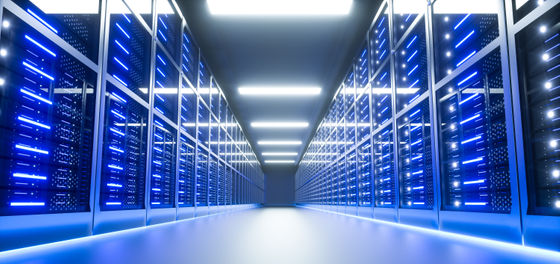 TSMC plans to adopt EPYC in its data centers in Hsinchu and Tainan, Taiwan in 2021 following the good performance of EPYC in the manufacturing process.

Regarding the announcement that AMD and TSMC are supplying chips to each other, Windows Central said, 'We expect AMD to continue to produce graphics cards for games through a continuous and strong partnership with TSMC. Will be done. ' On the other hand, specializes in PC games
'The close cooperation with TSMC must be great for AMD's future, but it doesn't seem to lead to any direct incentives,' said PC Gamer, a news site.